Click here for more Coventry & Warks folk news stories
11th December 2018
In comes Christmas, courtesy of Coventry Mummers
Coventry's guardians of three local mummers plays, bring them out for a festive airing.
This Friday 14th December, sees the start of this year's tour of Christmas Mummers plays when a motley group of car park and bar-room thespians perform the Harborough Magna play in various Warwickshire pubs.
Like most mummers plays, this was originally performed by members of the local community and includes the ritual elements of death and rebirth. The 10-minute performance features the characters of Father Christmas, Prince George, a Turkish Knight, the Knight's mother Moll Finney, a Doctor, Humpty Jack and Beelzebub.
Collected from a former member of the Harborough Magna cast, Arthur Skeet, its current version has been toured every Christmas since 1978. You can witness the spectacle at The Raven, Broad Street, Brinklow (8pm), The Golden Lion, Easenhall (8.30pm), The Old Lion, Harborough Magna (9.30pm and the Denbigh Arms, Monks Kirby at 10pm, followed by a lively music session.
.
The Doctor at the Stoneleigh Play calls on his assistant to administer the cure.
A similar but extended variation of the script is performed as the Newbold-on-Avon Christmas Play on Sunday 16th December. Residents of Pantolf Place, Newbold will be roused by the sound of Father Christmas's bell at 10.30am, with follow-up performances in a front garden on Newbold Road (11am), St.Botolph's Church (11.25am), Manor House Close (12.15pm) and the Barley Mow public house at 1pm.
Published in 1899 in the journal of the Folk Lore Society, the play is mentioned in the David Lodge novel, Small World and was revived by the Coventry Mummers in 1976.
Boxing Day sees another morning and lunchtime tour when the famous Stoneleigh Play does the rounds of Ashow and Stoneleigh villages. Published in 1925 by local historian Mary Dormer Harris, the play was revived by the Mummers in 1975 and has been performed in the village ever since.
Following six performances at local addresses throughout the morning, the play is staged in the middle of the road outside the Stoneleigh Village Club, at 1.15pm, where a large crowd gathers for this much-loved festive ritual.
More dramatic scenes from Stoneleigh.
For further information on the Coventry Mummers and their activities throughout the year, visit their website.
______________________________________________________________________________
1st December 2018
Meet some inspired songsmiths for an afternoon of lyrical entertainment.
Bill Bates and Daisybell form part of a local songwriters' show of music and humour in Coventry's Albany Theatre Studio.
On Sunday 9th December, this month's CVFolk get-together in the studio is hosted by the Coventry Singer-Songwriters group.
Writer and performer of excellent comic (and serious) songs, Bill Bates is performing alongside acclaimed three-piece line-up Daisybell whose repertoire includes material written by Coventry Singer-Songwriters member and guitarist Katherine Fear.
Bill Bates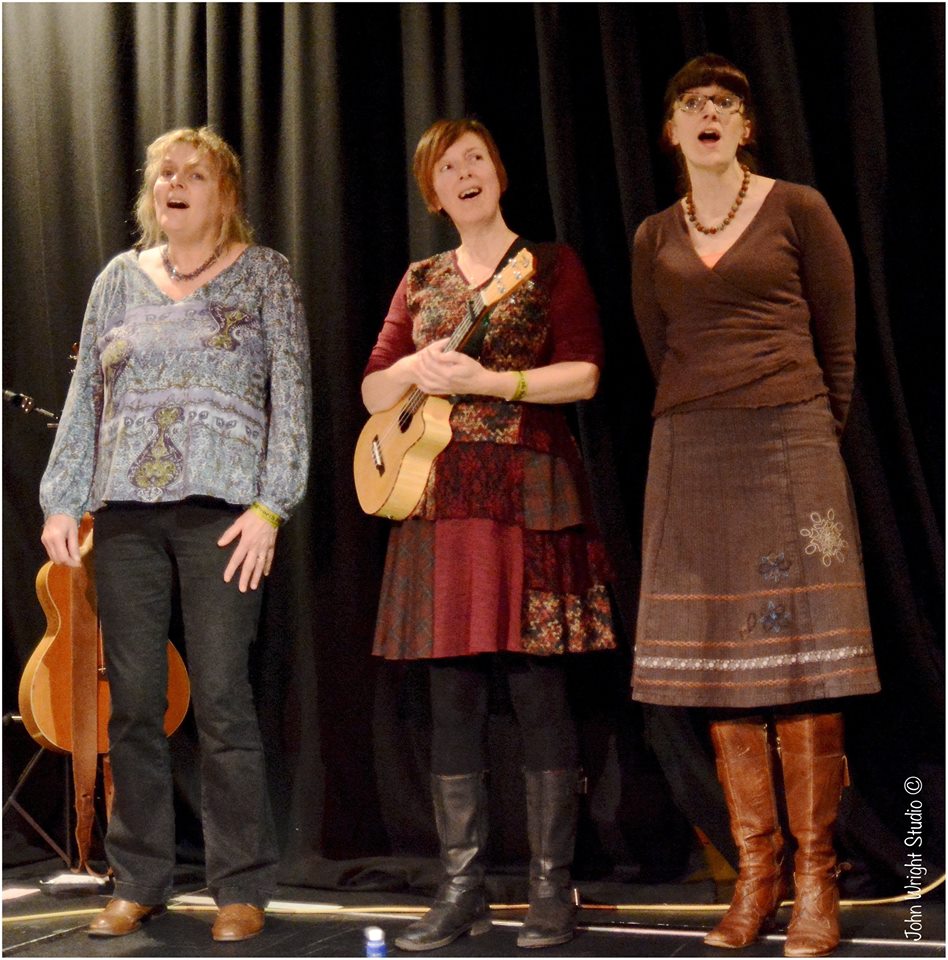 Daisybell: L-R Ginny White, Katherine Fear, Anya Fay (photo John Wright)
The afternoon also features first-rate self-penned numbers from Mike Carter-Jones plus singer and guitarist Paul Monks, whose band The JPs also comprises Jane on ukulele and vocals plus Emily on violin.
The Coventry Singer-Songwriters group was launched in 2010 when like-minded musicians got together to give each other the inspiration and motivation to write songs. They set themselves the challenge of coming up with new compositions, based upon a set theme.
They have kept up the routine of meeting in each other's houses (or a pub) one night a month and performing their newly-crafted songs to each other. At the end of the night they vote on a new theme for the following month – it's as simple and demanding as that.
Not everyone attends the meetings in person. Some members email their songs to the group as MP3s from across the country and, in one case, the West Coast of the USA. The group regularly release CDs of their compositions and a good selection of their creativity can be heard on Soundclick.
Hosted by harmonica-player and group founder, Jon Harrington, Sunday's CVFolk event starts at 4pm. Admission is free although there will be a 'jug collection' with recommended donations of £5.
Events lined up for CVFolk's Sunday afternoons at the Albany Theatre for 2019 include appearances by Kevin Dempsey & Joe Broughton (March 10) and Wes Finch and the Rude Mechanicals (May 12). Organisers are also putting on a 'super-session' on January 13, featuring many of the top session musicians of the area performing lively and impromptu sets of tunes on a wide range of instruments including fiddles, guitars, squeezeboxes and whistles.
______________________________________________________________________________
15th November 2018
Heavy-duty Festival puts on a Pound
CVFolk team member and leading folk multi-instrumentalist WILL POUND is the new Patron for Warwick Folk Festival.
The Warwickshire-based musical wizard takes on the role in the year that the Festival prepares for its 40th year.
Born in Rugby, brought up in Whitnash and now living in Kenilworth, Will is best known as a world-class harmonica player but is also a fine melodeon exponent.
Member of leading folk band Inlay and founder of the Will Pound Ceilidh Band, Will was brought up in the Morris tradition and is also active with Warwickshire's Chinewrde Morris and Earlsdon Morris. He had long held an ambition to record an album celebrating the music of Morris and folk dance and last May that came to fruition when he unveiled the CD Through the Seasons – A Year in Morris and Folk Dance, with a companion live show touring the UK, featuring Benji Kirkpatrick, Inlay colleague Ross Grant (pictured) and storyteller Debs Newbold.
Festival director Dick Dixon says: 'Will was nurtured right here in the Warwickshire folk scene and continues to contribute fully to the local music and Morris dance circuit. As the county's leading folk event, Warwick Folk Festival is delighted and proud that he has agreed to be our Patron.'
Will has been nominated for the coveted Musician of the Year title at BBC Radio 2 Folk Awards three times. He was named Best Newcomer by Songlines Magazine in 2014 and won FATEA Magazine's Musician of the Year title in both 2014 and 2015. He has also appeared on BBC Breakfast TV and his music has been played on Radios 2, 3 and 6 and the BBC World Service. Will also played harmonica on the Hillsborough charity single, joining a line-up of pop and football stars, on He Ain't Heavy, He's My Brother which became the Christmas No 1 in 2012.
Describing himself as 'very honoured to have been asked to become Patron', Will says 'I haven't missed a Warwick Folk Festival in my lifetime and look forward to many more years to come at this brilliant festival.'
Will is set to tour the Through the Seasons show again next spring and will also be gigging once more with accordion maestro Eddy Jay. But from July 25-28, 2019 there is only one place he will be – back in his home county as he takes up his patronship of Warwick Folk Festival.
______________________________________________________________________________
26th October 2018
Free for all folk at festival conference
Four genre-busting bands lined up for free concert during AFO Conference in Stratford-upon-Avon.
Four exciting contemporary folk bands will be onstage for an open door concert at the Stratford Manor Hotel on Saturday November 10.
The hotel is the venue for this year's 3-day conference for the Association of Festival Organisers but you don't need to be a delegate to enjoy an evening of music of folk fused with a wide range of other genres.
The line-up of artists consists of:
Hadrian's Union – five piece folk rock band from across England and Scotland who combine folk with punk, rock, blues, Celtic and Ska into a highly infectious entertaining tapestry.
Hannah Sanders & Ben Savage – taking Americana to a new level with exquisite crystal clear vocals and masterful playing on mountain dulcimer, dobro and guitar.
PerKelt – blending Eastern European mediaeval and pagan influences to create a soundscape that moves from melancholy to fast, insanely fast! The Czech/UK four-piece combine rapid fire whistles, and recorders, tribal drums, guitar and frantic fiddle with haunting vocals.
Cut Throat Francis – only formed in the summer of 2017 but have already made a good impression on the festival scene and Bristol club scene with their blend of folk, swing and upbeat Eastern European flavours. Instruments include banjo, mandolin and melodica as well as rich four-part harmonies and a thumping beat from the cajon!
The free admission concert starts at 8.30pm – just turn up from 7.30pm at the Stratford Manor, Warwick Road, Stratford-upon-Avon, CV37 0PY.
______________________________________________________________________________
23rd October 2018
Memories of Hazel provide a snapshot of the Coventry folk scene in the 1980s
The late Derek Brimstone and Dave Bennett featured in resurrected BBC documentary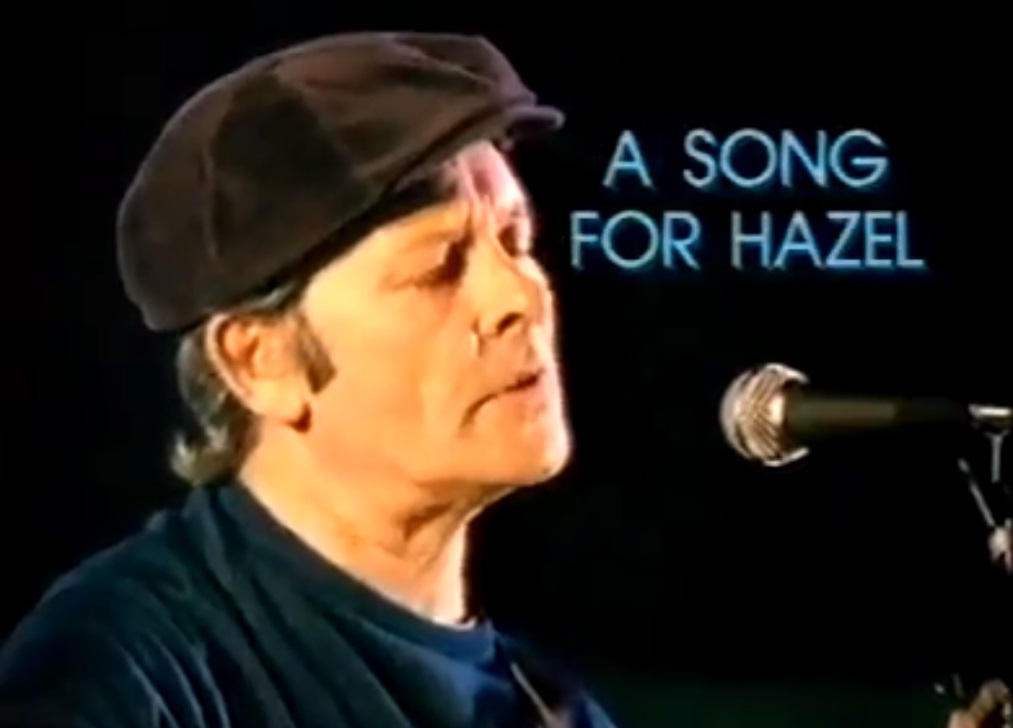 A 30-minute BBC1 documentary is proving to be a treasured archive of the Coventry folk scene in 1984.
A Song For Hazel reflects on the life of Hazel Lester, an active and popular member of the city's folk circuit in the 1970s and 80s and who died of cancer in 1983 after giving birth to her son, Adam.  Her characteristic refusal to take any medical treatment for her own illness until she knew that Adam was safely born, attracted international attention with the tabloid press in particular making front-page stories of her 'gift of life'. The documentary was produced to provide a more in-depth view of Hazel's life, character and impact on the folk community.
Nationally acclaimed guitarist and singer Derek Brimstone, and Coventry's own renowned ragtime guitarist Dave Bennett – both no longer with us – are among the interviewees and performers featured in the programme. Also included are Coventry-based musicians Kevin Dempsey, Margot Buchanan, Mick Cullen, Dennis Clarke, Pete Willow, Nigel Ward and Sue Ward performing at a one-day concert staged at the former Lanchester Polytechnic in Coventry. Under the heading 'Come Together', the concert was organised by Pete Willow, Graham Bradshaw and John Boocock to establish a trust fund for Adam's future.
Fiddle-player, Nigel Ward rediscovered an old VHS recording of the programme and arranged for it to be transferred to a digital format and shared on Facebook. Its publication has prompted widespread interest with fond memories not only of Hazel herself but of the youthful faces (and hairstyles!) of many of the people who formed part of the Coventry folk scene in the 1980s!
______________________________________________________________________________
16th
October 2018 
Concert acclaimed as 'Storming start' to CVFolk's Albany Theatre programme
'The Coventry All-Stars Folk Show' has already earned one excellent review and many positive social media comments.
The Coventry events website Elementary What's On praised the 'space and ambiance' of the venue where 'a good audience turn-out' was 'treated to some of Coventry's finest home-grown talent'.
Music was provided in the first half by Willow & Tool Band and Poacher's Pocket, and in the second half by by singer-songwriter-guitarists Kristy Gallacher and Rob Halligan, with an impressive display of clog dancing in the interval by Nancy Sylvester. The afternoon finished with a few words of thanks and support from CVFolk's Patron Pauline Black.
Here is a selection of photographs by John B.Smith which captured the atmosphere of the event:
__________________________________________________________________________________
6th
October 2018 
Top quality home-grown folk music launches new monthly CVFolk concerts at the Albany Theatre.
Coventry's nationally-renowned stars Kristy Gallacher and Rob Halligan featured in informal Sunday afternoon show.
A cross-section of Coventry's folk music talent shares the stage at the city's Albany Theatre this weekend.
Singer-songwriters Kristy Gallacher and Rob Halligan, multi-instrumental duo Poacher's Pocket, and Warwickshire 4-piece Willow & Tool Band are all taking part in an informal concert in the Albany's Studio Theatre on the corner of The Butts and Albany Road to launch a series of monthly folk events in the city centre.
Billed as 'The Coventry All-Stars Folk Show', the concert runs from 4pm-7pm on Sunday 14th October. The event is part of a campaign by CVFolk, a group of local folk artists and organisers determined that folk music and dance has a high profile in the 2021 City of Culture celebrations.
The concert not only features songs performed by each act in their own right, but also a conversation between artists and with the audience to give some insight into the stories behind their material and their approach to music generally.
In addition to her own shows, Kristy Gallacher (pictured below) is a Coventry University music graduate who has gone on to play support to Ed Sheeran, Glenn Tilbrook of Squeeze and Show of Hands, among others. She won the LG Arena's singer/songwriter competition and played before Eric Clapton, Steve Winwood and John Mayer on separate nights at the Birmingham venue.
Rob Halligan (pictured above) has appeared at festivals and folk clubs across the country and has also had airplay on BBC1 Television, BBC Radio 2 and a host of local TV and radio stations. With a conviction to use his music to make a difference, Rob has supported the children's charity, Global Care, visiting Bangladesh, Ethiopia and Lebanon to raise awareness and money for some of the world's most disadvantaged children.
Poacher's Pocket (pictured below – photo by John B.Smith) consists of Warwickshire singers and musicians Colin Squire on guitar and Campbell Perry on accordions.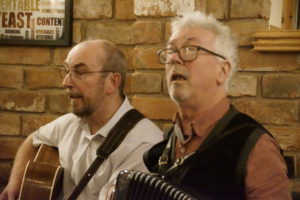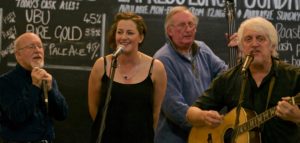 Willow & Tool Band (pictured above – photo by John Wright) features Pete Willow on guitar, John 'Tool' McIntosh on double-bass, Keith Eardley on harmonica, ukulele and percussion and Tool's daughter Laurel McIntosh on flute.
Pete Willow, who is also Chair of CVFolk, sees the concert as the first step to revitalise folk music in the centre of Coventry. He says, 'With Coventry's huge pool of musical talent and its strong history of artists making it big on the international folk scene, it's surprising that we only have one regular folk club within the city boundaries.
'The Albany Theatre hosted our successful public consultation event last June and has kindly offered use of their Studio Theatre on the second Sunday of each month for folk events with a difference', says Pete. 'Over the year, we will present concerts, workshops, dance displays and sessions in a friendly and informal environment.  We aim to show how folk in all its formats can be accessible to all communities and age groups.'
Admission for this show is free but there will be a 'jug collection' for banknote contributions.
Next month's show features young award-winning folk singer and musician Rosie Hood in concert. This will be a ticketed event starting at 7pm on Sunday November 11th.