CVFolk's Management Team is drawn from across the spectrum of folk music and dance activity in the Coventry and Warwickshire area. Team members include musicians, dancers, event organisers, educators and promoters, all dedicated to making folk accessible to everyone today and for future generations.
Kev Dempsey
World-acclaimed guitarist and singer, Kevin was a founder member of the Coventry-based Dando Shaft and has since worked alongside many of the biggest names in folk, soul, rock and contemporary music. including Percy Sledge, The Marvelettes, Mary Black, Joe Broughton, Tom Leary, Uiscedwr, Harriet Bartlett, Rosie Carson, Fairport Convention's Chris Leslie, Steeleye Span's Peter Knight, and the legendary Dave Swarbrick (as a duo and as part of Whippersnapper}. While his music has taken him all over the planet, his roots are firmly fixed in his home city of Coventry and he is a strong and active supporter of local clubs and events.
Dick Dixon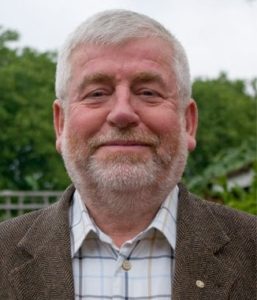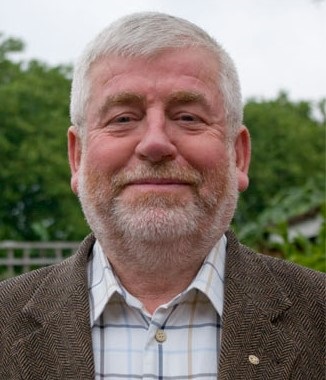 Based in Coventry, Dick is an active and well-regarded figure on the British folk scene. He is a Director of the successful Warwick Folk Festival, having been involved from the beginning when he organised the bar for the Festival's first Ceilidh in 1979. The event attracts fans from across the world and its guest list includes many top British and International artists.  On the Festival's 30th anniversary, Dick was honoured by being made a Freeman of the Town of Warwick in recognition of his success in encouraging local businesses to support and sponsor the Festival. Dick is also Artistic Director for the long-established Bromyard Folk Festival.
Katherine Fear
Katherine is a singer-songwriter, musician and music educator with 25 years experience.  Currently performing with Daisybell folk trio as well as building a new solo career, she has also been a member of Glorishears Ceilidh Band and has danced with Ladies of Green Willow Clog Morris and First Class Stamp Appalachian sides.  She has appeared at folk clubs and festivals across the country. She worked for Coventry City Council as a peripatetic music teacher and as Senior Leader at Coventry Performing Arts, managing staff across the city, and leading large scale projects and concerts.  She has also been Coventry's Primary Music Co-ordinator and the West Midlands Representative for the Schools Music Association.  Katherine now works as an independent Music Educator.
Kristy Gallacher
A guitarist, poet and songwriter from Coventry, Kristy decided at the age of 21 to join the D.I.Y ethos. She formed her own independent record label Broken Player Records, signed herself and has been self-sufficient ever since. In addition to her own shows she has supported such leading names as Ed Sheeran, Micheal Chapman, Scott Matthews, Glenn Tilbrook (Squeeze), Show of Hands, Nic Jones, Vin Garbutt and Nerina Pallot. She won the LG Arena's singer/songwriter competition and played before Eric Clapton, Steve Winwood and John Mayer on separate nights at the LG Arena in Birmingham. Subsequent to the competition win, she was invited back to the LG Arena's Forum live to play before Elton John, Paul Weller, George Michael & Rosette. She also has a degree in Music Composition from Coventry University and in the past five years Kristy has been working in primary schools across Coventry teaching Guitars, Choirs and Rock Bands to the next generation.
Amelia Gascoigne-Roberts
Amelia is a musician and a filmmaker based in Coventry and has worked within advertising and marketing for over eight years. In her spare time she is involved in projects that help increase diversity within areas of the city, whether it is music, events or films. She believes that to create a change you must start from the basics as communication and knowledge is the key. As a musician, Amelia is active on the Coventry music circuit and is renowned for introducing unpredictable compositional elements into a contemporary singer-songwriter/folk framework. Her music incorporates electric and/or acoustic guitar, with hints of blues & jazz.
Malc Gurnham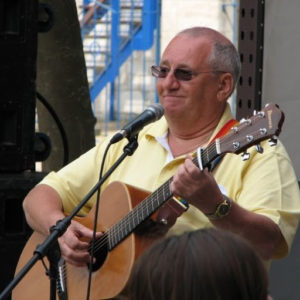 A fine singer, Malc plays quite a variety of instruments (most of them with strings!) and is a highly regarded solo performer. He also can be found running singarounds and acting as an MC at many festivals throughout the country. These days he usually performs as part of a duo with singer Gill Gilsenan, although he has played in numerous line-ups including the Glorishears Ceilidh Band,  The Old 'Uns and The Katherine Fear Band.  He has also appeared on recordings by a number of well-known performers including the late Johnny Collins. Malc is organiser of the successful Bedworth Folk Club and was Director of the long-running but recently demised Bedworth Folk Festival.  He runs his own small recording studio, Fat Sam Music and has presented his own folk music show on BBC Local Radio.
Rob Halligan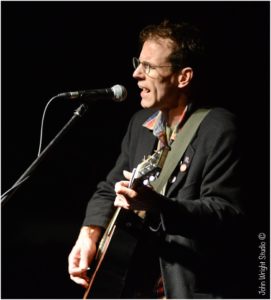 Fully active on the Coventry music circuit, Rob is an award-winning international artist. He has worked and recorded with Graeme Duffin and Sandy Jones (Wet Wet Wet), Bob Halligan Jr (Judas Priest, Cher), After The Fire, Simon Goodall (Cliff Richard) and Paul Evan (Delirious). He has performed at the Greenbelt, Godiva, the Acoustic Festival of Britain plus the Warwick and Cork Folk Festivals and has appeared at local folk and acoustic clubs across the country. He has also had airplay on BBC1 Television, BBC Radio 2 and a host of local TV and radio stations. With a conviction to use his music to make a difference, Rob has supported the children's charity, Global Care, visiting Bangladesh, Ethiopia and Lebanon to raise awareness and money for some of the world's most disadvantaged children. 
Jon Harrington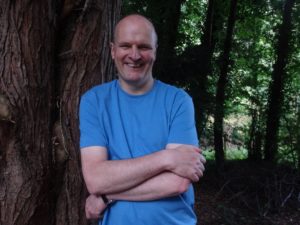 A long-time Coventry resident, Jon has been writing and playing music in the thriving local music for many years. In 2010 he set up the Coventry Singer Songwriters group to promote, encourage and support local songwriting and as a vehicle to promote original songs. The group has appeared at festivals and concerts, run songwriting workshops and also appeared on local radio. In July 2015, they were featured on the BBC Radio 4 series Get Creative and many of the group's members are prize winners in local and national songwriting competitions, as well as being successful musicians and songwriters in their own right. Jon is also an ace harmonica-player having performed with popular local line-ups Nuncmonkey and Little Mountain.
Laurel McIntosh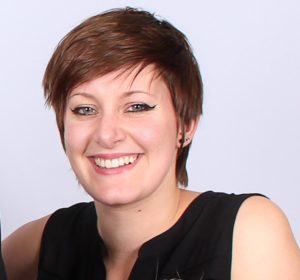 Laurel has had a keen interest in folk and acoustic music for her entire life. She has sung and played flute in a variety of fantastic line-ups with great musicians including The QP, Greenman Rising, The Ripps, Dv8, Bluesocks Ceilidh and currently with The Long Itch Scratch Band and Willow and Tool Band. Laurel is a secondary geography teacher at Bishop Ullathorne RC School and works hard to participate creatively in school music and drama performances. She also has a keen interest in traditional dance and has previously danced traditional clog and North West dance with Chinewrde Morris. She also performs regularly with Earlsdon Morris as a musician. Laurel is keen to develop a celebratory culture of traditional dance and music in Coventry, especially embracing wider cultures and traditions alongside what is typically found in the folk scene in Coventry.
Jen Morgan
Jen is an accomplished folk dance caller based in the Midlands.  She calls ceilidh, contra and Playford dances to audiences of all ages and abilities.  Jen also runs ceilidhs and Playford dances in Coventry which are open to everyone who would like to join in. Her first act as a member of CVFolk was to stage an outdoor ceilidh next to the Herbert Art Gallery and Museum in Coventry City Centre, as part of our involvement in the 2018 Motofest weekend. She recruited a scratch ceilidh band and supervised a wide range of social dance routines for members of the public.
Will Pound
One of the finest harmonica players of his generation, Will has worked on a number of projects including appearances with The Will Pound Band, Martin Simpson, Guy Chambers, Concerto Caledonia, Michelle Burke's Step Into My Parlour and The Hillsborough Charity Single. He is currently touring the highly successful multi-media show Through The Seasons: A Year in Morris and Folk Dance. He has appeared on TV and radio many times including BBC1 Breakfast, BBC2, Radio 2, BBC Radio Scotland, BBC Radio 2 Folk Awards, MTV, and Radio 1xtra. Will has been nominated for the BBC Radio 2 Folk Musician Of The Year award in 2012, 2014 and 2015, has won FATEA Magazine Instrumentalist Of the Year 2013, 2014 and also was nominated for Songlines Magazine best newcomer. Widely traveled, Will was nurtured in the Warwickshire folk scene and continues to be active on the local music and dance circuit.
Colin Squire  (Treasurer)
Colin is a chartered accountant having been with the same firm through various transformations for nearly 40 years until taking early retirement in 2012. Now running a small bookkeeping service, Colin is also a singer-songwriter and has been playing in folk clubs in the Coventry and Warwickshire area, on and off for over 40 years. As well as an accomplished solo performer, he also plays local clubs and events as part of the line-up Poacher's Pocket. A member of the organising team for Shrewsbury Folk Festival, he hosts a popular monthly music session at the Denbigh Arms, Monks Kirby, and helps organise the (in)famous Sly Old Dogs And Friends music events in North Warwickshire.
Pete Willow  (Chairman)
Pete is a well-known performer and organiser of folk club, concert and festival events in Coventry and surrounding areas. He was Folk writer for the Coventry Telegraph for 33 years, a frequent broadcaster on folk music and organiser of the successful 'Folk tent' at the Godiva Festival 2002-2008. Since 1984,he has been writer and editor of the programme for the annual Warwick Folk Festival and he also writes the programme for the Bromyard Folk Festival. These days he performs regularly with Willow & Tool Band and Sly Old Dogs and has previously performed and recorded with Amaranth, The Oddsods and BorderLine Crossing. Known in academic circles as Dr Pete Wilby, he has now retired from his role as Senior Lecturer in Media and Cultural Studies at Birmingham City University, where he specialised in PR and Journalism. He was awarded his PhD for research into Amateur Music Making in English folk clubs. In 2016, he received the Gold Award from the Chartered Institute of Public Relations for his 'outstanding contribution' to PR education in the Midlands.
CVFolk also works closely with members of an Advisory Group who provide a lot of support, promotion, contact info and general assistance to the cause!
So a big thank you to:
Pete Chambers BEM
Curator, Coventry Music Museum

Ciaran Davis
Coventry Irish Society

Chris Green & Sophie Matthews
Multi-instrumental musicians, organisers of touring shows

John Richards
Singer-songwriter, founder of Folk21

Trev Teasdel
Music historian and archivist

Geoff Veasey
Singer, broadcaster, blogger, organiser of Nuneaton Folk Club

Norman Wheatley
Singer/guitarist, broadcaster, organiser of Warwick Folk Club

We're especially grateful for the support from our Patron:
Pauline Black