(Most recent news first)
Click here for current CVFolk News page
Click here for 2022-23 Archive
Click here for 2020 Archive
Click here for 2018-19 Archive
24th December 2021
Predictions, possibilities and
best-laid plans
Lighthorne launches the 2022 CVFolk Club scene with an all-star New Year's bash – we hope!
by Rod Chaytor & Pete Willow
If folk clubs across the CV postcode area have their way, 2022 promises to be a fabulous year of folk entertainment. But of course, it's a big 'IF'.
Most clubs in Coventry and Warwickshire have kept their doors open through December, despite the looming Omicron spectre and the increasing concerns of more vulnerable audience regulars. Some venues, such as the Wurzel Bush and Bedworth folk clubs have requested audiences to take lateral flow tests before attending and others have kept the air flowing in well-ventilated rooms or moved the stage outdoors, like Lighthorne Folk Club.
So, as positive-minded as ever, CVFolk News offers a summary of what will be happening in the local guest-booking clubs from January onwards if we escape the imposition of further government restrictions.
First off the starting line – The Antelope Inn, Lighthorne, home of Lighthorne Folk Club
Warwickshire's newest 'Folk Pub' is pressing ahead with plans for a four-hour folk extravaganza on New Year's Eve.
The Antelope in Lighthorne has arranged a two-hour opening session outside in its open-sided Marquee, followed by another two-hour set inside in its upper room.
Local favourites Firedaze, Hatstand and Rack & Ruin will perform in the tent from 8pm to 10pm followed by Rob Halligan's Homeward Hie line-up from 10pm to midnight inside, featuring Ewan Cameron (whistles), Chris Hunt (guitar) and Aiden O'Hare (fiddle).
'Pub landlord and member of the Lighthorne Folk Committee, Tom Lilley says 'We're keeping a very close eye on conditions and possible restrictions but, as matters stand, the New Year's Eve programme goes ahead as planned.
'We have continued to run our monthly Folk Club outside in the Marquee through to December, when everyone wrapped up warm and it was really comfortable with the space heaters under the tent.'
Lighthorne Folk launched in 2018 with the aim of attracting big-name acts to its South Warwickshire Village Hall. Appearances by Siobhan Miller and Olivia Chaney followed and – in a format trialled with folk patriarch Geoff Lakeman – it launched a monthly Folk Club across the road in the Antelope in February last year.
In late 2020 it ran a benefit for popular local performer Keith Donnelly outside in the newly-acquired Marquee. The vibe and magical atmosphere was an instant hit with performers and audience alike and, when COVID restrictions have permitted it to run, the Club has continued outside under canvas ever since.
Apart from most of the New Year line-up, Coventry and Warwickshire acts including Willow and Tool Band, Craig Sunderland, Greengrass, and Mick Bisiker and Al Romanov have all since appeared in Lighthorne and Craig is due to return supporting fellow-guitarist Dom Prag when the regular first-Monday-in-the-month Folk Club resumes on Monday February 7 (there is no Lighthorne Folk Club meeting in January).
The Antelope has enhanced its 'Folk Pub' reputation as individual musicians have gathered together on Thursdays for informal sessions in the bar throughout the Autumn.
And with cautious optimism across all the county's folk clubs …
Brighton singer and guitarist Dom Prag is also the first 2022 guest for Nuneaton Folk Club which resumes its monthly programme on Wednesday January 5. Other attractions lined up at its venue, The Crew & Queens Hall, Nuneaton are Bird In The Belly plus Glyn Finch (February 2), Kevin Dempsey (March 2) and Keith Donnelly (April 6). With resident band Nunc and a good selection of local musicians playing support, the club has established itself as one of the most popular in the area, providing a high standard of entertainment.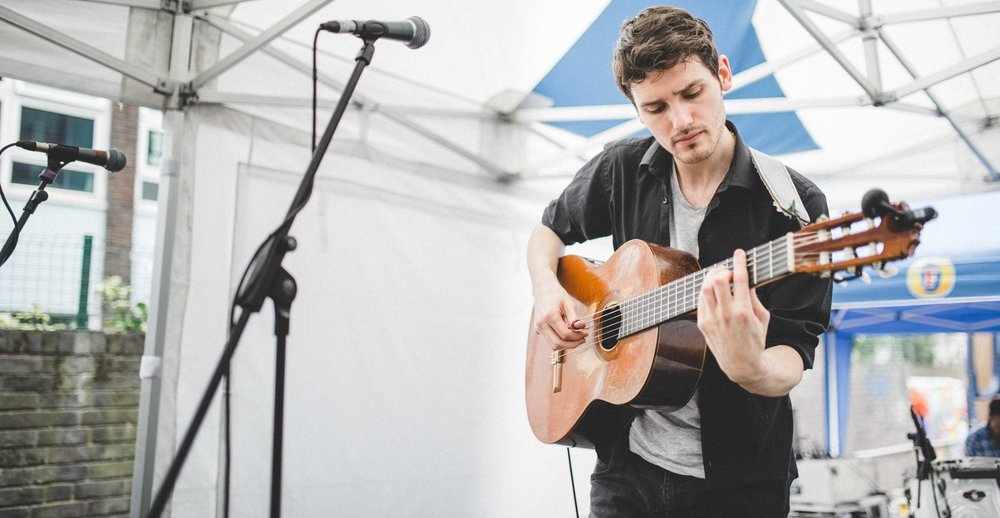 Warwick Folk Club kicks off with informal Singarounds on Monday January 3 and 24 at The Racehorse, Stratford Road, Warwick. Their first new year guest is Martyn Oram on January 31 followed by Meet On The Ledge on February 28, part of the band's year-long celebration of 30 years playing superb folk-rock.
On to Tuesday January 4 and the Wurzel Bush Folk Club presents a Come All Ye at the Rugby West Indian Club. Their first 2022 guest is former Dubliner singer and guitarist Sean Cannon on January 18.
CVFolk's '2nd Sunday' event takes place in the Albany Theatre Studio, Coventry on January 9 with Coventry Singer Songwriters featuring performances by Dave Taylor, John Neal, Corinne Stratton, and Bob Wilkinson. Also a member of the songwriters' group, Katherine Fear plays a set with her acclaimed band Daisybell, making their only public appearance before her Polly Button folk opera is staged at the Abbey Theatre, Nuneaton on February 19 and 20.
Back at the Albany Theatre and CVFolk presents two evenings featuring Coventry singer-songwriter Wes Finch. He appears as part of the recently formed Cellar Tapes line-up on February 13 with Andrew Sharp and Carol Whitworth plus support from singer-songwriter Andi Wolf.
Wes is back with his own band Silver Wye for an advanced ticket event on Sunday March 13 with support from Steve2 (Stephen Boyer and Steve Redshaw). Postponed from the last lockdown, Michael Luntley's Tricaorach performs its popular collection of Warwickshire rural songs From This Ground on April 10.
Following CVFolk's first night is Bedworth Folk Club which meets at the Trent Valley Club, Bedworth on January 12 with guests The Paper Circus. The club also presents Martyn Oram (February 9), Caffrey-McGurk-Madge (March 9) and Paul Walker & Karen Pfeiffer (April 13), with acoustic folk nights on the last Wednesdays of each month hosted by residents Malc Gurnham and Gill Gilsenan.
Next to launch its 2022 programme is Atherstone Folk Club which meets (usually) on the third Wednesday of each month but starting this year in a new venue – to be announced. Resident band Finger In The Jar host the club's 'New Year Sing' on January 19 and future guests lined up include Bernard Hoskin (March 16), Becky Mills (April 20) and Linde Nijland singing songs of Sandy Denny (May 18). We'll announce the club's new home and other guests as soon as we know ourselves!
On to February, and Willow & Tool's Music Parlour has another post-lockdown relaunch attempt at The Harvester, Long Itchington. Their forthcoming guests include Bisiker and Romanov (February 6), The Harvesters (March 6), annA rydeR (April 3) and As the Heron (July 1). Dates are currently being negotiated for Somerville Gents and Belzebub.
And some news to ice the optimistic cake for the new year – February 10 sees the launch of the new Leamington Folk Club. Currently billing Performers Nights on the second Thursday of each month, local guests may be featured before long. Hosted by Nik Draycott the club will meet in the town's popular music venue, Temperance on Bath Street, from 7pm to 10pm.
Click here for full details of who is playing where in the new year – we'll do all we can to keep this site up-to-date with information on dates, guests, support, admission, contact details – all you need to know to make the most of a year of fabulous folk music.
And so far 2022 is looking very promising. Happy New Year from CVFolk – here's hoping!
__________________________________________________________________________________________________________
16th December 2021
NEWS UPDATE – MUMMERS CHRISTMAS TOUR HAS NOW BEEN CANCELLED IN RESPONSE TO CONCERNS OVER INCREASING COVID19 INFECTIONS.
14th December 2021
Festive tradition?
Mummers know best!
by Ian Pearson & Pete Willow
The Coventry Mummers are back touring traditional Christmas plays in Warwickshire this festive season.
Established 55 years ago, the guardians and performers of 'English ritual drama' are all set and ready to tour villages in the Revel area (between Rugby and Coventry) plus locations in and around Stoneleigh.
The tour starts this Friday (17th December) when the Harborough Magna Mummers Play is once again unleashed on the drinkers and diners of four Warwickshire pubs. The play was collected by two members of the Coventry Mummers in 1978 from one Arthur Steet.
7:45 pm The Raven, Brinklow, CV23 0LN.
8:15 pm. Golden Lion, Easenhall, CV23 0JA.
9:00 pm The Old Lion, Harborough Magna, CV23 0HQ.
9:45 pm Denbigh Arms, Monks Kirby, CV23 0QX.
The following Sunday morning and lunchtime sees the team in the village of Newbold-on-Avon, performing the Newbold Mummers Play. The text for this play was published in 1899 in the journal of the folk lore society. Revived by the Coventry Mummers in 1976, the play has been performed every year since then at both private and public houses – apart from last year when it was cancelled because of the lockdown regulations in place. The schedule for this year is:
10:30 am Pantolf Place, Newbold on Avon, CV21 1HR.
11:00 am Newbold Road, Newbold on Avon, CV21 1EF.
11:35 am St Botolph's Church, Newbold on Avon, CV21 1HH.
12:15 pm Manor House Close, Newbold on Avon, CV21 1HB.
1:00 pm The Barley Mow, Main Street, Newbold on Avon, CV21 1HW.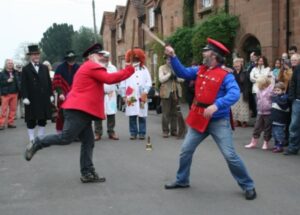 One tradition that survived the lockdown was last year's Stoneleigh Mummers Play. This was first published in 1926 by Mary Dormer Harris, a prominent local historian and former village resident. She collected the play from a man who played the part of the Doctor. Revived by the Coventry Mummers in 1975, the play has been performed every year year since then, although last year was a very small and socially distanced affair – as shown here. Hopefully, the performers return to the more traditional and orthodox format this year:
10:15 am and 10:30 am Ashow, CV8 2LE.
11:00 am Stoneleigh Close, CV8 3DE.
11:30 am 'The Bank', CV8 3DA.
12 noon Church Lane, CV8 3DN.
12:45 pm Walkers Orchard, CV8 3JG.
1:15 pm Stoneleigh Village Club, CV8 3DH.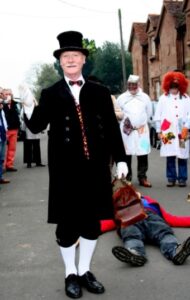 All are most welcome to come along and support the revival of these ancient plays and if you would like to host a performance next year and bring some traditional English Christmastide character to your immediate neighbourhood, please contact the Mummers by email at sing@dickdixon.co.uk or through their website
Click here for more Coventry & Warks folk news stories
_________________________________________________________________________________________________________________
7th December 2021
Polly's tragic but true tale will be told!
Daisybell and friends gearing up once again to present their folk opera account of Nuneaton's notorious murder
It was thwarted earlier this year by the pandemic, but local folksinger and composer Katherine Fear is confident that her folk opera, The Undoing of Polly Button will be staged in February 2022.
Based on the tragic but true events of an horrific murder in Nuneaton almost 200 years ago, Katherine's musical narrative draws from the factual story related by Stephen Moore in his 2019 book, also entitled The Undoing of Polly Button.
The folk opera tells the story of how Polly – the nickname of ribbon weaver Mary Green – met her end at the hands of her one-time lover John Danks near Abbey Green, Nuneaton, on 18 February 1832.
The show will be presented in the town's Abbey Theatre on Saturday and Sunday, February 19th (evening) and 20th (afternoon). Performing songs written by Katherine, the cast comprises her own band Daisybell, also featuring singers and musicians Anya Fay and Charlie Adams, plus Jennian King (singer with The Paper Circus) as Polly, Keith Donnelly as Danks and Gary Painting (of As The Heron) performing as several of Polly's romantic partners!
Following its premiere at the Abbey Theatre, the cast hopes to tour the show at festivals and other events and it's already scheduled to appear at the Warwick Folk Festival in July 2022. But the practicalities of rehearsal and team availability have made it necessary to cut back on the show's format envisaged last year.
Says Katherine, 'Obviously circumstances have changed since I first met with the cast. Last year, we were three weeks away from the premiere when the country was locked down. They showed fantastic commitment but it was necessary to slim the whole production down, both in length and numbers on stage. If we're going to tour festivals then eight performers is the maximum we can work with.
'We will retain a choir of adults and children for the premiere, but they will only be on stage for a couple of numbers. It was a really difficult decision to make, but in the current circumstances it had to be done.'
Joining the cast for the revised version of the show, Karen Killeen-Jones of KC Jones will play keyboards and Katherine is about to announce the recruitment of a new bass player. (Watch this space!)
Tickets for the Saturday night premiere are already selling quickly, although there are still plenty available for the Sunday matinee – book online via the Abbey Theatre Box Office.
UPDATE
Katherine Fear has now just announced that the bass-player will be Merlin Walter (pictured below).
Merlin is already familiar to many local folk music fans as a member of The Paper Circus. He has been working on the songs remotely, and has now joined Katherine and Karen Killeen for rehearsals.
Meanwhile some acoustic awesomeness at the Albany Theatre…
Daisybell are making only one more public appearance before Polly Button is launched. They will be the featured act for CVFolk's '2nd Sunday' event in the Albany Theatre Studio on Sunday 9th January, as part of an evening of original material performed by members of the Coventry Singer-Songwriters group.
Karen Killeen-Jones and her husband/singing partner Colin 'Ceejay' Jones are armed with guitars when they perform a mix of new and old material in the Albany Theatre Studio for this month's '2nd Sunday' (December 12). They're part of the 'Awesome Foursome' line-up which also includes fellow Nuneatonian, impressive rootsy Americana singer Steven John Birks, and Nuneaton Folk Club's resident band Nunc.
The fourth slot sees the return of three-part harmony trio Thrup'nny Bits (themselves Nuneaton FC regulars) offering some uplifting festive tradition. Their set will include a fine rendition of The Cherry Tree with Coventry connections going back to the 1300s and featured in part in the Coventry Mystery Plays.
The music starts at 7pm and the show finishes around 9.30pm. Admission is free but generous donations are requested for their usual 'caddy collection'.
(13 Dec) Click here for photos of the event
_____________________________________________________________________________________________________
29th November 2021
No cute arrangements – just hardcore tradition
Greenman Rising back at Queens Hall after a roaring Ragged Bear Fest
With the echoes of last month's acclaimed Ragged Bear Folk Festival still ringing round the venue, host band Greenman Rising returns as guests of Nuneaton Folk Club this Wednesday.
Describing their music as 'no cute arrangements, just hardcore tradition for modern audiences', the Warwickshire concert and ceilidh band specialises in 'driving dance tunes and songs about love, war, murder and betrayal'.
With headliners Fairport Convention and performances by Benji Kirkpatrick, Leatherat and Man The Lifeboats, they organised and hosted a packed programme of lively music for the 2-day Ragged Bear event in Nuneaton's Queen's Hall, which also picked up a large online following.
Their line-up comprises Steve Bentley (vocals, bodhran, percussion(, Andrew Wigglesworth (melodeons, whistles), Rebecca Park (fiddle, bassoon, recorder), Jen Waghorn (vocals, fiddle, mandolin), Richard Sullivan (guitar, mandolin, mandola), Izzy MacLachlan (vocals, whistles, cittern, guitar, flute) and Fruzina Rakoczy (concertina, recorders, bagpipes, whistles, vocals, cittern, guitar, flutes.).
The venue is the regular home for Nuneaton Folk Club on the first Wednesday of each month, and Greenman Rising are back as guests as part of an excellent home-grown line-up that features singer-songwriter Sam Shemmell, Tyburn (Jan Richardson on guitar and vocals, and Hedley Stone on fiddle), plus a temporarily revised line-up of resident band Nunc – putting together a new repertoire while lead singer Flossie McDougall recovers from an operation.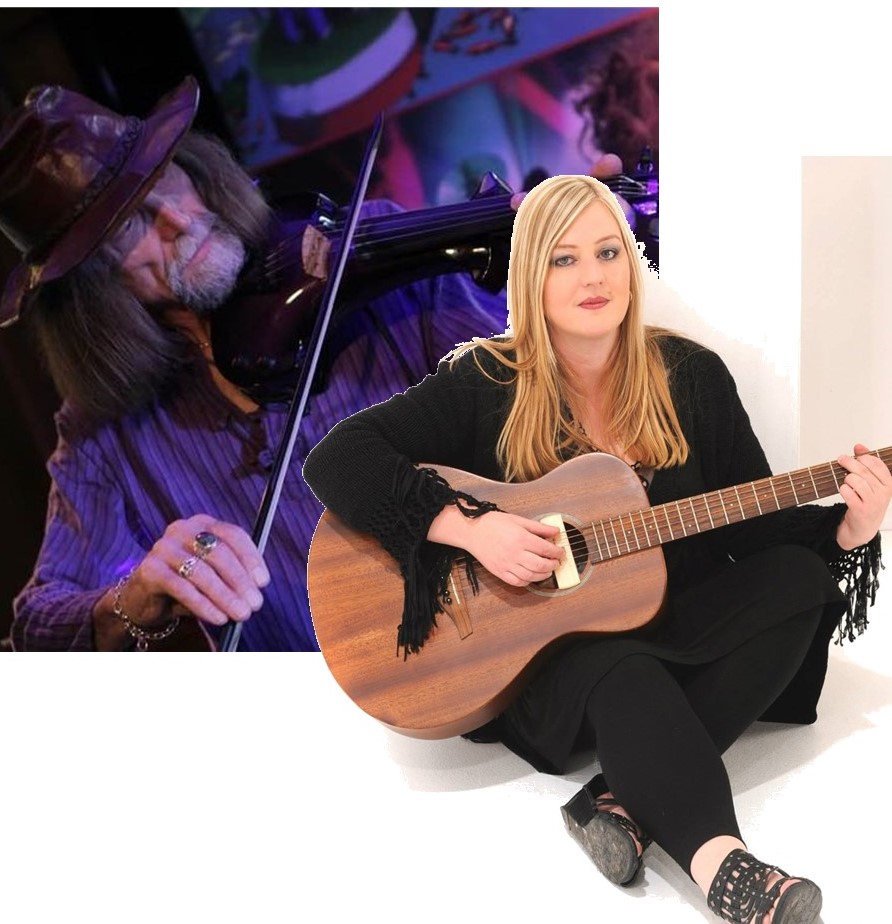 The show kicks off at 8pm this Wednesday, 1st December – admission is free but give generously to the jug!
Nunc's current all-male line-up heads down the A444 on Sunday 12th December to headline the 'Awesome foursome' concert in Coventry's Albany Theatre Studio, this month's event staged by CVFolk.
The evening starts at 7pm and also features music from popular Nuneaton duo, KC Jones, guitarist and harmonica bluesman Steven John Birks and a festive vocal harmony set from Thrup'nny Bits. Admission is free but once again – give generously to the jug!
_____________________________________________________________________________

14th November 2021 – News extra
No bones about it –
you're in for a treat with Track Dogs
by Rod Chaytor
Folk festival favourites Track Dogs swap the big open-air stage for the intimacy of Lighthorne Village Hall this week.
The foursome stop off in South-Warwickshire this Friday (November 19) as part of a Winter tour which will culminate with them playing alongside Folk giants such as Show of Hands and Skerryvore in Aviemore.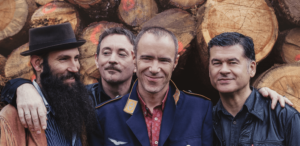 The Madrid-based band – two Irishmen, an Englishman and an American – are multi-instrumentalists whose repertoire includes self-penned numbers which also feature their close four-part harmonies.
As regulars on the UK Festival scene, in recent years they have played in front of 10,000 at the annual Towersey Festival near Thame in Oxfordshire and 7,000 at the Shrewsbury Folk Festival.
But guitarist Garrett Wall said: "We have also played in several village halls and love the atmosphere they generate. They're very special places and are usually well supported by communities, which is vital."
In other band news, he added: "We're finishing our new album this week, just waiting for mates from Banter to send us some recordings to add to one of our new songs which will be sung by Cathy Jordan of Dervish fame. It's one of the lead songs on the album, titled Donna Lola, about a 19th century historical figure from Sligo who made her mark around the world.
"We also this month re-release our Christmas song How Christmas Was Meant To Be with a new collaboration from our friends in the US, the bluegrass band The Barefoot Movement."
Lighthorne Folk was launched in 2015 with the aim of attracting nationally-known music acts to the village and appearances by Olivia Chaney, Siobhan Miller and Geoff Lakeman soon followed.
In 2019, Lighthorne Folk further launched Lighthorne Folk Club, held on the first Monday of the month at the Antelope pub opposite the Village Hall, either inside in the Upper Room, or outside under the Marquee.
For the Track Dogs gig, there will be a real ale and wine bar (cash only) and the Antelope will be taking bookings for pre-concert suppers.
Tickets are £15 – book here by email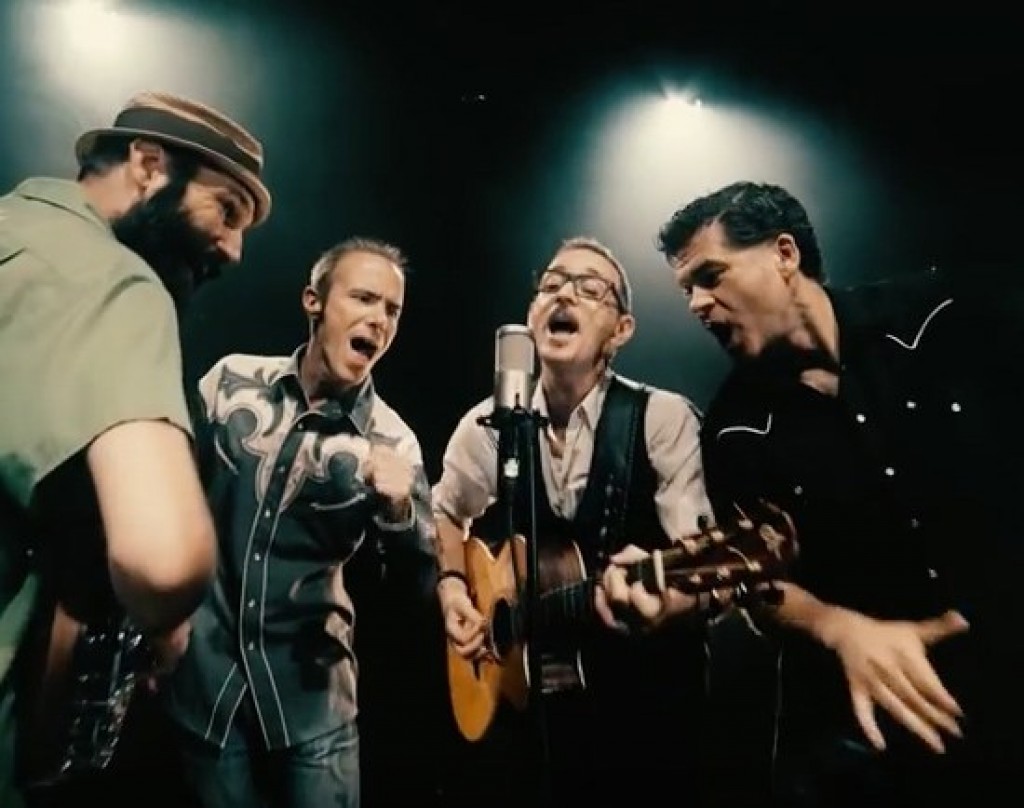 Click here to watch Track Dogs on YouTube – or search for them on Spotify and Apple Music.
__________________________________________________________________________________________________
11th November 2021
Big Ron is Back – but Al's Hair is
a Little Shorter
Meet On The Ledge's 30 year folk-rock legacy on show this Sunday
CVFolk presents a one-off line-up of popular Warwickshire folk-rock band, Meet On The Ledge for a special Albany Theatre Studio concert this Sunday (Nov 14).
Founder members are guitarists Ron Holmes and Allen Maslen who decided to set themselves up as a 'folksy duo' in 1992 as a side project to their appearances with Stratford-based 5-piece rock band Thud And Blunder.
Al recalls 'We didn't bother with a name until we saw ourselves advertised on a pub blackboard as Big Ron & Al With the Long Hair. We chose the name Meet On The Ledge that very same day!'
Anyone assuming that this was a 'Fairport tribute' act was in for a big surprise with the impressive selection of original songs in their repertoire. The 'side project' became a powerful and internationally-acclaimed phenomenon that played such venues as Fairport's Cropredy Convention and Birmingham's Symphony Hall. Their line-ups over the years included the late fiddle ace Mick Shaylor, singer, violinist and member of Trad Arr and Iota, Marion Fleetwood, bass supremo Phil Dipple, and Thud and Blunder drummer Paul Johnson who was also a member of Coventry's chart-topping band, King.

This Sunday's show features Ron, Al with keyboards-player Steve Bird who played in the 1960s and 70s for pop legends Eden Kane, Don Fardon and Marty Wilde. Steve first met Al Maslen during a theatrical production of Treasure Island in 1993; Steve was musical director and Al (with the long hair!) played Long John Silver.
The music starts at 7.30pm with a warm-up acoustic set from compere and popular singer and guitarist Dave Fry. Here's the link for details on how to book tickets .
__________________________________________________________________________
4th November 2021
The pen is as mighty as the chord
Local clubs looking forward to nights of lyrical delight courtesy of top singer-songwriters AJ and Jez
Since Woodie Guthrie, the singer-songwriter has remained a dominant force in contemporary folk music, and two of Britain's finest are performing locally next week.
Tuesday November 9th sees Anthony John Clarke taking up the guest spot in Rugby's Wurzel Bush Folk Club. His ability to combine serious subjects with lively and humorous presentation has established this Northern Irish-born artist as a must-see performer at folk clubs and festivals across the country and beyond.
With 12 albums and three singles to his name, he also has close connections with Fairport Convention. AJ has compered the band's Cropredy Convention festival for many years and often performs as a duo with Fairport's bass man, Dave Pegg.
The free admission (jug collection) show starts 8pm in the West Indian Club, with an impressive collection of resident and support acts – click here for further details.
The following night – Wednesday 10th November sees the long-awaited return of Co.Durham's songwriting legend, Jez Lowe at Bedworth Folk Club.
If the mark of a successful songwriter is the number of top artists who perform their material, Jez scores highly indeed with such acts as The Dubliners, Fairport Convention, The McCalmans, Mary Black, The Duhks, Bob Fox, The Young Uns, Tom McConville, The Clancys and many others proud to include his songs in their repertoires.
Accompanying himself on guitar and cittern, Jez appears at the Trent Valley Club in Bedworth – again 8pm start with free admission / jug collection with the added bonus of a support set by the nationally-acclaimed local trio Daisybell, now making a big impression with their latest line-up. For further details click here.
Willow and Tool's Music Parlour is the latest local venue to reopen its doors after a long lockdown break and they have a touch of magic and two great guests sharing this Sunday's billing.
The magic is supplied by John Mosedale making a return appearance and showing a new sleight of hand that goes beyond the art of playing guitar chords and singing humorous songs.
With a few magic tricks up his sleeve, he conjures up a whole new dimension in folk entertainment. The club also features a second-half performance by the excellent Coventry-based guitarist and singer Craig Sunderland.
Resident act Willow and Tool Band makes its first public appearance in months and the evening also features a spot by songwriter and multi-instrumentalist, Bob Brooker.
And guess what? Free admission – jug collection when the music kicks off at The Harvester pub, Long Itchington at 8pm – more details here.
____________________________________________________________________________________
18th October 2021
For great music, follow the Ragged Bear
Fairport Convention headlines Festival that's putting
North Warks firmly on the folk-rock map
Fairport Convention are headline act for this year's Ragged Bear Festival, taking place on Saturday 30th October in Nuneaton.
Their appearance will be some consolation to fans of the folk-rock legends, following the cancellation yet again of their own Fairport Cropredy Convention because of the ongoing Covid uncertainty last August.
Fairport will be performing two sets from 8pm on the Saturday. The packed programme throughout the day also includes leading folk, folk-rock and grassroots acts from across the country including Warwickshire artists Greenman Rising, Greengrass, Thrup'nny Bits and Benji Kirkpatrick.
Prevailing public health concerns are still leaving their mark. The Festival has restricted itself to using the two stages in its main venue, the recently refurbished and well-ventilated The Crew and Queens Hall, with no fringe events planned in the town for this year. However, ticket prices have been pegged at £35 and organiser Steve Bentley has also announced the launch of Ragged Bear Online for those still concerned about attending public events. Tickets for online access are £10.
You can book tickets for actual attendance and online access here via Eventbrite. Click here for further details of the event itself.
And… the Ragged Bear Festival also stages a lively free-admission Friday night show in Queens Hall featuring music from Worcester's energetic, foot-stomping line-up The Whipjacks and Telford-based folk- and country-rock band The Endings.
All in all – exceptional value for an impressive programme cementing North Warwickshire's reputation as the go-to place for first-rate folk music.
We can now confirm that fiddle and accordion duo, Peter Knight and John Spiers will be launching their new album tour with a concert in Binley, Coventry on Wednesday, February 23rd.
Former Steeleye Span member, Knight appears with his own band, Gigspanner at the same venue – St. Bartholomew's Church Hall on Friday, 29th October but, as we announced recently, tickets for this have already sold out.
His appearance with ex-Bellowhead squeezebox star, Spiers is likely to create as much – if not more interest. Tickets are £17, available from the organiser, John Owen – call him on 07872 580450 or email jowen6@yahoo.co.uk.
Profits from the event go to the ongoing fundraising project for the Church Hall refurbishment. Look out for ore big names on the Church Hall stage later in 2022.
For further details on these and all forthcoming folk events in the CV postcode area,, click here or here.
_________________________________________________________________________________
7th October 2021
The best things come in threes
CVFolk celebrates Autumn at the Albany Theatre
with a musical 'Feast of Mellow Fruitiness'
Another evening of triple entertainment is lined up for the Albany Theatre Studio, Coventry when CVFolk presents three more local line-ups – all of them trios.
This Sunday (October 10th) sees performances from North Warwickshire's Poacher's Pocket, East Warwickshire's Greengrass and South Warwickshire's The Harvesters – by happy coincidence all bearing names that reflect a rural spirit and post-summer produce. Or as the organisers call it 'A feast of mellow fruitiness'.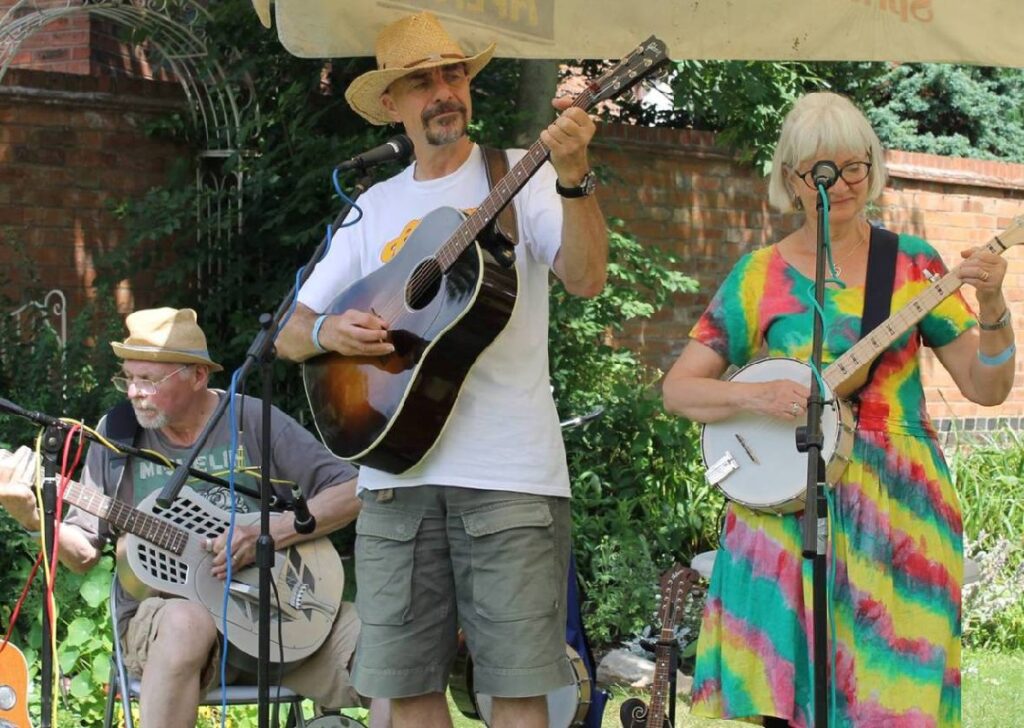 The Harvesters consist of Harbury husband-and-wife duo, Ian and Sue Hartland plus Bob Powell, armed to the teeth with guitars, banjo, mandolin, dulcimer, slide guitar, steel guitar – in fact enough string instruments to stock an Appalachian orchestra.
To add to the authentic back-porch Americana experience, Sue will also be packing her dancing shoes and wooden board to provide some spectacular and percussive traditional step-dancing.
Keeping the sound crew on their toes, Greengrass will also fill the stage with a wide range of instruments – guitars, double bass, fiddle, banjo and shruti – skilfully played by Kate Vassalos, Keith Nickless and Lauren South with some captivating vocals and harmonies.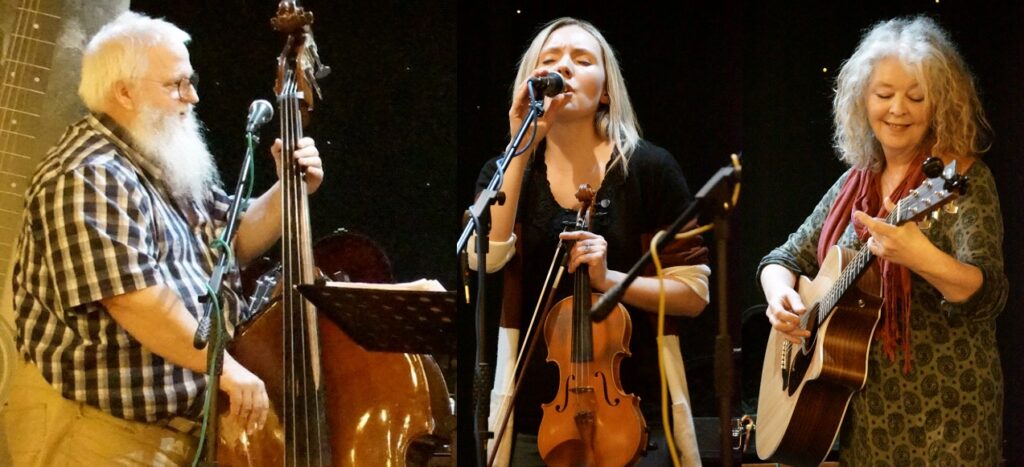 With more guitars plus mandolin, accordion and voices, Poacher's Pocket (pictured below) launch the show with their accomplished, engaging and harmonious arrangements of traditional and contemporary songs courtesy of Carol Gillespie, Campbell Perry and Colin Squire.
With Gary Painting as guest MC for the evening, the music starts 7pm and runs until around 9.30pm. Admission is free but organisers will hold the customary 'caddy collection' for generous donations.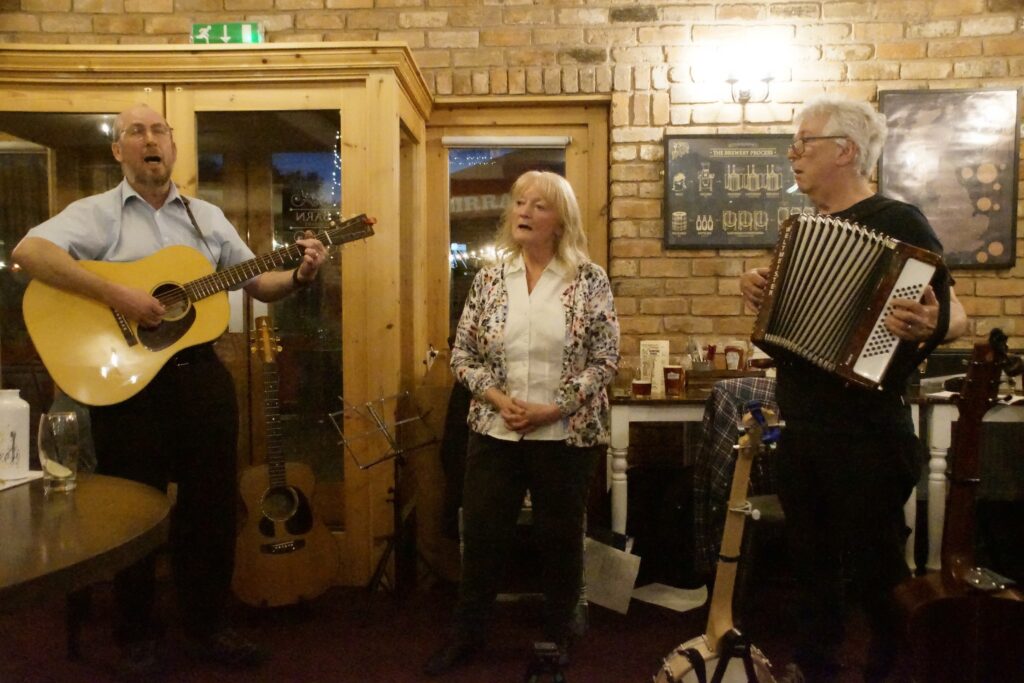 Meanwhile, advance tickets are now available at the Box Office for CVFolk's first main concert event since lockdown when Warwickshire's famous folk-rock combo Meet On The Ledge takes over the Studio on Sunday November 14th.
With descriptions ranging from 'The world's first stadium folk band' to 'Big Country in a bar brawl with Thin Lizzy', the line-up sees founder members Ron Holmes (vocals and guitar) and Allen Maslen (electric and acoustic guitars) on stage with keyboards-player Steve Bird and Bo Davies on drums, performing from the band's extensive catalogue of self-penned songs, traditional numbers and classic covers. Tickets are £11 – click here to book.
Back to this week and two solo guest singers make rare appearances on the local circuit.
Tuesday (12th October) sees Paul Watchorn (pictured above) appearing 'in real life' at the Wurzel Bush Folk Club, Rugby.
This follows his well-received virtual guest spot when the club ran its Facebook concerts during the Covid-19 lockdown.
Acclaimed worldwide as one of the best 5-string banjo players in Ireland, Paul is also a fine singer and guitarist.
He will soon be embarking on a new major tour as a member of The Dublin Legends, formed when The Dubliners finally retired from their illustrious career bringing popular Irish songs and tunes to worldwide audiences.
News update – 12 Oct 2021
Wurzel Bush organisers learned today that Paul Watchorn is unable to appear tonight as a Covid test has come up positive. Here's wishing him a speedy journey back to full health. Meanwhile, tonight's guest spot will be filled by widely acclaimed Irish singer and bouzouki and accordion player Daniel Murphy.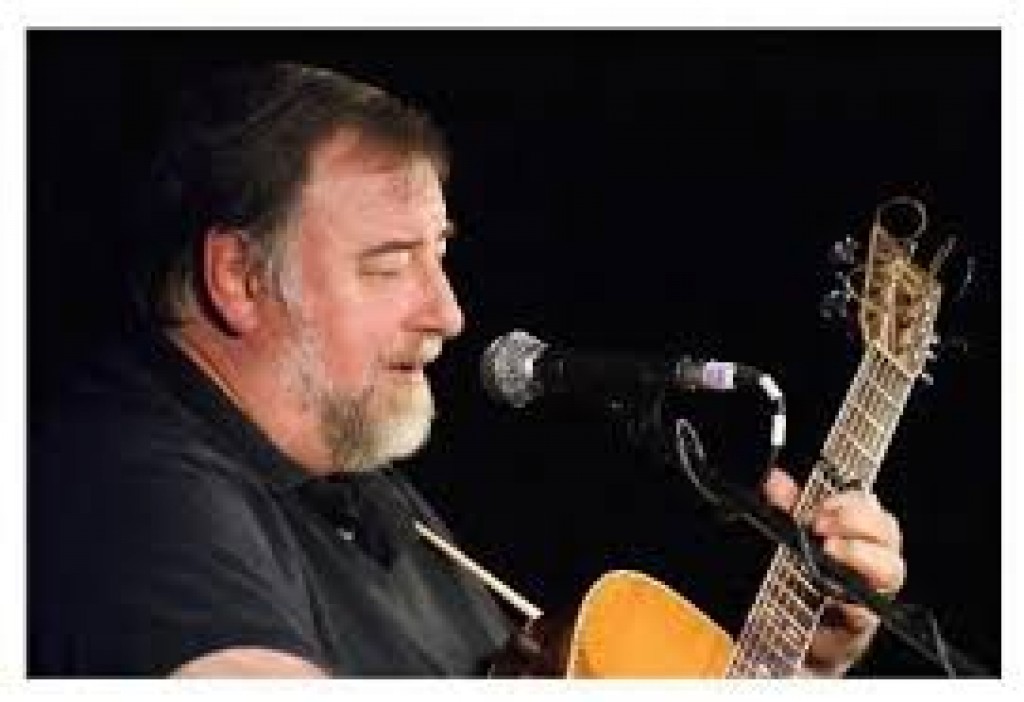 And Wednesday (13th October) offers first-rate performances of traditional and contemporary folksong and storytelling from Nick Dow (pictured above), this month's guest at Bedworth Folk Club.
With material inspired by his deep knowledge of Romany life, Nick's fascinating and enjoyable show is supported by talented and popular local singer and guitarist, Brian Phillips.
For further details on these and all forthcoming folk events in the CV postcode area,, click here or here.
_____________________________________________________________________________________________
30th September 2021
Is panic buying fever hitting the folk scene?
Time to dust off the 'House Full' signs as advance tickets sell faster than Glastonbury for more local folk events.
Organisers of two more Warwickshire performances have announced sell-out bookings as the post-lockdown folk scene picks itself up with vengeance.
Following last week's news that the Sheep Dip Session has sold all tickets for Benji Kirkpatrick's show in Bubbenhall Village Hall, the same date – Friday October 29th – also sees a full house as folk fans flock to the much-anticipated Peter Knight's Gigspanner concert in St.Bartholomew's Church, Binley, Coventry.
And tickets for Warwick Folk Club's first guest night since reopening have sold like hot cakes for Keith Donnelly (pictured above) and Friends' appearance at The Racehouse, Warwick on Monday October 11th.
All three venues are running reserve lists and appealing to anyone who has booked but can't make it to let organisers know so that seats can be reallocated.
Organiser of the Gigspanner evening, John Owen is hoping to get violinist Peter Knight back at the venue for a duo appearance with squeezebox expert John Spiers, February 23rd next year. No tickets available yet – he's just sounding out interest but is confident that this amazing meeting of two great musicians will go ahead.
It was through his efforts to raise money for the venue's Church Hall refurbishment, that John came back out of retirement as a gig promoter. He'd organised previous sell-out shows for Gigspanner in Stratford-Upon-Avon plus two very well-received French evenings with Flossie Malavialle at St.Bartholomew's.
Along came Covid, but John still wondered if could convince Gigspanner to venture to Coventry for a post-lockdown fundraising gig. He told us 'This was agreed in super quick time, and here we are hosting the first night of their Autumn tour.
'We've had great local support and now I've been offered the fantastic opportunity to host the opening night of the Knight & Spiers Album Launch Tour in February.'
Anyone interested in the fundraising gig, let John know by email – jowen6@yahoo.co.uk – or call him on 07872 580450.
The forthcoming first Monday of the month sees Lighthorne Folk Club back in action in their scenic marquee venue at the Antelope Inn, Lighthorne Village. This month's guests is blues guitar maestro Jack Blackman with additional performances by Firedaze and Chessi O'Dowd.
_______________________________________________________________________________________________________________
24th September 2021
The Sheep Dip moves out of the studio
Benji comes to Bubbenhall as county's big-name house concert reaches end of era
Steeleye Span's Benji Kirkpatrick is the next – and possibly the final – guest for the Sheep Dip Session when he appears in Bubbenhall Village Hall on Friday 29th October 2021.
Sadly, there will certainly be no more concerts in the Princethorpe home of Michael and Dee Luntley who are in the throes of moving house.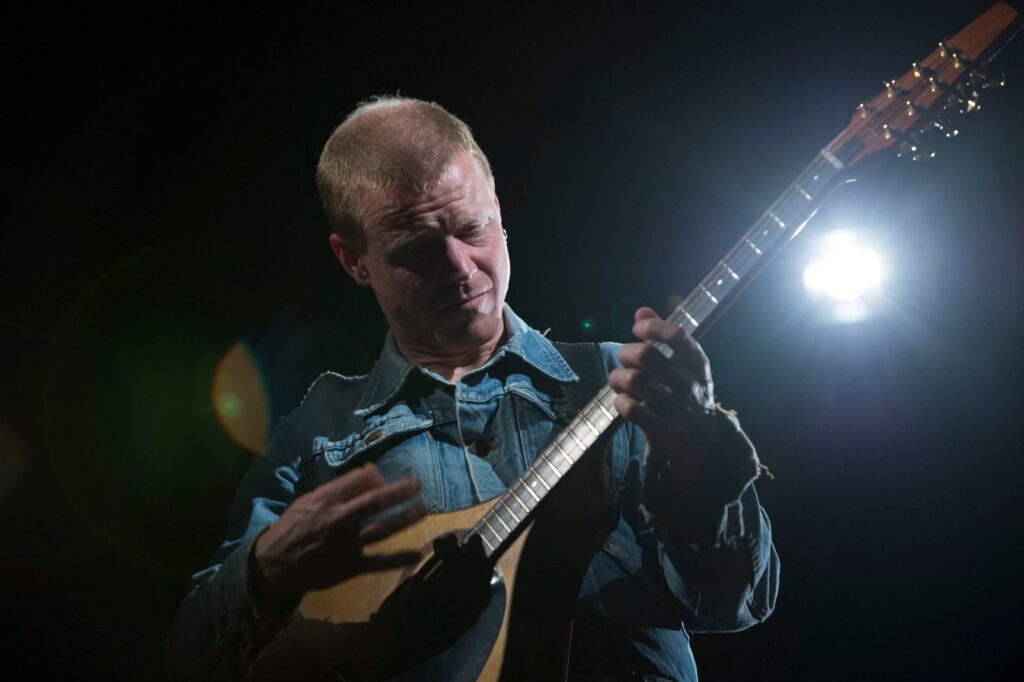 Based in Leamington and widely acknowledged as an extraordinary guitarist, bouzouki and banjo player, Benji was a key member of leading concert line-ups Bellowhead and Faustus, and led his own trio The Excess. He was invited to join Steeleye in 2017, forty years after his dad, John Kirkpatrick played with them. His solo projects include his 2015, Hendrix Songs homage to his first musical icon, featuring a set of Jimi Hendrix covers played on bouzouki. Click here for details and audio clips.
Says Michael, 'This is our chance, for now, to say fare thee well to our lovely Sheepdippers. We'd love to host this in the normal way but with infection rates still prevalent, it is asking too much of our audience for them to be penned into the intimacy of the normal Sheep Dip space.
'Bubbenhall Village Hall has a capacity of 100, but we're capping attendance at 60 to enable comfortable and Covid-sensitive seating spacing.'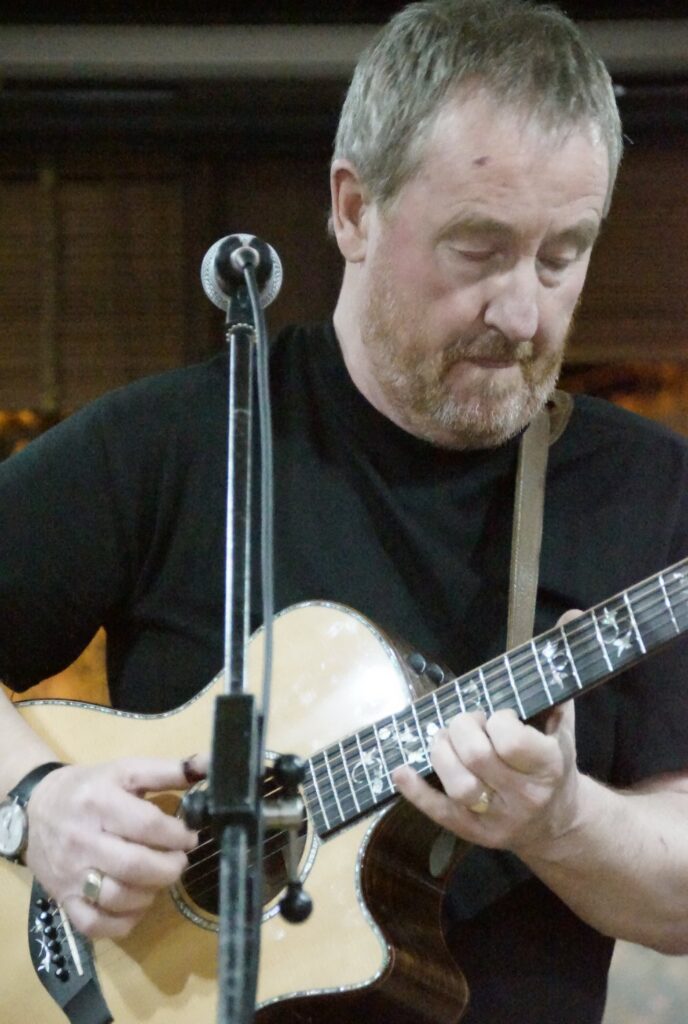 Tickets are £10 and can be booked by emailing michael.luntley@gmail.com. Don't delay if you plan to go – now the news is out, tickets are moving quickly and could well sell out, even with extra capacity available in the new temporary venue.
Singer, guitarist and member of acclaimed trio Tricaorach, Michael had previously staged around six Sheep Dip Sessions per year, with leading musicians, often on tour from the United States, to perform in an intimate setting to an audience of up to 40 people, sometimes followed by workshop events the following day.
House concerts are popular in the U.S. and Michael and Dee picked up the idea to host their own from American duo, Dana & Susan Robinson, themselves previous Sheep Dip guests on two occasions.
Stop Press – Update
Within a day of its announcements, the Sheep Dip Session with Benji Kirkpatrick at Bubbenhall Hall on 29th October is SOLD OUT.
There will be a reserve list. People who have already booked and find they can't make it, should email Michael Luntley immediately on michael.luntley@gmail.com so that he can reallocate tickets to others on the list.
Meanwhile, organisers will be reviewing seating arrangements, to see if a little more than 60 is possible while preserving social distancing. But for now they're working on 60 as full capacity.
A few miles further down the road and Long Itchington's famous folk venue, Willow & Tool's Music Parlour has announced its re-opening at The Harvester Inn, Church Road, on November 7th at 8pm.
Resuming its popular first-Sunday-of-the-month programme of events, the club presents something a little different for its first post-lockdown show.
As well as Coventry's highly regarded singer and guitarist Craig Sunderland as guest, the evening features a folk music and magic show by singer, songwriter and illusionist John Mosedale.
Intrigued? Watch this space for further news nearer the time!
________________________________________________________________________________________________________________
15th September 2021
Emmy and Lucy in the Box!
Coventry's new Fargo venue features two leading lady songstresses
Highly acclaimed singer-songwriter Emmy the Great and talented Coventry-based singer Lucy Anne Sale share the billing for a special one-off show inside Coventry's newest venue, The Box this Friday evening (17th September).
Born in Hong Kong to a Chinese mother and English father, and raised in the UK, Emmy – aka Emma-Lee Moss – is a London-based performer, composer and journalist. who sings in English, Mandarin and Cantonese.
She has four well-received albums to her name – First Love (2009), Virtue (2011), Second Love (2016) and April/ 月音 (2020). The Guardian described her as 'one of the boldest young writers in pop'. And the Sunday Times hailed her latest release as 'the most melodically joyous of her career'.
Noted for an approach that incorporates elements of folk, jazz, blues, pop and electronica. Lucy Anne will open the show both as a soloist and along with her trio when she's joined by Euan Rodger on drums and Si Hayden on bass.
Doors open at 7pm for an 8pm start and tickets are £16.50, bookable on https://tinyurl.com/csyy97u9 – further details from the venue on 02476 252434.
This is a seated restricted capacity show to support social distancing and facemasks are required (unless exempt). They are also inviting audience members can take a lateral flow test beforehand where possible. Full refunds are given to anyone testing positive with Covid-19.
Tuesday 21st sees the second public outing of the new line-up of Daisybell, guests at the Wurzel Bush Folk Club at the West Indian Club on Railway Terrace, Rugby
Locally-based but lauded at venues and festivals across the country, they are noted for their lively arrangements of self-penned and traditional songs, delivered with harmonies and engaging stage presence. Their first gig featuring latest recruit, Charlie Adams alongside founder members Katherine Fear and Anya Fay went down a storm at the Courtyard of Nuneaton Arts Centre last June.
With an impressive list of resident acts, this is also the club's second event since the lockdown after a highly enjoyable re-opening night with guests Meet On The Ledge. The music starts at 8pm. Admission is free although audience members are invited to fill the club's specially designated chamber pot with cash!
___________________________________________________________________________________
1st September 2021
Spoilt for choice!
After the famine comes a feast of fantastic,
home-grown folk music.
If anyone needed convincing of the superlative standard of music to be heard by local acts at local folk venues – here's a mini tour of Coventry and Warwickshire clubs that we strongly recommend for checking out over the next fortnight.
Monday 6th September…
…gives a chance to enjoy the irrepressible talent of Coventry singer-songwriter Rob Halligan when he makes his guest appearance at Lighthorne Folk at The Antelope, Lighthorne with fellow-musicians from his Homeward Hie band line-up, Ewan Cameron (whistles, flute), Aiden O'Hare (violin) and Chris Hunt (guitar).
The gig was arranged, hot on the heels of the band's impressive debut performance at CVFolk's post-lockdown relaunch concert at the Albany Theatre last June. Playing support are resident Peter Reynolds and popular Warwickshire duo Hatstand, comprising harmonies, guitar and double bass from Kate Vassalos and Keith Nickless.
The show starts 7pm and admission is £5 plus jug collection donations. For more details, email peterreynolds.pbr@gmail.com.
Tuesday 7th September
All roads lead to Rugby on that date for the long-overdue opportunity to see Warwickshire folk-rockers Meet On The Ledge in action. Founder members Ron Holmes (vocals, acoustic guitar) and Allen Maslen (lead guitar) team up with keyboards-player Steve Bird and Bo Davies on drums for their unique full-on sound.
Catch them at the Wurzel Bush Folk Club at Rugby West Indian Club on Railway Terrace from 8pm. Admission is free but audience members are invited to fill a chamber pot with cash!
Wednesday 8th September…
…sees Coventry's internationally acclaimed guitarist Kevin Dempsey performing his amazing jazz-tinged arrangements of songs, self-penned and traditional. His set list often includes classics from the repertoires of his former world-shaking line-ups, Dando Shaft and Whippersnapper.
He appears solo at Bedworth Folk Club which meets at the Trent Valley Club in Bedworth town centre. Hosted by Malc Gurnham and Gill Gilsenan, the show starts 8pm and includes a support set from the recently extended line-up of Paper Circus (Jennian King on vocals, Suraj Nagar on guitar and Merlin on double bass) fresh from their success at Moira Folk Festival. The music kicks off at 8pm – again free admission with a jug collection.
Sunday 12th September
The new season of CVFolk's own monthly schedule of '2nd Sunday' events commences when three more of the region's finest folk acts take the stage in the Albany Theatre Studio in Coventry,
Highly acclaimed and creative singer-songwriter Wes Finch will be there for what was to be a solo set but we've now learned that he'll be joined by percussionist Ben Haines, and double bass-player and former Nizlopi member John Parker.
With a repertoire that reflects the influences of folk, blues and Americana, this superb line-up would prove an impressive headline guest act in its own right. However, the evening also features the first public appearance in over 30 years of Mick Bisiker (guitar and bouzouki) and Al Romanov (gypsy fiddle)..
Front man for popular local folk-rock concert and ceilidh band Rack and Ruin, Mick made many well-received appearances on the club circuit with Al in the 1980s and their last album Bisiker and Romanov picked up the prestigious Music Retailers Best Folk Album award in 1989.
The show opens at 7pm with some splendid three-part harmony by popular local exponents of the art of unaccompanied singing, Thrup'nny Bits featuring the voices of Barbara and Gareth Wyatt and Des Patalong. Admission is free – yet another jug collection!
All proof, if needed, that the local folk circuit is back on track after the pandemic panic – here's hoping for no further health-scare hiatus. Click here for more details and more things happening on the Coventry and Warwickshire folk circuit.
_______________________________________________________________________________________________________________
15th August 2021
Leading local club under starter's orders
New team puts Warwick Folk Club back on track
at The Racehorse
Warwick Folk Club launches its post-lockdown programme next month.
The fortnightly club reopens on Monday 13th September at its regular venue, The Racehorse on the town's Stratford Road. The programme, as before, will feature a mixture of guest and performers nights but the main difference is the new nine-person team of organisers following the retirement of its long-time host Norman Wheatley.
There is now a cohort of three MCs – Laura Kisby, Dave Fry and Don Arthurson with club publicist Robin Kaye also stepping in as a reserve compere.
Other roles, including treasurer, organising the raffle, running the club website (http://warwickfolkclub.co.uk) and general help on the nights are taken on by club regulars Rob Watts, Mandy Watts, Sally Crompton, Dora Stoddard and Maggie Coleman.
As for guests, the club has already booked Leamington's own singer-songwriter and world-renowned comic genius Keith Donnelly who appears on October 11th 'with friends'. November 22nd sees a joint guest night of two awesome local acts, As The Heron and Craig Sunderland. And watch out for more details of the club's Christmas Party on Monday December 20th.
Robin tells us that they plan to re-book guests which had to be cancelled because of the lockdown and the club is also likely to continue its popular Theme Nights if attendances resume at their pre-COVID level. Among those staged before the outbreak were a 'Top Twenty' night and songs based on the theme of 'Fool'.
For the rest of the programme leading up to Christmas, the club stages its Performers Nights, the first of which takes place for the Grand Reopening with singer, guitarist, experienced MC and teller of dubious jokes Dave Fry hosting the proceedings.
Robin explains, 'Floor artists should book in advance to be assured of a spot during Performers Nights but, of course, they can come along on the night to see if there are any spaces. We do try to fit people in if we can.'
It looks like the club will continue its popularity as the place to play. At the time of writing – and with news of the club reopening only recently announced – over half of the available floor spots have already been booked for September 13th.
Robin recognises the club's strong reputation built up over the years when Norman Wheatley was in charge. 'Warwick Folk Club was kept active thanks to Norman's dedication and enthusiasm and all the club regulars and guests are very grateful to him.'
The Folk Club team is working with The Racehorse to ensure that they can operate in a COVID-safe environment. This means that audience numbers may have to be restricted but the team will issue some further information plus any guidelines nearer the re-start.
North Warwickshire is also enjoying the re-emergence of live folk clubs with highly successful nights of music enjoyed by Nuneaton and Bedworth Folk Clubs and a grand night in store when Atherstone Folk Club reopens this Wednesday (18th August) at The Rose Inn, Baxterley, where resident band Finger In The Jar host a Singers Night.
For further details and updates on local club nights, check CVFolk's 'Cov & Warks Folk Diary' on www.cvfolk.com/calendar.
____________________________________________________________________________________

28th July 2021
Motor City Music
Wellerman singers and CVFolk add their voices
to new-look Coventry Motofest
New wave shanty group The Longest Johns, Americana duo Rosso, Nuneaton Folk Club residents Nunc, and Coventry singer-songwriter Rob Halligan are among the acts featured in a final musical flourish for this year's new-style Motofest events.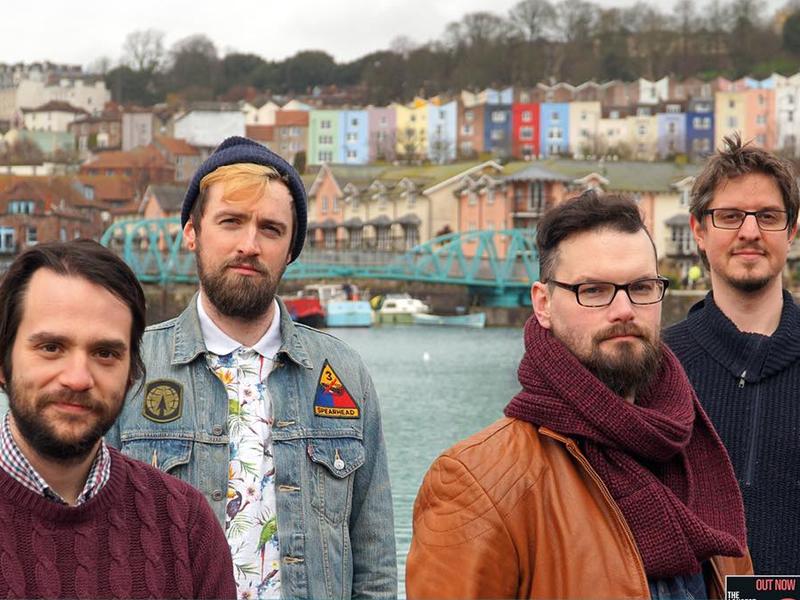 CVFolk once again contributes to MotoFest Coventry which has switched to a new 'MotoFest Month 2021' programme, stretched out across three weekends and culminating in a display of motors and music on Saturday and Sunday, August 7-8.
The Saturday evening drive-in show takes place on the Nexus ICA Stage in Coventry's Millennium Place from 7pm.
Headlined by ELO's Dave Scott-Morgan, the show includes a rousing performance by internationally-acclaimed Bristol based harmony quartet The Longest Johns whose version of the classic Wellerman launched the surprising 2021 revival in the art of shanty singing.
The evening also features songs from Rob Halligan and a live interview with CVFolk's Chair Pete Willow and Patron Pauline Black, world-famous 2 Tone singer whose musical career started out in the 1970s Coventry folk scene.
Tickets at £20 per vehicle can be booked on the Club MotoFest Portal here.
The free admission Saturday and Sunday daytime events also in Millennium Place, run from 10am to 5pm with Rosso and Nunc included in the Sunday afternoon programme.
Upcoming UK Americana-Country duo Rosso features voices and music of Emily Eglinton and Fiona Laycock who graduated from university straight into the gigging circuit and have already released three well-received singles.
Nunc's 6-piece line-up is well-established on the Coventry and Warwickshire folk circuit through its performances at Nuneaton Folk Club, Ragged Bear Festival and CVFolk 2nd Sunday events among other venues. Performers of great versions of blues and folk-rock classics, they have become veteran and popular performers at Motofest since CVFolk first became involved in the event.
They are certainly hitting the ground running after the long lockdown layoff, when they host the reopening of their club in its completely revamped venue, the Queens Hall, Nuneaton on Wednesday August 4th, 8pm. Nunc are joined that evening by Adam Wilson, Craig Sunderland, Nigel Ward and Greenman Rising's Steve Bentley and Andrew Wrigglesworth. Admission is free
Details and timings are still being finalised at time of the writing this, so watch this site for updates. But it's good to see the city's celebration of its automotive heritage complemented by its strong foundations in folk music.
Stop press – update!
The show this Saturday evening (7th August) starts at 7.30pm in Millennium Place, Coventry by the Transport Museum. The Longest Johns perform their first set at 8pm, followed by the interview when BBC CWR's Sandra Godley talks to Pete Willow and Pauline Black about the CVFolk project. The LJ's are back on stage at 9pm.
Sunday afternoon (8th August) includes performances by Nunc at 2.30pm and a trio line-up of Rosso at 3.30pm.
__________________________________________________________________________________________
9th July 2021
Life after lockdown?
Folk is coming home.
The local folk scene is starting to get busier now that the government has decreed the – albeit delayed – end of lockdown and more local venues have announced reopening dates and guest lists.
First out of the trap was CVFolk's Second Sunday monthly show in Coventry's Albany Theatre Studio, when a delightful evening of live music took place on June 13th, featuring Rob Halligan's new band Homeward Hie and support acts As The Heron and Craig Sunderland.
The ticketed socially-distanced event ran smoothly producing many social media comments on the high standard of music played by all artists and the joy of live music in front of a real audience! The venue immediately gave the go-ahead for a full-programme of 2nd Sunday events without the need for advance tickets, but keeping the social distancing and risk assessment procedures to remain Covid-compliant.
Ironically, the next event – this Sunday 11th July – clashes with a certain major football match!
Undaunted by England's success in reaching the Euro 2020 Final, organisers were not able to reschedule the date or start time so have decided to go ahead with the music, kicking off at 7pm in the Albany Theatre Studio, on the basis that there are bound to be fans of live music seeking refuge from the ubiquitous presence of football. Or who just think the return of live music is more important.
Billed as 'Beyond the Festival Fringe' the event was meant to give a foretaste to fringe events at Warwick Folk Festival, sadly a late victim of the pandemic. Hosted by singer and 12-string guitarist Dave Fry, CVFolk's evening features the first public appearance in months by Nuneaton Folk Club's talented and popular 6-piece line-up of Nunc.
They share the billing with two acts associated with tireless instigator of so-many line-ups and musical projects Steve Boyer. He performs with singing partner Mike Cox as Under The Influence and then finishes the evening playing percussion for The Hanksters which specialises in songs by the legendary Hank Williams.
Admission is free but audience members will be invited to place spare bank notes into the caddy collection.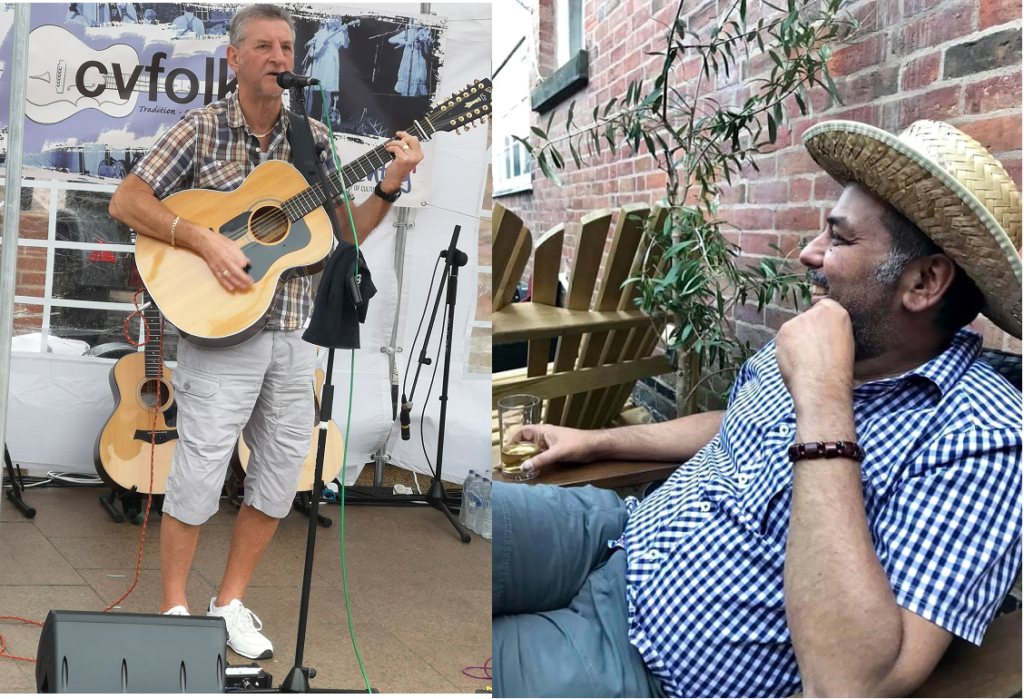 Guests lined up for future 2nd Sunday events at the Albany Theatre include the long-overdue reappearance on September 12th of powerhouse duo, Mick Bisiker on guitar and bouzouki, and Al Romanov on violin. They share the billing with Coventry's highly acclaimed singer, guitarist and songwriter Wes Finch. Warwickshire folk-rock trio Meet On The Ledge appears in November and Wes Finch is back in full band mode in March 2022.
Meet On The Ledge also appear as opening guests when live music returns to the Wurzel Bush Folk Club's venue, the West Indian Club, Railway Terrace Rugby on Tuesday September 7th.
Nuneaton Folk Club brings back live music hosted by Nunc to the recently refurbished Queens Club on Wednesday August 4th. Their published guest list includes Winter Wilson (September 1st), Pilgrim's Way (October 6th) and the powerful sound of Greenman Rising (December 1st). Greenman Rising also host the popular Ragged Bear Festival at the same venue on Saturday October 30th where this year's headliners are Fairport Convention.
Bedworth Folk Club is back in action on Wednesday August 11th in the town's Trent Valley Club where ace songwriter John Richards appears with his quartet. Their guests also include Kevin Dempsey (September 8th), Nick Dow (October 13th) and Jez Lowe (November 10th).
Lighthorne Folk Club has rescheduled its date for Rob Halligan who now appears on the Marquee stage at the Antelope Inn, Lighthorne on Monday September 6th with support by Dave Faulkner and Hatstand. The club also meets on August 2nd when Craig Sunderland appears with As The Heron and Martin Hainsworth.
The local session scene is starting to pick up, with the Monday night traditional music sessions resuming at the Humber Hotel in Coventry, hosted by Nigel Ward and Jack Shuttleworth, and the weekly Hairy Folkers get-togethers reverting from zoom mode to live sessions in the garden (weather permitting) at the Old Windmill pub, Spon Street, Coventry from this Sunday 2.30-5pm.
Make the most of it folks – enjoy the live music while it's still legal to meet in public.
And don't let a small matter of a football match get in the way of your enjoyment of real folk musaic performed in front of a live audience.
#Folkiscominghome
________________________________________________________________________
17th June 2021
Warwick Folk Festival postponed.
Lockdown delay puts paid to plans for new venue launch
Organisers of this year's Warwick Folk Festival have announced with regret that the event is to be put back yet another year.
The decision was reached, following the Prime Minister's announcement last Monday that the planned end-of-lockdown date of June 21st is to be put back for another four weeks.
After an emergency Festival Board meeting, WFF Director, Dick Dixon has issued this statement:
"Following extensive planning and discussion in light of the most recent government guidelines, with huge regret it has been decided that Warwick Folk Festival, which was due to take place 15 – 18 July, will be postponed until 21 – 24 July 2022.
"This decision has not been taken lightly, but with the current situation, our absolute priority is the safety of our staff, artists, traders, audience and the local community. We will ensure that our website includes detailed updates as soon as possible.
"As previously, tickets can be transferred to next year's festival. Thank you to everybody for your continued support and efforts during this difficult time – we miss you very much."
The festival statement goes on to explain why the decision to postpone was made at this point in time:
"We've been waiting for government guidance to be published on how is best to proceed. This has become more important after many in the scientific community have expressed serious concerns over the new COVID-19 Delta variant and the next step of the roadmap proceedings.
"We take the safety of everyone involved at our festival very seriously and feel we have a duty of care to ensure that our festival is a safe place. We also want to ensure that we protect the local community as much as we can.
"Another major concern is that there may be even more changes to the guidelines at the last minute, and many festivals including ourselves have to pay huge sums of money in advance to artists and infrastructure providers. This jeopardises the future of our festival."
Now postponed two years running, the festival was due to mark the retirement of Dick as Festival Director, having been involved in the running of the event since it was launched in 1980. This year's main events were to be staged in Castle Park, a greenfield site adjacent to Warwick Castle and a short walk from the town centre.
This year's guest list had included such big names as Seth Lakeman, Show of Hands, Spiers & Boden and The Young-Uns and organisers hope to roll over as much as this year's programme as possible to run next year.
Says Dick 'The new site presents a great opportunity and it's really sad that we won't be experiencing it just yet. However, we are looking forward to making the 2022 festival better than ever – do put the dates in your diaries!'
For further information and updates, please check here for the festival website.
27th March 2021 (updated 1st April)
Easter treat from Halligan and friends
Rob's all-star Cathedral show augurs well for Coventry's first post-lockdown folk concert
Coventry singer-songwriter Rob Halligan has staged an Easter special concert video-recorded in Coventry Cathedral for release on April 1st.
With guitarist Chris Hunt and whistle-player Ewan Cameron, the 45-minute concert was filmed in front of the Cathedral's world-famous Baptistry Window.
Available on YouTube from 7.30pm, the show features songs from Rob's most recent widely-acclaimed album, Always Heading Home. See it here: https://tinyurl.com/4dmbabyy
It also gives a foretaste of CVFolk's new season of Second Sunday concerts, to be relaunched in June, with Rob's new band, Homeward Hie topping the bill.
Taking place in the Albany Theatre Studio, Coventry on Sunday June 13th, the socially-distanced event is believed to be the first live folk show to take place in the city since lockdown.
Rob organised the Cathedral gig as 'something different for Easter'.
He explains 'last September, the band teamed up to perform a streamed gig from my living room. We wanted to do it again but this wasn't going to be possible in current conditions.
'I had a word with the Dean at Coventry Cathedral. They're very keen to have live music'.
Rob describes the performance as an awesome experience. 'We had the whole building to ourselves and it was quite surreal. The ambience was great – not only did we get the huge reverb from the building itself but you can still hear the city sounds from outside in the background. It works really well on the recording'.
As social distancing rules will still apply on June 13th, admission will be by advance ticket only with the room laid out to accommodate household 'bubbles'. Says Chair of CVFolk, Pete Willow, 'the venue has been fantastic in supporting the event with an excellent plan in place to ensure an enjoyable and convivial evening of top-class live music – and the bar will be open!'
Tickets are £11 each and now available from the theatre. on https://www.albanytheatre.co.uk/shows/homeward/.
Looking ahead to July 11th and assuming current restrictions are lifted as planned, CVFolk will host an informal 'Warwick Fringe' session as a prelude to Warwick Folk Festival which opens July 15th.
5th March 2021
Memories of one magic night in Bergamo
UK release this week of live album
by Coventry's Dando Shaft
A one-off 1989 gig in Italy by Coventry progressive folk legends Dando Shaft is officially released in the UK as a live album on March 12.
Shadows Across The Moon features the band in concert in Bergamo Old Town. Formed in 1968 and named after a 1960s satirical novel, Dando's initial line-up of Kevin Dempsey, Dave Cooper, Martin Jenkins, Roger Bullen and Ted Kay was regarded as a major influence on the progressive side of the folk revival but had never played outside the UK in their five years of touring, apart from a festival in Germany.
The gig was the result of the persistence of one Italian fan and music promoter, Gigi Bresciani who was determined to stage a reunion event and agreed to provide hotel accommodation for a week for the band to rehearse the one-off show. A recording of the event was released in Italy six years later, but it's taken another 26 years for a high-quality mix to see light of day as a UK-released album, courtesy of the Talking Elephant label.
For singer and guitar wizard Kevin, the album recaptures a very special point in the history of the band: 'There have been compilation releases of Dando tracks before but, thanks to Talking Elephant, this is the first time we've been directly involved in a release of our past music and have a say in the mix and cover design'.
The album has been remastered from the original tapes and by the original engineer, Dario Ravelli. Kevin is justifiably delighted with the package and the overall sound quality. The songs come from all of the band's previous albums but the arrangements are unique, with additional violin-playing by Chris Leslie, now a member of Fairport Convention.
Kevin explains: 'At the time, Chris was working with Mart and me in Whippersnapper and it made sense for him to join us during this break in our schedule'.
Two of the tracks, Railway and Riverboat – written by Kevin and originally sung by Polly Bolton on the band's eponymous 1971 album – feature Kev's vocals on this recording.
This release of Shadows Across The Moon is dedicated to the memory of three of the band who have since left us. Percussionist Ted Kay died in 2007 and bass-player Roger Bullen passed away three years ago. As for Martin Jenkins, whose rich vocals and distinctive brilliance on mando-cello, flute and violin are well featured in the mix, his death by heart attack in 2011 left a large hole in the British and Bulgarian folk scenes.
For those who grew up with the music of Dando Shaft, listening to this album will reconjure happy memories of hope, creativity and discovery of a fresh new sound, fusing folk with the rhythms of jazz and rock.
For those who never had that privilege, close your eyes, listen to Shadows and share the audience experience in Bergamo. You won't regret it.
______________________________________________________________
22nd January 2021
Warwick Folk Festival will
happen this year …
… with a little bit of positive thinking!
Glastonbury may be closed again this year but it's still 'all systems go' for the Warwick Folk Festival team.
Plans are well-established for four days of folk entertainment in mid-July and some world-class guests will be heading to the picturesque town in the heart of the country. Top of the bill on Thursday 15thJuly is fiddle-maestro and songwriter Seth Lakeman, while Friday's headliners are the irrepressible Show Of Hands.
Widely acclaimed line-up The Young'Uns lead the Saturday line-up and highlight of Sunday's programme is a reunion performance for squeezebox, fiddle and stomp-box virtuosos John Spiers and Jon Boden.
Other attractions include Nancy Kerr and James Fagan, Steve Tilston and Hugh Bradbury, Reg Meuross, folk bard legend Les Barker,and the powerhouse duo of award-winning singer and musician Georgia Lewis and ace violinist Ross Grant, member of Inlay who are also appearing.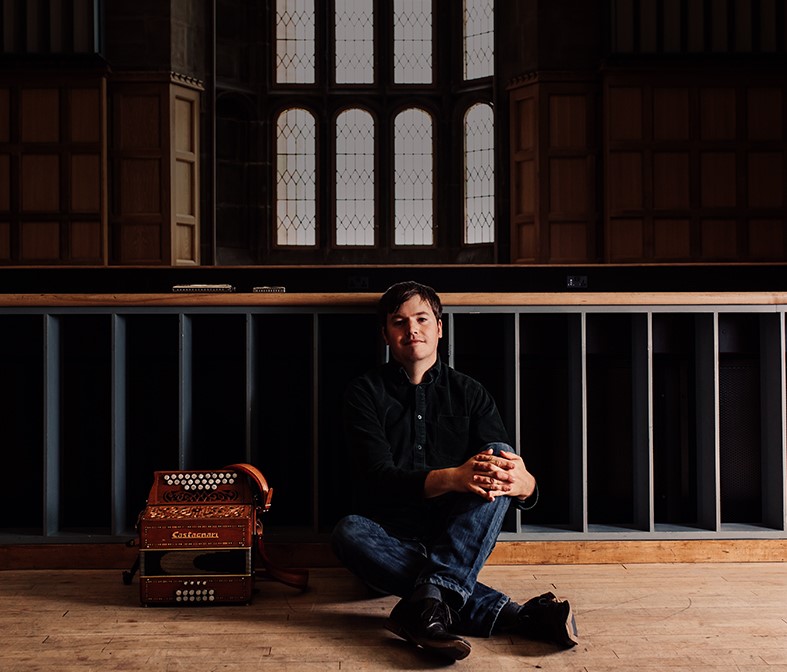 Festival patron and internationally renowned multi-instrumentalist Will Pound (above) appears in his own right to present a musical journey across the states of the European Union, A Day Will Come. And the locally written, performed and produced folk opera, The Undoing of Polly Button, featuring Daisybell and other local artists will get its long-awaited public airing after last year's planned launch was cruelly cut short by the first lockdown.
A year later than originally planned, the 41st Warwick Folk Festival will take place on its new Castle Park site, adjacent to Warwick Castle. Organisers also hope to offer the famous selection of Festival Fringe events in the historic town centre but this will be subject to whatever rules are in place at the time related to social distancing and the availability of venues.
Dick was due to step back from his role as Director last year, having worked with the Festival throughout its entire 40-year history but agreed to stay on until this year to oversee the change of main site location.
His workload will be taken on by two new team members acting as Artistic Manager and Operational Manager. Says Dick, 'We've already received some good applications for these volunteer roles but we'd be happy to receive more.'
For more information about scheduled artists, booking tickets and opportunities to join the Festival team, go to: warwickfolkfestival.co.uk
____________________________________________________________________________
12th January 2021
Coventry singer-songwriter Wes Finch wins Arts Council support
Creative writer refocuses his innovative practice
as the gigs dry up
Already well-regarded for his onstage blend of folk, blues and Americana, Coventry's Wes Finch has won Arts Council funding to produce a wider range of poetry and prose.
He has successfully applied for a Developing Your Creative Practice grant after the Council widened their funding remit as a response to the effects the pandemic is having on the arts. Wes impressed them with his case that the pandemic will provide an opportunity to write more, now that his chances of playing live music have been effectively wiped out for the moment.
He says that he long harboured a desire to write more and has been leaning towards it over recent years. 'Now seems like the perfect time to refocus my energies with the opportunity that this funding provides'.
An avid reader, Wes has a strong background in studying literature, and the last few years have seen him engaging more in poetry while developing his acclaimed line-up, The Mechanicals Band.
As he describes, 'This group led me to co-writing a theatre and music show called The Righteous Jazz, based on the life and loves of Coventry poet Philip Larkin. This also received Arts Council money, which allowed us to produce and perform the show in Hull and Coventry'. The stage show had been encouraged and nurtured by Coventry's Shoot Festival, big supporters of the band having featured them often. The songs are now available on a newly-released 8-track album.
The Mechanicals Band project had started in 2016 when Wes wrote a set of Shakespearean songs for a competition set by The RSC in Stratford on Avon. The BBC invited him to perform them at The Other Place theatre as part of the #Shakespeare400 celebrations and he established the original line-up with violinist Jools Street and percussionist Ben Haines.
The group was later joined by Katrin Gilbert on viola and John Parker on double bass and released its debut Shakespearean themed album Exit, Pursued by Bear in 2017.
Now, inspired by his involvement in the City Voices writing course staged last year by Theatre Absolute in Coventry, Wes's current project involves producing poetry, prose and possibly song lyrics, based on three significant UK locations – his mother's home county of Pembrokeshire, Wes's (and his father's) home town of Coventry, and the North Lincolnshire coast, an area that Wes has come to know well in the last 15 years.
Work is well-established as Wes explains: 'I've been in touch with a few writers and poets that I like and they've agreed to mentor me. I also engaged with a couple of historians so that I can learn from them to inspire my writing. Local history fascinates me.
'I don't know how pandemic restrictions are going to affect travel to these locations but I'm looking forward to conversations with some very interesting and talented people. I want to learn as much as I can and hopefully produce a different kind of work that will be enjoyed and appreciated by others.
'It's all quite open-ended at the moment but I guess the final result will reflect a common theme of identity'.
While excited about the new venture, Wes is adamant that it doesn't mean a farewell to playing live gigs. As he says, 'Music is always my first love, even though you won't see or hear me playing much next year. But watch this space, I will be blogging about it all'.
Check out the Facebook pages for Wes – www.facebook.com/wesfinch – and The Mechanicals Band – www.facebook.com/WeAreTheMechanicals. And look out also for a new Wes Finch live album due for release next month.
______________________________________________________________________________
5th January 2021
Songwriter Nigel celebrates
all things Coventry
Histories and personal experiences of
City of Culture home
Coventry multi-instrumentalist and songwriter Nigel Ward has captured stories and personal memories of his home city in music and song.
The outcome of this year-long project is his latest CD album, Coventry Kid (and other stories), featuring 14 tracks recorded with fellow-musician Mick Bisiker.
With the City of Culture status in mind, Nigel set out to write and record an album of Coventry-related songs and include some tunes about local landmarks already part of his repertoire.
He says, 'There have been many traditional songs collected from different English counties and I am aware of a few industrial songs from the Midlands. But as far as I know, there haven't been any songs written about Coventry's past in a traditional folk style'.
After initial setbacks with project funding, Nigel spoke to Mick Bisiker, fellow member of folk-rock band, Rack and Ruin. Not only did Mick make his home studio available to record the material, he also added to arrangements with performances on piano, guitar, bass and harmony vocals.
Nigel explains, 'The original plan was to include different local musicians, but ongoing restrictions made that impossible. We started recording in early March, but the lockdown forced us to postpone until July and we managed to complete by the end of the year'.
Tracks include reference to the city's weaving industry, its role in the Civil War, the legend of Peeping Tom, the Blitz, the post-war boom times of the growing motor industry, and the disappearance of pubs that hosted music sessions around the city.
It's an impressive collection of songs and tunes and a worthy tribute to the city from a key and popular figure in the local music session, folk club and ceilidh circuits.
Nigel's own reaction to the end-product? 'Thanks to Mick's great contributions, I must say I'm rather chuffed with the outcome!'
Copies of the album are £10. To order, email Nigel on cosmicrhyme6@gmail.com.
_______________________________________________________