(Most recent news first)
Click here for current CVFolk News page
Click here for 2022-23 Archive
Click here for 2021 Archive
Click here for 2020 Archive
15th December 2019
Christmas is a-Mumming
and the Boys are coming back
(Please put a fiver in the old man's hat!)
It's the season to be Mumming and there are three chances to enjoy the ancient and mysterious tradition of 'English ritual drama' in Warwickshire this Christmas.
Every year, the Coventry Mummers perform rediscovered Christmas Mummers Plays in and around the home villages where they were presented by the locals back in the mists of time. The plays of Harborough Magna, Newbold on Avon and Stoneleigh were originally performed by members of the village community in homes, halls, pubs or streets. While the plays evolved to be unique to each village, their common theme of death and resurrection is evident.
The Harborough Magna Christmas play was collected from Arthur Skeet, a former member of the Harborough Magna cast. It's a short but lively play that's been performed every year since 1978, usually on the Friday before Christmas in pubs in the Revel area of the county.
The play from Newbold on Avon (pictured below) was published in June 1899 in the journal of the Folk Lore Society and was revived by the Coventry Mummers in 1976 to be performed on the Sunday before Christmas in around private houses, the church and the village pub.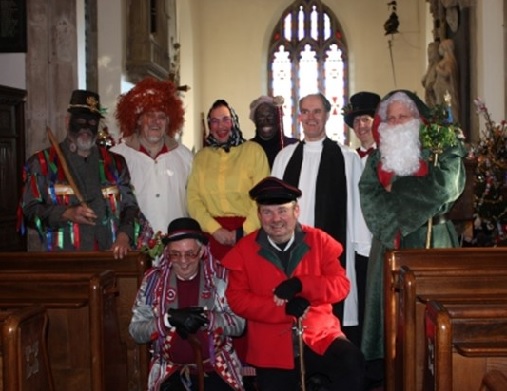 The local historian Mary Dormer Harris published the Stoneleigh Play in 'Notes and Queries', 1925. She collected the play from a man who had appeared in the play as the Doctor. The play was revived by the Coventry Mummers in 1975 and has been performed in the village ever since. It is also performed in Ashow followed by five venues in Stoneleigh on Boxing Day morning, culminating in grand lunchtime gathering of local folk fans outside the Stoneleigh Club.
Check out this year's timetable of Christmas plays and take the opportunity to enjoy living history in your local community. (Times subject to last-minute changes)
Friday 20th, Harborough Magna Mummers Play
8:00 pm. The Raven, Brinklow, CV23 0LN.
8:30 pm. Golden Lion, Easenhall, CV23 0JA.
9:00 pm. The Old Lion, Harborough Magna, CV23 0HQ.
9:30 pm. Denbigh Arms, Monks Kirby, CV23 0QX followed by a music and song session.
Sunday 22nd, Newbold on Avon Mummers Play
10:30 am. Pantolf Place, Newbold on Avon, CV21 1HR.
11:00 am. Newbold Road, Newbold on Avon, CV21 1EF.
11:35 am. St Botolph's Church, Newbold on Avon, CV21 1HH.
12:15 pm. Manor House Close, Newbold on Avon, CV21 1HB.
1.00 pm. The Barley Mow, Main Street, Newbold on Avon, CV21 1HW again followed by a music and song session
Thursday 26th, The Stoneleigh Mummers Play
10:15 am and 10:30 am. Ashow, CV8 2LE.
11:00 am. Stoneleigh Close, CV8 3DE.
11:30 am. 'The Bank', CV8 3DA.
12 noon Church Lane, CV8 3DN.
12:45 pm. Walkers Orchard, CV8 3JG.
1:15 pm. Stoneleigh Village Club, CV8 3DH.
For further details on the year-round activities of the Coventry Mummers, visit their website
_____________________________________________________________________________
3rd November 2019
Awesome foursome celebrate the sounds of America
CVFolk's 'Second Sunday' presents an afternoon of Americana with four home-grown acts
Four Coventry and Warwickshire acts are lined up for a lively afternoon of authentic American-inspired music when CVFolk hosts its November 'Second Sunday' event.
The music kicks off at 4pm on Sunday, 10 November in the Studio of the Albany Theatre, Albany Road, Coventry.
Two double-bass driven acts, Willow and Tool Band and Hatstand play the first half, followed by father-and-son duo Clive and Mat Ryder on slide guitar, fiddle, mandola and banjo, accompanied by 'Cousin' Pete Jackson on guitar.
Rounding off the afternoon, The Harvesters (pictured above) perform their acclaimed set of back-porch Americana, old time and good time songs and tunes, coupled with dynamic step-dancing.
Admission is free although you will be encouraged to give generously to a folding-money jug collection.
Plans are still being finalised for the December 'Second Sunday' event but it looks like an entertaining afternoon will be presented by organisers and regulars of Nuneaton Folk Club.
Last month saw the selection of winners for the CVFolk Prize Draw survey. All winners have been notified although one of the prizes – tickets for the Legends of Folk and Rock concert at the Belgrade Theatre – had to be held back as one of the performers, Pentangle's Jacqui McShee was taken ill just before the performance.
Watch this space for news of a new date or alternative event. And for the survey analysis – some interesting and helpful comments and suggestions were offered by respondents for building up a strong future for folk music and dance in the CV postcode area.
__________________________________________________
26th October
News just in – Belgrade gig cancelled
News just posted on Facebook by Joe O'Donnell:
Bad news about tonight's gig. It's off. Jacqui McShee has been taken ill with pleurisy and cannot perform tonight. We have therefore decided to cancel. Please contact the Box Office tor request a refund on 02476 553055. Thanks.
_______________________________________________________________________________________
18th October 2019
Two all-star line-ups in one day. Could this be a record for Coventry's Kev Dempsey?
Afternoon appearance at Nuneaton's Ragged Bear Festival and evening Belgrade Theatre appearance with Jacqui McShee.
Sometimes there aren't enough hours in a day for top-flight musicians. Or even days in a year.
Saturday, 26 October sees Coventry's guitar virtuoso, Kevin Dempsey wowing audiences on opposite ends of the A444 for major festival and concert appearances in Warwickshire and Coventry.
The afternoon features Kev Dempsey & Guests in the Queens Hall, Nuneaton, main stage venue for the recently established and rapidly growing Ragged Bear Festival. He'll be joined for the mid-afternoon set by singer and former Dando Shaft colleague Polly Bolton, and fiddle maestro Joe Broughton whose performance with Kev stunned the CVFolk Presents… audience at the Albany Theatre last March.
Then it's off to the Belgrade's B2 venue where Kevin appears as part the acclaimed new band Circle, formed by Pentangle's singer Jacqui McShee, and also accompanied by former Pentangle colleague Mike Piggott on violin and Urban Folk Quartet founder member Tom Chapman on percussion.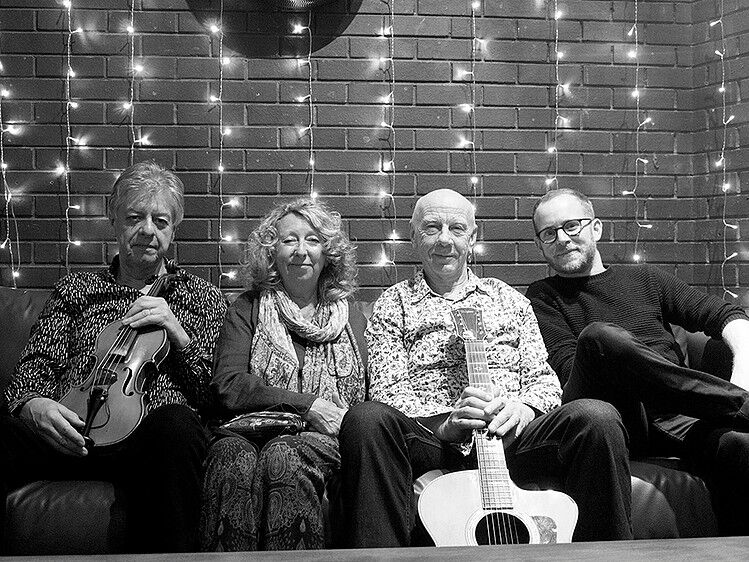 Billed as Legends of Folk and Rock, the concert also features the highly acclaimed Coventry-based Celtic-rock band, Joe O'Donnell's Shkayla. Leading Irish electric violinist, Joe worked in progressive line-ups East Of Eden and Headstone and has performed and recorded with guitar legend Rory Gallagher plus Henry McCullough, guitarist for Wings and Joe Cocker. Shkayla's highly talented line-up comprises Coventry musicians Si Hayden (guitar) and Martin Barter (keyboard), Leamington bass-player Adrian Litvinoff and Birmingham-based drummer Karen Milne.
This is the fourth year of the 2-day Ragged Bear event with a packed programme on both stages in the Queens Hall. Headliner guests include Mark Chadwick of The Levellers, Sweden's Americana-folk specialists Baskery, The Magpies, The Trails of Cato and Man The Lifeboats alongside home-grown festival circuit stars Greenman Rising and Nuneaton Folk Club residents Drunk Monkey.
Friday 25 October is the Festival's 'Free Friday' and includes a performance by popular Warwickshire trio Daisybell, performing songs from the forthcoming Polly Button Folk Opera, an exciting new musical project based on a true Nuneaton-based tale.
Organiser and Greenman Rising singer and percussionist Steve Bentley says the Festival is rapidly filling a gap left in the North Warwickshire festival scene with quality acts attracting audiences from across the country and boosting the local economy.
The Ragged Bear website is http://raggedbear.com/ and all-day tickets for the Saturday are £40. Or contact steve@raggedbear.com, tell him you read about the Festival on the CVFolk website and he'll arrange a £5 discount!
The Belgrade Concert starts at 7.30pm and tickets are £14.50 with concessions available for group bookings. Contact the Box Office via www.belgrade.co.uk/event/legends-of-folk-and-rock.
And as a foretaste of this packed weekend, Kevin and Jacqui also make a duo appearance as guests of Rugby's Wurzel Bush Folk Club on Tuesday 22 October, in the West Indian Club on Rugby's Railway Terrace. Admission is free but you'll be expected to make a generous contribution to the club's famous 'chamber pot' collection. Details on www.wurzelbush.co.uk/
__________________________________________________
19th September 2019
Basket of Delight at the Belgrade
Jacqui McShee and Joe O'Donnell to share one-off folk and rock concert billing
Former Pentangle singer Jacqui McShee and electric fiddle maestro Joe O'Donnell are to appear with their respective bands at Coventry's Belgrade Theatre on Saturday 26th October.
With support by Arts Council England and help from CVFolk, the one-off concert features Jacqui McShee's recently formed band Circle and Joe O'Donnell's acclaimed line-up Shkayla
The concert highlights Coventry's strong connections with international national folk and rock music. Limerick-born Joe O'Donnell now lives in Coventry while Circle's all-star line-up includes highly acclaimed guitarist and Coventry resident, Kevin Dempsey.
Founder member of Coventry's famous progressive folk band Dando Shaft, Kevin has worked with many of the world's top artists including Alice Coltrane, Dave Swarbrick and Mary Black and has recently toured and recorded as a duo with Jacqui.
Formed last year, Circle also features Mike Piggott (violin) and Tom Chapman (percussion). Mike Piggott has a long engagement with folk music (Ralph McTell, Bert Jansch), and joined Pentangle for a while in the 1980s. Tom Chapman is a founder member of the Urban Folk Quartet and he has also worked with Joss Stone, Cerys Matthews and Fairport Convention.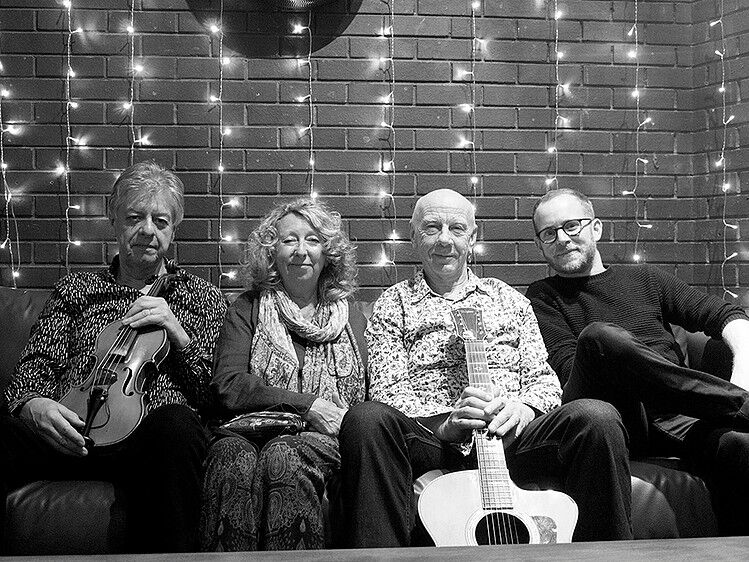 Joe O'Donnell is renowned for his interpretation of Celtic folk and rock . His album, recently renamed Gael's Vision blends original orchestral composition, traditional Celtic music and contemporary rock. Joe came to England in 1970, working with such big names as Rory Gallagher, East of Eden and Thin Lizzie.
The current line-up of Joe O'Donnell's Shkayla comprises Coventry and Warwickshire musicians Si Hayden (guitar), Martin Barter (keyboard), Karen Milne (percussion) and Adrian Litvinoff (bass).
Says Adrian: 'This will be a high-powered concert of the finest folk-related music from two veterans at the top of their game. We hope this will revive the profile of progressive folk music in Coventry.
'This ties in with CVFolk's campaign to promote the Coventry and Warwickshire folk music and dance scene as part of the City of Culture identity.'
The concert kicks off at 7.30pm and tickets (£16 – £14 concessions) can be booked at the Belgrade Box Office on 02476 553055 or on www.belgrade.co.uk/project/legends-of-folk-and-rock
Don't forget the Prize Draw Survey…
Two tickets for the concert have been added to the prize list for CVFolk's Prize Draw Survey. This remains open until early next month with other prizes including tickets for the 2020 Fairport Cropredy Convention and Warwick Folk Festival, Warwick Folk Club, Coventry Music Museum plus a signed copy of Pauline Black's autobiography Black By Design, and a band photo session with photographer John B.Smith.
Prize winners will be announced at the next CVFolk music event in the Albany Theatre Studio on Sunday 13th October – so there's still a chance to win, just by providing your views and experiences of folk music and dance in the Coventry and Warwickshire area. Go to http://www.cvfolk.com/survey/ to take part.
The event itself is another chance to enjoy – or take part in – the Studio Mega-Music Session featuring many of the leading folk session musicians from across the county giving impromptu performances of lively tune seats in an informal and family-friendly setting. Musicians include members of Coventry Comhaltas and performers from regular and popular music sessions across the CV postcode area.
The free admission events runs from 4pm to 6.30pm and there will be the usual jug collection!
__________________________________________________________________
4th June 2019
Going for a song!
Folk's finest musical instrument, the human voice to raise the Albany Theatre rafters.
CVFolk celebrates the fine tradition of unaccompanied singing with an afternoon of shanties, ballads and chorus songs.
Sunday afternoon's CVFolk Presents… turns the spotlight on rousing choruses with a maritime flavour, with Coventry's answer to Fisherman's Friends – and almost certainly the UK's most landlocked shanty crew – The Hawkesbury Trawlermen!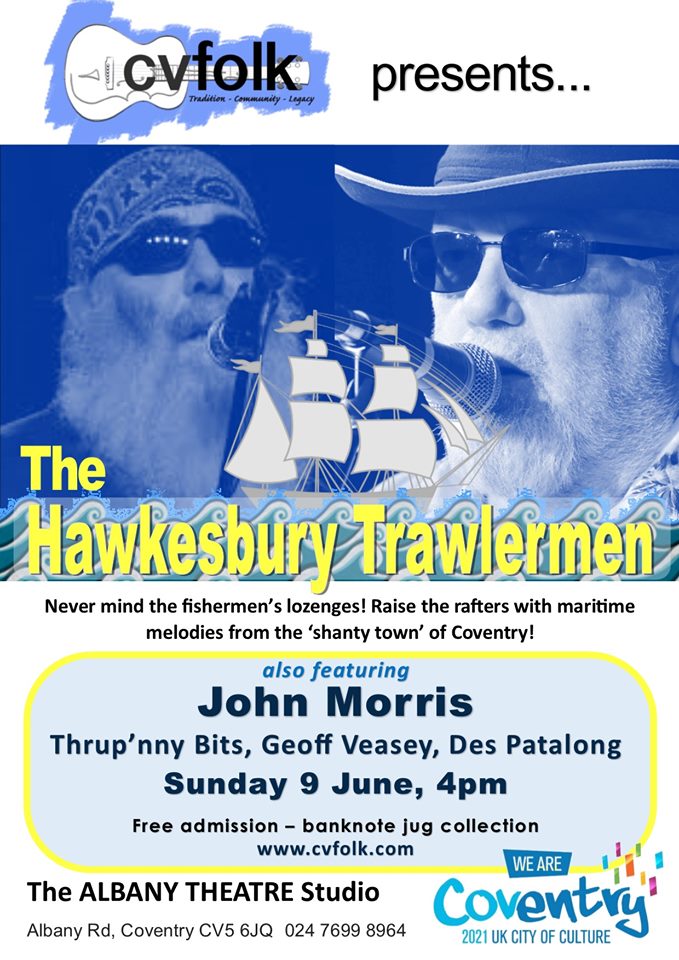 Hawkesbury is a junction on the Coventry and Oxford Canals. Few trawlers, whaling boats or three-masted schooners are ever seen there. You might see the occasional kayak and narrowboats still moor alongside the pub at Sutton Stop. There are no shoals of herring or mackerel in the immediate vicinity but in summer, the gudgeon and sticklebacks are mightily impressive.
The line-up was convened as a subsidiary of NADEGBDS. Nuneaton and District Elderly Gentlemen's Binge Drinking Society (Folk Club Branch).
Highly organised, with their own badge, tour shirts and other corporate leisurewear, the Trawlermen meet twice monthly to dine, network, pick faults in each other's solo performances or just work their way stolidly through the pump clips in The Felix Holt and Lord Hop hostelries. Despite living a long way from the sea, their repertoire is (predominantly) authentic versions of shanties, hollers and calls, sung unaccompanied, with crew members taking turns in lead and response. In addition, there may be a few other rousing maritime songs sprinkled in.
Membership is loose (sometimes very loose!), but can generally be liable to include Geoff Veasey, Malc Gurnham and Phil Benson who host Nuneaton, Bedworth and Atherstone Folk Clubs respectively. Other crew members include John Dacombe, Dave Webb, John Meechan, Bob Brooker and Wes Hall, all of whom perform locally – plus any additional crew members who can be clubbed on the head and dragged up the gangplank to add to the general noise.
Expect loud singing, many with enticing and irresistible choruses, missed cues, some shoving and jostling in the ranks and a great deal of hot air. They're far too savvy to reveal their set list in advance but they promise a great deal of pushing hauling and heaving. After that they might even sing some shanties.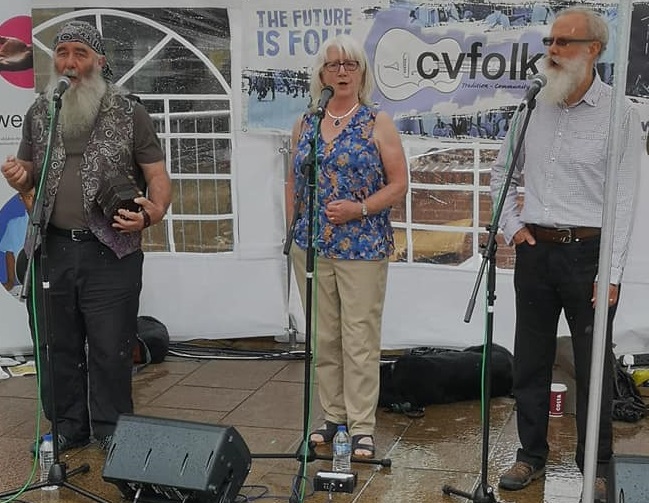 Starting at 4pm, the afternoon also features songs by talented harmony trio Thrup'nny Bits and the celebrated tenor voice of one of the finest singers in the area, John Morris. Admission as always is free although there will be the usual jug collection for spare banknotes!
Don't forget…
CVFolk artist Kristy Gallacher makes another Coventry appearance the following weekend. She plays support in the main Albany Theatre on Saturday 8th June when Wet Wet Wet founding member Graeme Clarke and violinist Fiona Cuthill are in concert. Book your tickets here.
______________________________________________________________________________
1st June 2019
This is not just any Prize Draw Survey
Top Festival tickets, club tickets and even a photo session are among the fabulous prizes offered by CVFolk – just for telling us about you and folk
Weekend tickets and camping for next year's Fairport's Cropredy Convention and evening tickets for next year's Warwick Folk Festival are among the amazing prizes on offer for respondents to CVFolk's prize draw.
Officially launched today at CVFolk's Motofest stage in Broadgate, Coventry, the questionnaire survey can be completed online or on paper. (Click here for details of the CVFolk Motofxest programme this weekend.)
Prizes on offer so far are:
► One family pack of tickets for Fairport's Cropredy Convention festival 2020. This consists of a pair of adult tickets plus up to three under-12 child tickets with a camping pass for one vehicle and the entire group.
► Two tickets for any evening of the 2020 Warwick Folk Festival
► Admission for two at the Coventry Music Museum plus goody bags
► A signed copy of our Patron, Pauline Black's fascinating autobiography, 'Black By Design' (which includes some great insights in to Coventry's early folk scene including the famous Old Dyers Arms sessions!)
► Two tickets for any one evening at Warwick Folk Club – check out their superb programme on http://www.warwickfolkclub.co.uk
► A promotional photo session with celebrated music photographer, John B.Smith.
More prizes will be announced over the next few weeks.
The prize draw will take place in the Albany Theatre Studio on the afternoon of Sunday 13th October, 2019. To be eligible, just fill in the questionnaire survey and tell us about your views and perspectives of folk music and dance in Coventry and Warwickshire.
The survey can be accessed and completed online at www.cvfolk.com/survey, or if you prefer paper and pen, collect a form from CVFolk's stand at Motofest this weekend, or at Warwick Folk Festival, or at any forthcoming Sunday afternoon shows at the Albany Theatre.
CVFolk Chair, Pete Willow is delighted with the prizes offered so far: 'People have been very generous in showing their support for the CVFolk project and I'd like to say a big thank you on behalf of the CVFolk team.
'There's plenty of time if 'people want to offer further prizes – do please get in touch by emailing culture@cvfolk.com'.
And a reminder…
CVFolk artist Kristy Gallacher makes another Coventry appearance the following weekend. She plays support in the main Albany Theatre on Saturday 8th June when Wet Wet Wet founding member Graeme Clarke and violinist Fiona Cuthill are in concert. Book your tickets here.
_______________________________________________________________________________________________
28th May 2019
Home-grown folk in the heart of the city.
Packed programme of first-class folk on the Broadgatestage for this weekend's Motofest
Local folk takes centre stage for this weekend's Motofest with a great selection of Coventry and Warwickshire acts performing on the CVFolk/Global Care stage.
The music opens at 12 noon on Saturday June 1st with a short set from singer-songwriter Pete Willowwho will then MC the day's entertainment supplied by Nuneaton Folk Club host band Nunc, followed by bouzouki and fiddle duo Mick Bisiker and Nigel Ward with fellow musicians from The Band of Rack and Ruin, Chris Radley on bass and Deb Gomme on sax.
Singer and fingerpick guitarist currently taking the local folk club scene by storm, Craig Sunderland is next, before Coventry's highly acclaimed singer-songwriter and guitarist Kristy Gallacher plays her second Motofest set of the day.
There's dancing on the street at 3.10pm when expert caller Jen Morgan invites the public to take part in some folk dancing to music by Ben Rowe on fiddle and Vic Smith on accordion.
Popular and talented Nuneaton duo KC Jones are next to perform before the afternoon is wound up with American traditional music and step-dancing from Ian and Sue Hartland of Warwickshire band The Harvesters.
Sunday kicks of with a lively set of songs from the day's MC, Dave Fry. He then introduces the popular trio Greengrass, whose arrangements on fiddle, double bass and guitar have been making a fast impact on the folk circuit this year.
The Coventry Mummers present the first of two spectacular performances of English traditional drama on either side of two talented trios, purveyors of fine vocal harmonies Thrup'nny Bits and the recently expanded line-up of Poacher's Pocket when guitarist Colin Squire and multi-instrumentalist Campbell Perry are complemented by the vocal talents of Carole Gillespie.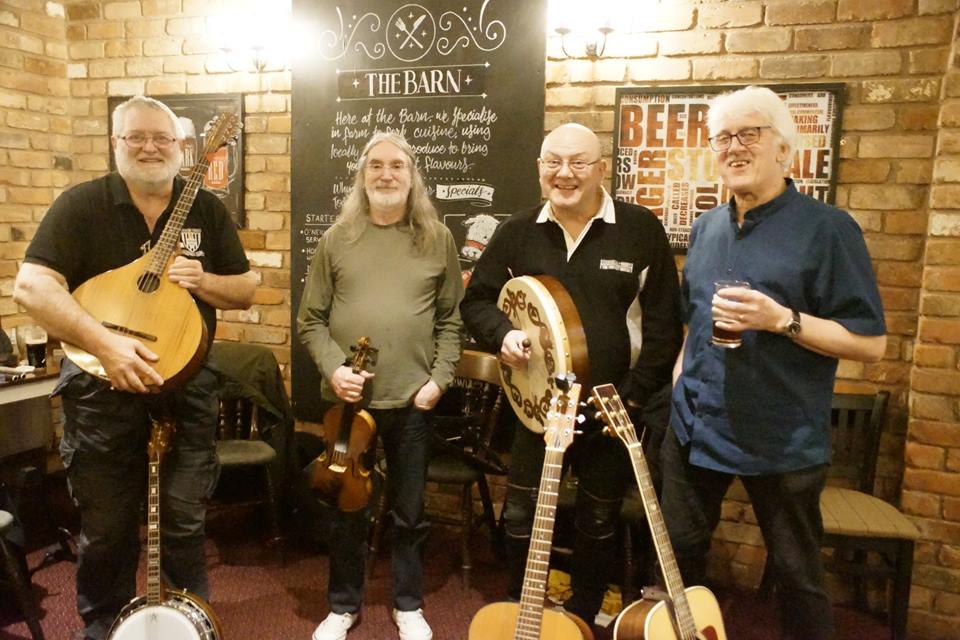 Powerful singer, songwriter and guitarist Rob Halligan takes the stage at 3.15pm and the afternoon is brought to a lively crescendo of traditional Irish and Scottish songs when former Oddsods members, The Boys of Blue Hill perform with fiddle, guitar, melodeon, banjo, bouzouki and bodhran.
Sponsored by the international children's charity Global Care, the weekend also sees the launch of the CVFolk Prize Survey with tickets at next year's Fairport's Cropredy Convention and Warwick Folk Festival among the many prizes on offer. More on this later!
And a reminder…
CVFolk artist Kristy Gallacher makes another Coventry appearance the following weekend. She and Lucy May Walker are the support acts lined up in the main Albany Theatre on Saturday 8th Junewhen Wet Wet Wet founding member Graeme Clarke and violinist Fiona Cuthill are in concert. Book your tickets here.
The following afternoon sees a celebration of vocal harmony and shanty singing at the monthly CVFolk Presents… event in the Albany Theatre Studio. Performers include the Hawkesbury Trawlermen, Thrup'nny Bits and John Morris. Again – more later!
_________________________________________________________________________________
6th May 2019
With a Little Help From Friends
Singer-songwriter Wes Finch brings all-star line-up to CVFolk's Albany Theatre event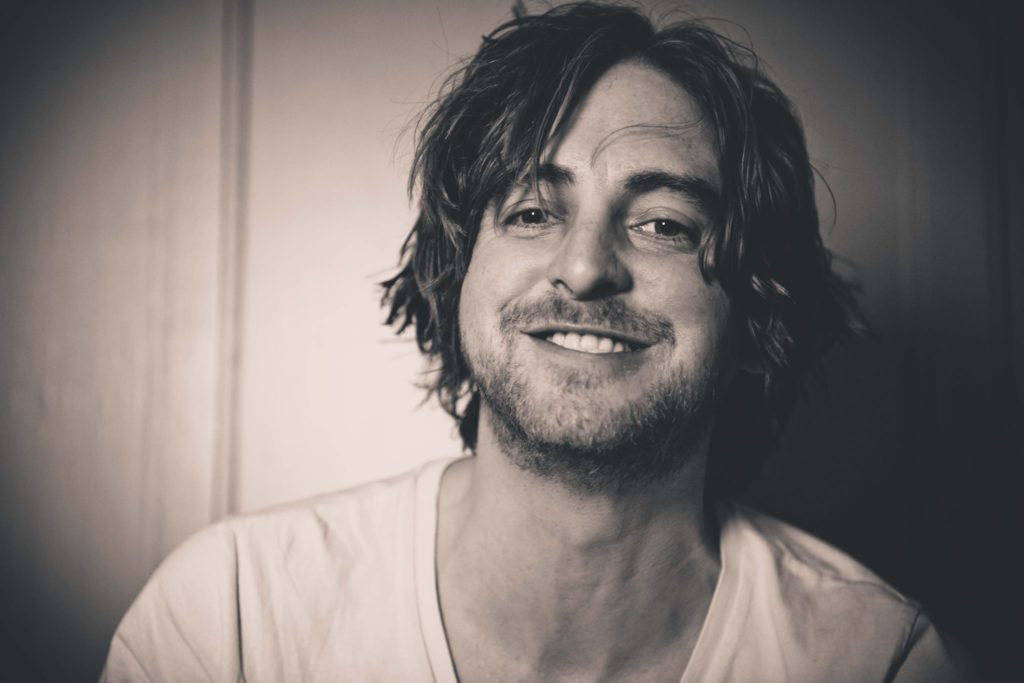 Acclaimed singer, songwriter and guitarist Wes Finch plays on home territory this Sunday afternoon (May 12) as featured artist for the monthly CVFolk presentation in the Albany Theatre Studio.
Performing his own country-influenced material plus songs from the repertoire of the Rude Mechanicals – lyrics by Shakespeare to music inspired by folk and classical – Wes shares the stage with three highly talented musicians.
Coventry classically-trained violinist Jools Street (pictured above) is known for his distinctive rock and bluegrass sound with the Doc Brown Trio and Tile Hill Billy and the Grass Monkeys.
Percussionist Ben Haines (pictured below) has an excellent reputation with Coventry and Warwickshire musicians and is sought after to appear in many line-ups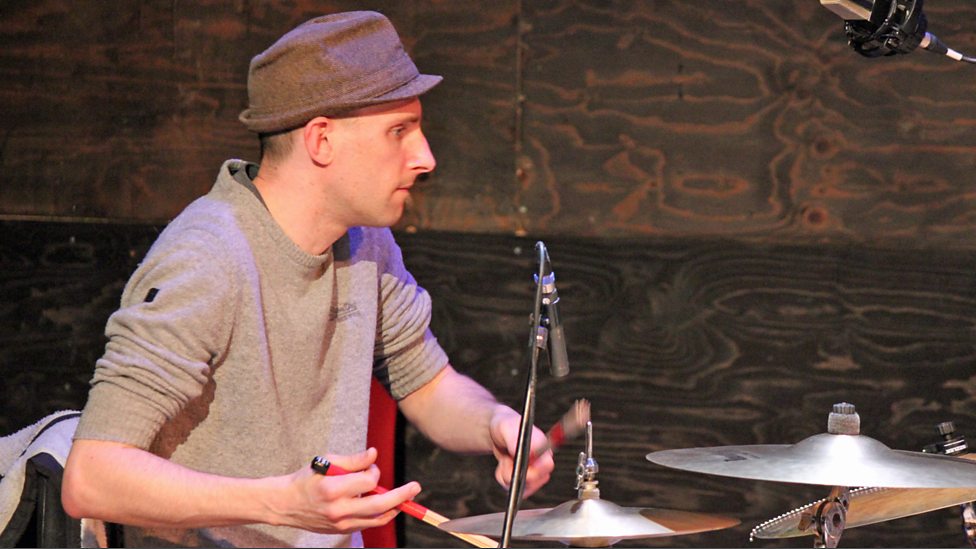 Innovative jazz-rock bass-player John Parker (pictured below) became widely known as half of the chart-topping duo Nizlopi. He is currently kicking up a storm as part of Ward & Parker, alongside founder member of The Willows, Cliff Ward.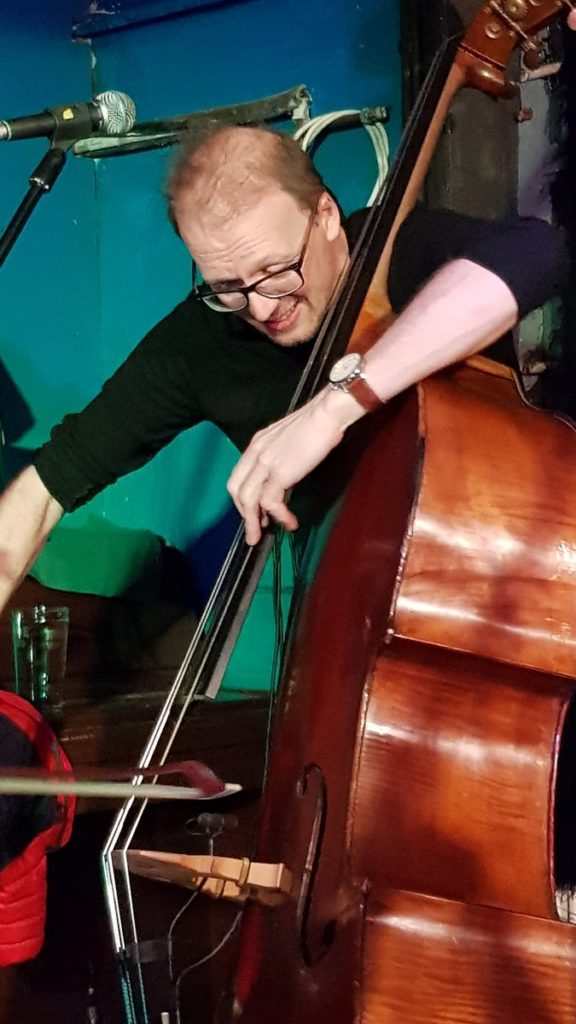 The afternoon also features versatile songwriter and guitarist Dan Gascoigne who has built up a strong local following in his own right and as part of the duo Dr Bennett with whom he is representing Warwick Folk Festival later this year at its twin event Cork Folk Festival.
The music starts at 4pm with a lively set of songs from Under The Influence, comprising popular Leamington singers and guitarists Steve Boyer and Mike Cox.
As usual practice for these Studio events, admission is free although there will be a jug collection for banknotes! The monthly shows are designed to showcase the range of styles available in the Coventry and Warwickshire folk scene, a rich resource for the City of Culture celebrations coming up in 2021.
Next month (June 9th) sees the focus on unaccompanied singing, especially shanties with performances by Coventry's landlocked answer to Fisherman's friends, The Hawkesbury Trawlermen plus John Morris, Des Patalong and Thrup'nny Bits.
________________________________________________________________________________
25th March 2019
The Boys Are Back in Town
CVFolk stages a reunion 'rare auld time' for 4 former members of celebrated local folk band.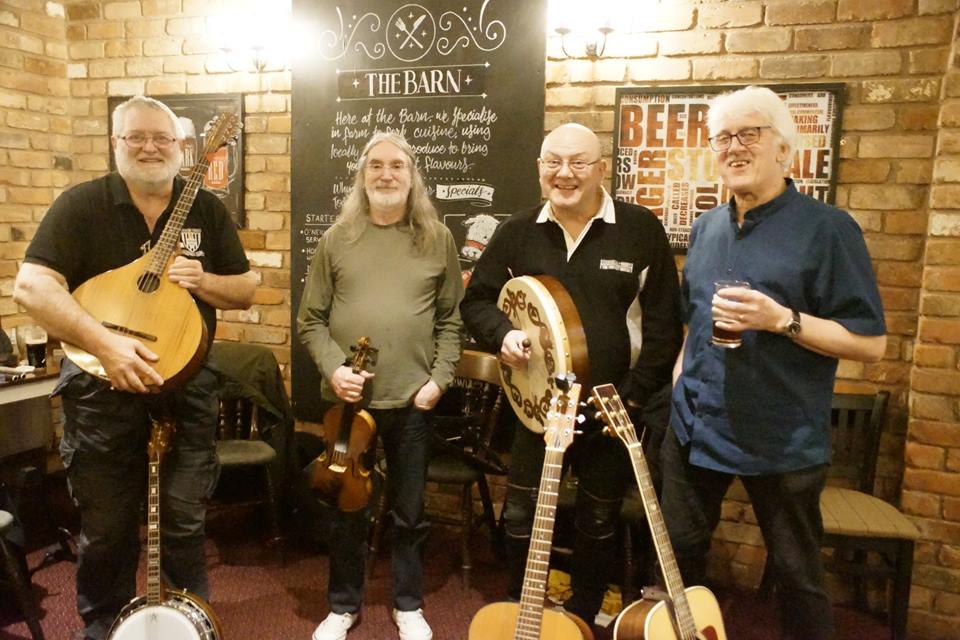 Four ex-members of The Oddsods have joined forces under a new name to play a lively set of popular songs and tunes mainly from the Irish and Scots traditions.
The Boys of Ball Hill are to headline the forthcoming 'CVFolk presents…' afternoon concert in the Albany Theatre Studio on Sunday 14th April. Bob Brooker on bouzouki and banjo, Nigel Ward on fiddle, Pete Willow on guitar, and the voice of The Oddsods, Simon Lapworth on melodeon and bodhran all played a key part in establishing their old band's reputation for performing 'music for a rare auld time'.
The 20-year history of The Oddsods saw various line-up changes since it was formed in the early 1990s but this forthcoming appearance will only be the third time that this particular line-up has appeared in public.
Simon and Bob were founder members of the band, but Bob had left by the time Pete and Nigel joined. The Oddsods played their final gig in 2008, but a year later, Pete and Nigel teamed up with Bob to form Sly Old Dogs which still performs regularly and hosts monthly music sessions at The Barn in Willey, near Rugby.
In its lifetime, The Oddsods has featured several other multi-talented musicians including Richard 'Doc' Rider on guitar, euphonium and whistles, Paul Kenny on guitar, mandolin and bodhran, Michael Mahon on banjo, Louisa Davies on fiddle, and the late Mick Shaler on fiddle.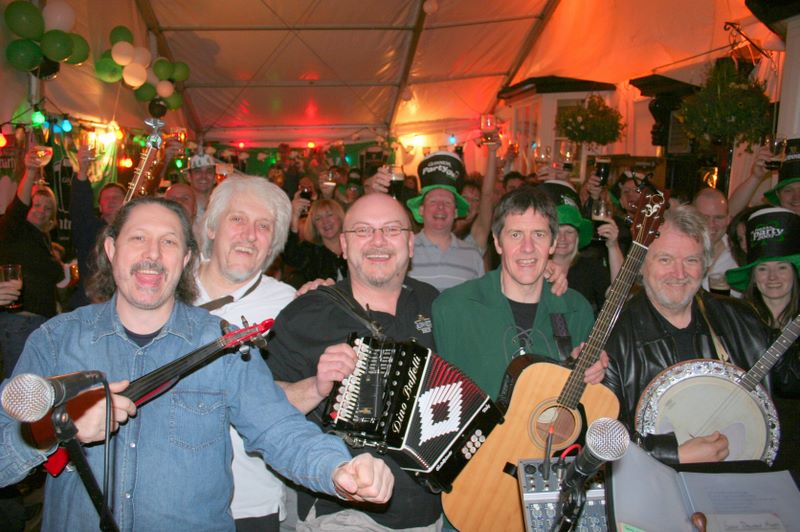 Members were approached by Rugby's Wurzel Bush Folk Club to play an Oddsods reunion gig last February and Simon, Bob, Nigel and Pete agreed to form a 'scratch' version of the band but under a new name – The Boys of Ball Hill. They also played a few warm-up numbers together during the January Sly Old Dogs session and went down a storm at both events.
Also Chair of CVFolk, Pete Willow said 'We had a great time at the Wurzel Bush and couldn't resist the opportunity to play a home-town gig at the Albany Theatre. It's basically a fund-raiser for CVFolk's campaign to ensure that folk music has a high profile in the City of Culture celebrations.'
The concert also features one of the Wurzel Bush residents, singer-guitarist Craig Sunderland and a return appearance by local duo Poacher's Pocket who got a great response when they performed at CVFolk's debut Albany Theatre show last October.
The music starts at 4pm and admission is free although there will be a jug collection for banknotes!
______________________________________________________________________________
24th January 2019
Celebration concert for Kev and Joe
CVFolk presents an afternoon of first-class folk from top international stars  Dempsey and Broughton.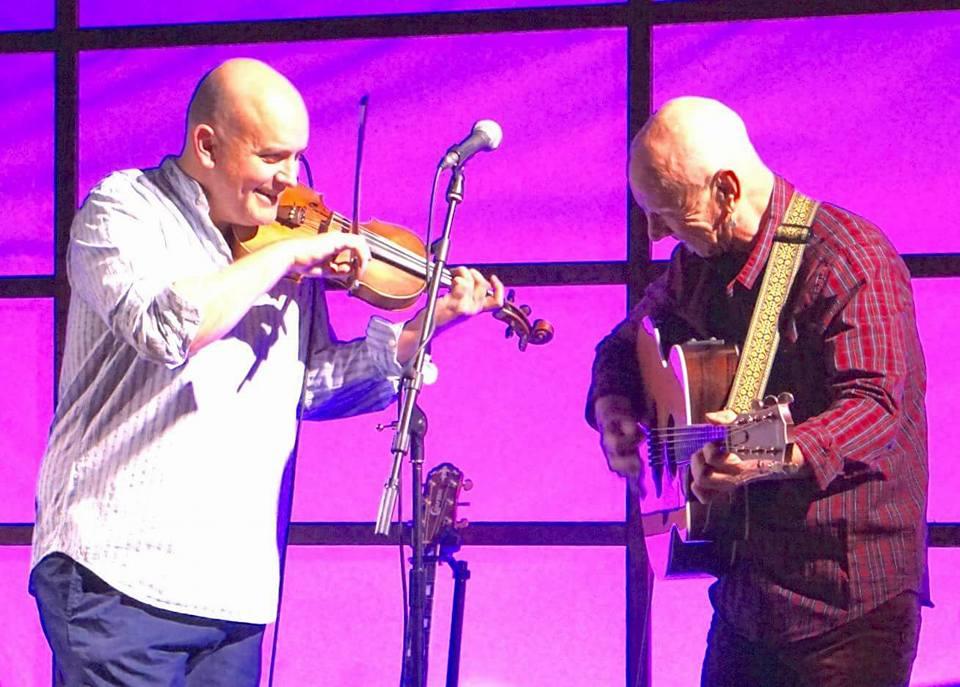 Coventry's world-renowned guitarist Kevin Dempsey celebrates 20 years of collaboration with highly acclaimed fiddle and mandolin-player Joe Broughton with a free admission concert in Kevin's home city at the Albany Theatre.
The two ace musicians appear in the theatre's Studio, Albany Road, on the afternoon of Sunday 10th March, winding up a storming tour of the UK. The music starts at 4pm. There's no need to book tickets although the audience will be asked to contribute to a 'jug collection' during the show.
Since their first duo gig, Kevin and Joe have performed extensively together across 20 countries and released three albums. Their unrivalled musicianship, impromptu banter, and a spectacular high-energy stage shows never fail to impress. Their songs and instrumentals are rooted in 'folk' music but draw on sounds and styles from across the globe.
When they first met, Kevin had already made a name for himself as a founder member of Whippersnapper and Dando Shaft, and his worldwide appearances with artists as diverse as Percy Sledge, The Marvelettes, Alice Coltrane, and more recently Dave Swarbrick and Mary Black. He is currently playing some gigs with former Pentangle singer Jacqui McShee.
Joe was a member of leading UK folk line-up The Albion Band and is now the driving force of The Urban Folk Quartet and the powerful Conservatoire Folk Ensemble based at Birmingham City University.
The duo continues to reunite for annual summer fiddle/ guitar workshops and, when their schedules allow, live shows. Their current spring tour features a broad mix of material from across their career, along with new songs (mooted for their fourth album), and a few last-minute surprises.
'It really doesn't seem 20 years since Kevin and I first began playing together! Time really flies when we're on stage … and off stage too it seems,' laughs Joe. 'I always look forward to our annual reunions – Kevin is one of the UK's best acoustic guitarists and the shows are a joy to play.'
Says Kevin: 'I can still remember the day I was first introduced to Joe, then a young musician whose reputation was growing. We really hit it off. His reputation has grown further since those early days and playing together is always great fun – for us and the audience.'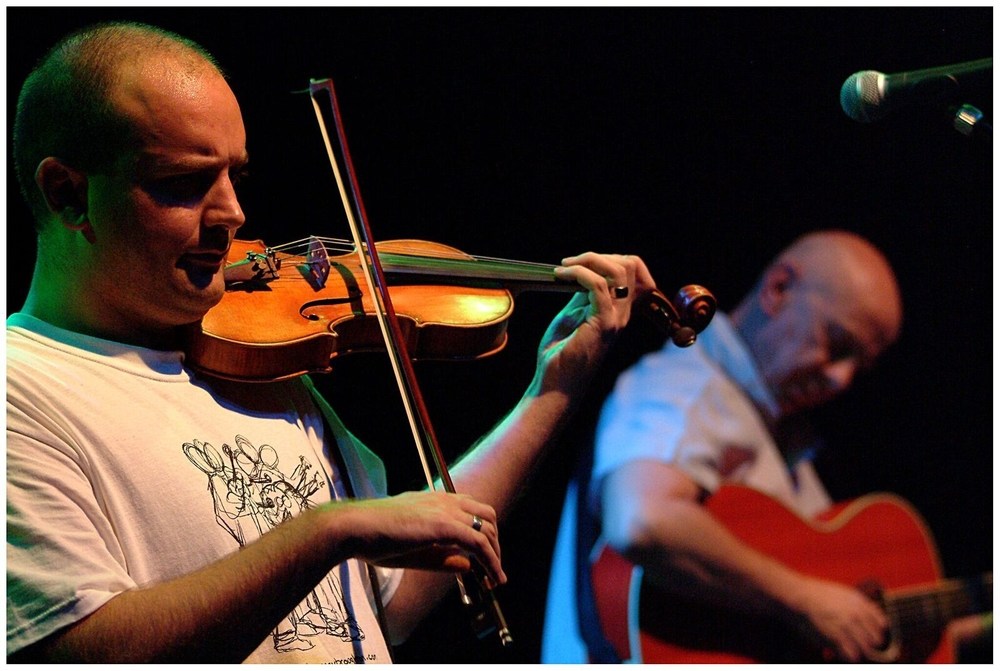 The Albany Theatre concert also features two popular local line-ups, Willow & Tool Band and Paper Circus. Doors open at 3.30pm. The show is one of a series of monthly events at the Theatre organised by campaign group CVFolk, formed to raise awareness of the high standard of folk music and dance to be found in Coventry and Warwickshire and to ensure a strong profile for the local folk scene during Coventry's City of Culture celebration in 2021.
Says CVFolk chairman Pete Willow, 'our monthly Sunday afternoon shows in the Studio are proving very popular with audiences of all ages and it's a very special treat for us to be able to present such a high-quality act.
'It's a fabulous friendly venue but early arrival is recommended for the best seats!'
______________________________________________________________________________
5th January 2019
Tune up and turn up – the Studio is in Session
CVFolk stages a Sunday afternoon 'Mega-Session' of authentic back-room folk music.
The backbone of the folk scene – the music session – takes centre stage at the Albany Theatre Studio on Sunday 13th January.
Armed with fiddles, flutes, squeezeboxes, guitars, mandolins, banjos, bodhrans, bouzoukis and anything else melodious, musicians aged from 8 to 80 are expected to take part in a couple of lively hours of impromptu tune sets, starting at 4pm.
Experienced session performers from across the county have been invited to take part and participants will include members of the talented promoters of Irish traditional music Coventry Comhaltas and former members of The Oddsods,  melodeon-player Simon Lapworth and multi-instrumentalist Bob Brooker.
Led by tin whistle expert, Jarlath Mulhern, Comhaltas hosts instrument workshops and sessions for children and adults every Tuesday evening at the Hearsall Inn, Craven Street, Coventry.
This won't be the first gathering of session musicians at the Albany. A lively and enjoyable performance was given by an all-star group of musicians led by Bob Brooker, and recorder and whistle maestro Ewan Cameron to wind up CVFolk's public consultation event last June – see pictures below. Participants included acclaimed Moscow-born singer-songwriter Daria Kulesh, Warwick University folk society musicians Alan Brunier and Rowan Kodratoff, and local artists Mick Bisiker, Nigel Ward, Dan Gascoigne, Sarah Bennett, Amelia Gascoigne-Roberts and Laurel McIntosh.
CVFolk presents an event on the second Sunday afternoon of each month, focusing on different aspects of folk and the wide range of folk activity in the area as part of its campaign to give prominence to the local folk scene during Coventry's City of Culture celebrations. Admission is free but there is a jug collection (preferably for paper money!).
Forthcoming events include a focus on folk-blues with special guest Jack Blackman on February 10th, and a rare local duo performance by guitar and fiddle virtuosos Kevin Dempsey & Joe Broughton on March 10th.
_____________________________________________________________________________
11th December 2018
In comes Christmas, courtesy of Coventry Mummers
Coventry's guardians of three local mummers plays, bring them out for a festive airing.
This Friday 14th December, sees the start of this year's tour of Christmas Mummers plays when a motley group of car park and bar-room thespians perform the Harborough Magna play in various Warwickshire pubs.
Like most mummers plays, this was originally performed by members of the local community and includes the ritual elements of death and rebirth. The 10-minute performance features the characters of Father Christmas, Prince George, a Turkish Knight, the Knight's mother Moll Finney, a Doctor, Humpty Jack and Beelzebub.
Collected from a former member of the Harborough Magna cast, Arthur Skeet, its current version has been toured every Christmas since 1978. You can witness the spectacle at The Raven, Broad Street, Brinklow (8pm), The Golden Lion, Easenhall (8.30pm), The Old Lion, Harborough Magna (9.30pm and the Denbigh Arms, Monks Kirby at 10pm, followed by a lively music session.
.
The Doctor at the Stoneleigh Play calls on his assistant to administer the cure.
A similar but extended variation of the script is performed as the Newbold-on-Avon Christmas Play on Sunday 16th December. Residents of Pantolf Place, Newbold will be roused by the sound of Father Christmas's bell at 10.30am, with follow-up performances in a front garden on Newbold Road (11am), St.Botolph's Church (11.25am), Manor House Close (12.15pm) and the Barley Mow public house at 1pm.
Published in 1899 in the journal of the Folk Lore Society, the play is mentioned in the David Lodge novel, Small World and was revived by the Coventry Mummers in 1976.
Boxing Day sees another morning and lunchtime tour when the famous Stoneleigh Play does the rounds of Ashow and Stoneleigh villages. Published in 1925 by local historian Mary Dormer Harris, the play was revived by the Mummers in 1975 and has been performed in the village ever since.
Following six performances at local addresses throughout the morning, the play is staged in the middle of the road outside the Stoneleigh Village Club, at 1.15pm, where a large crowd gathers for this much-loved festive ritual.
More dramatic scenes from Stoneleigh.
For further information on the Coventry Mummers and their activities throughout the year, visit their website.
______________________________________________________________________________
1st December 2018
Meet some inspired songsmiths for an afternoon of lyrical entertainment.
Bill Bates and Daisybell form part of a local songwriters' show of music and humour in Coventry's Albany Theatre Studio.
On Sunday 9th December, this month's CVFolk get-together in the studio is hosted by the Coventry Singer-Songwriters group.
Writer and performer of excellent comic (and serious) songs, Bill Bates is performing alongside acclaimed three-piece line-up Daisybell whose repertoire includes material written by Coventry Singer-Songwriters member and guitarist Katherine Fear.
Bill Bates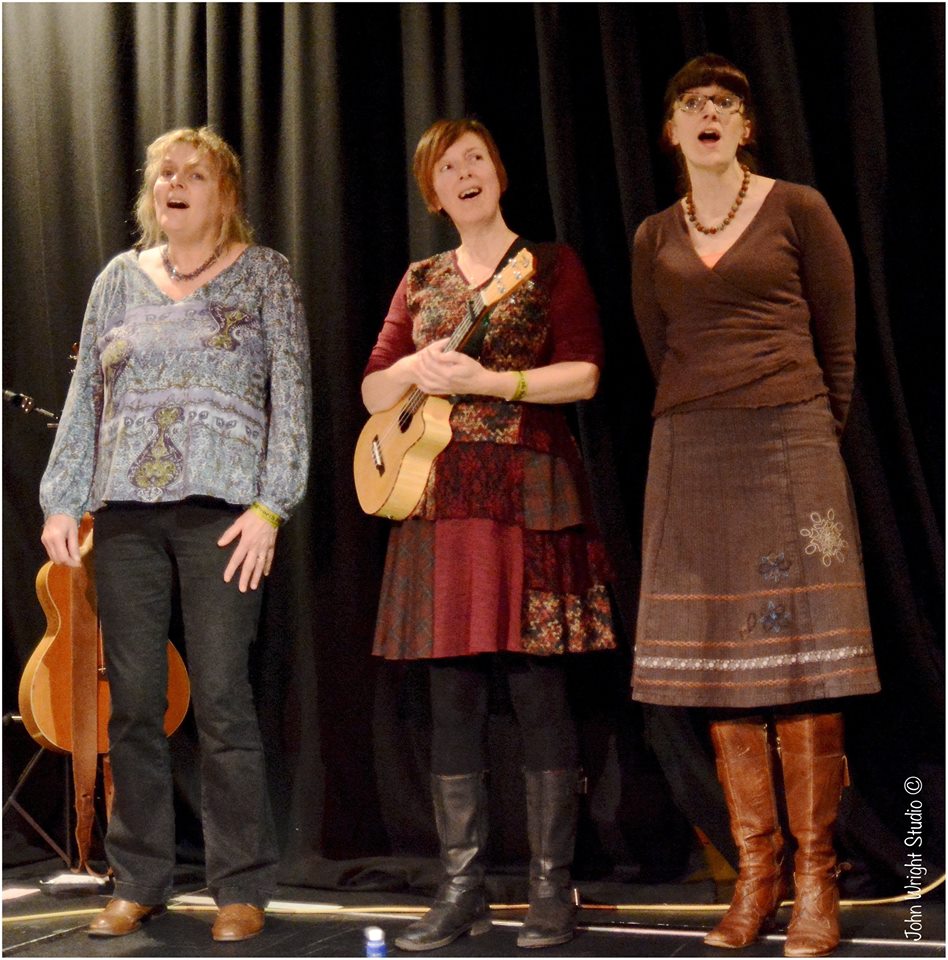 Daisybell: L-R Ginny White, Katherine Fear, Anya Fay (photo John Wright)
The afternoon also features first-rate self-penned numbers from Mike Carter-Jones plus singer and guitarist Paul Monks, whose band The JPs also comprises Jane on ukulele and vocals plus Emily on violin.
The Coventry Singer-Songwriters group was launched in 2010 when like-minded musicians got together to give each other the inspiration and motivation to write songs. They set themselves the challenge of coming up with new compositions, based upon a set theme.
They have kept up the routine of meeting in each other's houses (or a pub) one night a month and performing their newly-crafted songs to each other. At the end of the night they vote on a new theme for the following month – it's as simple and demanding as that.
Not everyone attends the meetings in person. Some members email their songs to the group as MP3s from across the country and, in one case, the West Coast of the USA. The group regularly release CDs of their compositions and a good selection of their creativity can be heard on Soundclick.
Hosted by harmonica-player and group founder, Jon Harrington, Sunday's CVFolk event starts at 4pm. Admission is free although there will be a 'jug collection' with recommended donations of £5.
Events lined up for CVFolk's Sunday afternoons at the Albany Theatre for 2019 include appearances by Kevin Dempsey & Joe Broughton (March 10) and Wes Finch and the Rude Mechanicals (May 12). Organisers are also putting on a 'super-session' on January 13, featuring many of the top session musicians of the area performing lively and impromptu sets of tunes on a wide range of instruments including fiddles, guitars, squeezeboxes and whistles.
______________________________________________________________________________
15th November 2018
Heavy-duty Festival puts on a Pound
CVFolk team member and leading folk multi-instrumentalist WILL POUND is the new Patron for Warwick Folk Festival.
The Warwickshire-based musical wizard takes on the role in the year that the Festival prepares for its 40th year.
Born in Rugby, brought up in Whitnash and now living in Kenilworth, Will is best known as a world-class harmonica player but is also a fine melodeon exponent.
Member of leading folk band Inlay and founder of the Will Pound Ceilidh Band, Will was brought up in the Morris tradition and is also active with Warwickshire's Chinewrde Morris and Earlsdon Morris. He had long held an ambition to record an album celebrating the music of Morris and folk dance and last May that came to fruition when he unveiled the CD Through the Seasons – A Year in Morris and Folk Dance, with a companion live show touring the UK, featuring Benji Kirkpatrick, Inlay colleague Ross Grant (pictured) and storyteller Debs Newbold.
Festival director Dick Dixon says: 'Will was nurtured right here in the Warwickshire folk scene and continues to contribute fully to the local music and Morris dance circuit. As the county's leading folk event, Warwick Folk Festival is delighted and proud that he has agreed to be our Patron.'
Will has been nominated for the coveted Musician of the Year title at BBC Radio 2 Folk Awards three times. He was named Best Newcomer by Songlines Magazine in 2014 and won FATEA Magazine's Musician of the Year title in both 2014 and 2015. He has also appeared on BBC Breakfast TV and his music has been played on Radios 2, 3 and 6 and the BBC World Service. Will also played harmonica on the Hillsborough charity single, joining a line-up of pop and football stars, on He Ain't Heavy, He's My Brother which became the Christmas No 1 in 2012.
Describing himself as 'very honoured to have been asked to become Patron', Will says 'I haven't missed a Warwick Folk Festival in my lifetime and look forward to many more years to come at this brilliant festival.'
Will is set to tour the Through the Seasons show again next spring and will also be gigging once more with accordion maestro Eddy Jay. But from July 25-28, 2019 there is only one place he will be – back in his home county as he takes up his patronship of Warwick Folk Festival.
______________________________________________________________________________
26th October 2018
Free for all folk at festival conference
Four genre-busting bands lined up for free concert during AFO Conference in Stratford-upon-Avon.
Four exciting contemporary folk bands will be onstage for an open door concert at the Stratford Manor Hotel on Saturday November 10.
The hotel is the venue for this year's 3-day conference for the Association of Festival Organisers but you don't need to be a delegate to enjoy an evening of music of folk fused with a wide range of other genres.
The line-up of artists consists of:
Hadrian's Union – five piece folk rock band from across England and Scotland who combine folk with punk, rock, blues, Celtic and Ska into a highly infectious entertaining tapestry.
Hannah Sanders & Ben Savage – taking Americana to a new level with exquisite crystal clear vocals and masterful playing on mountain dulcimer, dobro and guitar.
PerKelt – blending Eastern European mediaeval and pagan influences to create a soundscape that moves from melancholy to fast, insanely fast! The Czech/UK four-piece combine rapid fire whistles, and recorders, tribal drums, guitar and frantic fiddle with haunting vocals.
Cut Throat Francis – only formed in the summer of 2017 but have already made a good impression on the festival scene and Bristol club scene with their blend of folk, swing and upbeat Eastern European flavours. Instruments include banjo, mandolin and melodica as well as rich four-part harmonies and a thumping beat from the cajon!
The free admission concert starts at 8.30pm – just turn up from 7.30pm at the Stratford Manor, Warwick Road, Stratford-upon-Avon, CV37 0PY.
______________________________________________________________________________
23rd October 2018
Memories of Hazel provide a snapshot of the Coventry folk scene in the 1980s
The late Derek Brimstone and Dave Bennett featured in resurrected BBC documentary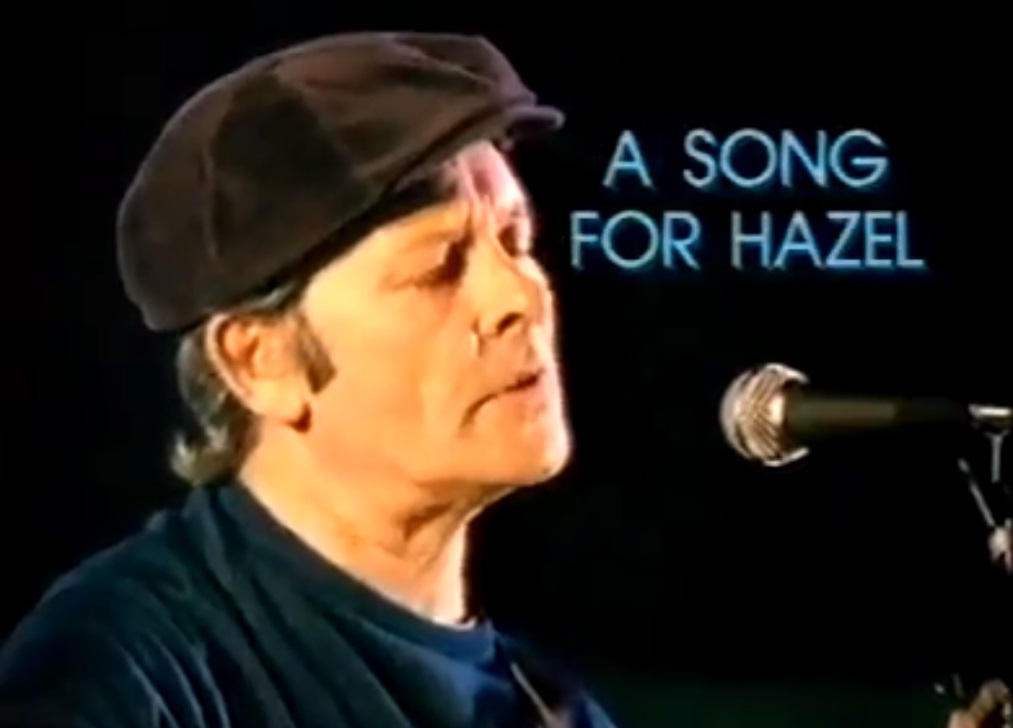 A 30-minute BBC1 documentary is proving to be a treasured archive of the Coventry folk scene in 1984.
A Song For Hazel reflects on the life of Hazel Lester, an active and popular member of the city's folk circuit in the 1970s and 80s and who died of cancer in 1983 after giving birth to her son, Adam.  Her characteristic refusal to take any medical treatment for her own illness until she knew that Adam was safely born, attracted international attention with the tabloid press in particular making front-page stories of her 'gift of life'. The documentary was produced to provide a more in-depth view of Hazel's life, character and impact on the folk community.
Nationally acclaimed guitarist and singer Derek Brimstone, and Coventry's own renowned ragtime guitarist Dave Bennett – both no longer with us – are among the interviewees and performers featured in the programme. Also included are Coventry-based musicians Kevin Dempsey, Margot Buchanan, Mick Cullen, Dennis Clarke, Pete Willow, Nigel Ward and Sue Ward performing at a one-day concert staged at the former Lanchester Polytechnic in Coventry. Under the heading 'Come Together', the concert was organised by Pete Willow, Graham Bradshaw and John Boocock to establish a trust fund for Adam's future.
Fiddle-player, Nigel Ward rediscovered an old VHS recording of the programme and arranged for it to be transferred to a digital format and shared on Facebook. Its publication has prompted widespread interest with fond memories not only of Hazel herself but of the youthful faces (and hairstyles!) of many of the people who formed part of the Coventry folk scene in the 1980s!
______________________________________________________________________________
16th
October 2018 
Concert acclaimed as 'Storming start' to CVFolk's Albany Theatre programme
'The Coventry All-Stars Folk Show' has already earned one excellent review and many positive social media comments.
The Coventry events website Elementary What's On praised the 'space and ambiance' of the venue where 'a good audience turn-out' was 'treated to some of Coventry's finest home-grown talent'.
Music was provided in the first half by Willow & Tool Band and Poacher's Pocket, and in the second half by by singer-songwriter-guitarists Kristy Gallacher and Rob Halligan, with an impressive display of clog dancing in the interval by Nancy Sylvester. The afternoon finished with a few words of thanks and support from CVFolk's Patron Pauline Black.
Here is a selection of photographs by John B.Smith which captured the atmosphere of the event:
__________________________________________________________________________________
6th
October 2018 
Top quality home-grown folk music launches new monthly CVFolk concerts at the Albany Theatre.
Coventry's nationally-renowned stars Kristy Gallacher and Rob Halligan featured in informal Sunday afternoon show.
A cross-section of Coventry's folk music talent shares the stage at the city's Albany Theatre this weekend.
Singer-songwriters Kristy Gallacher and Rob Halligan, multi-instrumental duo Poacher's Pocket, and Warwickshire 4-piece Willow & Tool Band are all taking part in an informal concert in the Albany's Studio Theatre on the corner of The Butts and Albany Road to launch a series of monthly folk events in the city centre.
Billed as 'The Coventry All-Stars Folk Show', the concert runs from 4pm-7pm on Sunday 14th October. The event is part of a campaign by CVFolk, a group of local folk artists and organisers determined that folk music and dance has a high profile in the 2021 City of Culture celebrations.
The concert not only features songs performed by each act in their own right, but also a conversation between artists and with the audience to give some insight into the stories behind their material and their approach to music generally.
In addition to her own shows, Kristy Gallacher (pictured below) is a Coventry University music graduate who has gone on to play support to Ed Sheeran, Glenn Tilbrook of Squeeze and Show of Hands, among others. She won the LG Arena's singer/songwriter competition and played before Eric Clapton, Steve Winwood and John Mayer on separate nights at the Birmingham venue.
Rob Halligan (pictured above) has appeared at festivals and folk clubs across the country and has also had airplay on BBC1 Television, BBC Radio 2 and a host of local TV and radio stations. With a conviction to use his music to make a difference, Rob has supported the children's charity, Global Care, visiting Bangladesh, Ethiopia and Lebanon to raise awareness and money for some of the world's most disadvantaged children.
Poacher's Pocket (pictured below – photo by John B.Smith) consists of Warwickshire singers and musicians Colin Squire on guitar and Campbell Perry on accordions.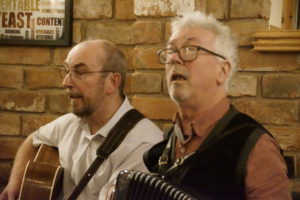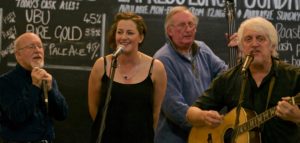 Willow & Tool Band (pictured above – photo by John Wright) features Pete Willow on guitar, John 'Tool' McIntosh on double-bass, Keith Eardley on harmonica, ukulele and percussion and Tool's daughter Laurel McIntosh on flute.
Pete Willow, who is also Chair of CVFolk, sees the concert as the first step to revitalise folk music in the centre of Coventry. He says, 'With Coventry's huge pool of musical talent and its strong history of artists making it big on the international folk scene, it's surprising that we only have one regular folk club within the city boundaries.
'The Albany Theatre hosted our successful public consultation event last June and has kindly offered use of their Studio Theatre on the second Sunday of each month for folk events with a difference', says Pete. 'Over the year, we will present concerts, workshops, dance displays and sessions in a friendly and informal environment.  We aim to show how folk in all its formats can be accessible to all communities and age groups.'
Admission for this show is free but there will be a 'jug collection' for banknote contributions.
Next month's show features young award-winning folk singer and musician Rosie Hood in concert. This will be a ticketed event starting at 7pm on Sunday November 11th.