23rd May 2023
Time to buckle up for a transport of musical delight*
Coventry may be more famous for its cars than its folk music (although we're working on that!). But the MotoFest weekend is one opportunity for the Motor City's folk scene to take centre stage.
This year's celebration of the internal combustion engine takes place on Saturday and Sunday, 3rd and 4th June and one of the two live music stages is taken over by CVFolk – all part of our campaign to promote, support and celebrate the fantastic standard of folk to be found in Coventry and Warwickshire.
You'll find the stage in the Upper Precinct, almost adjacent to Broadgate, providing a lively and varied programme of music. Expect anything from unaccompanied harmonies to fiery folk-rock, and from foot-tapping trad tune sets to inspired and expressive singer-songwriting, performed on acoustic and electric instruments and expressive vocals by top notch acts from across the CV postcode area.
Saturday's programme runs from 12 noon to 5pm with popular 12-string guitarist, singer, and Warwick Folk Club resident Dave Fry (pictured right) as opening act and MC. The rest of the day features: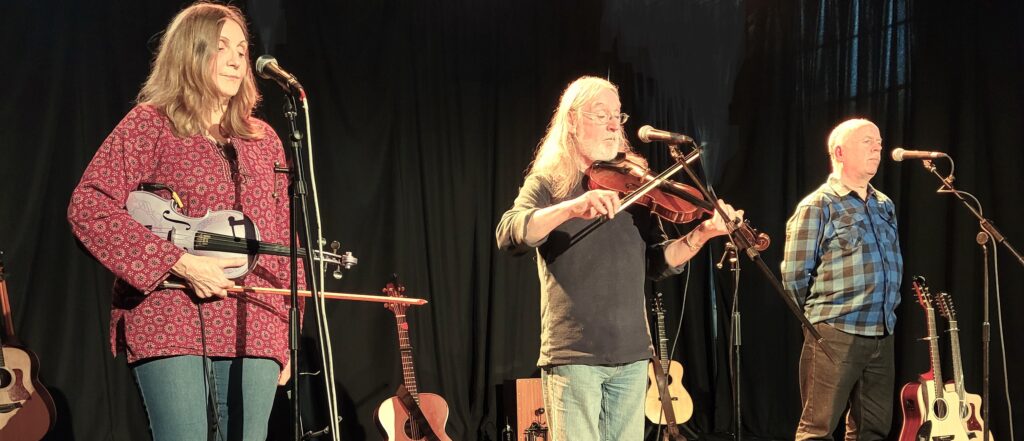 Urban Fox – Coventry trio making a big impact with great arrangements of original songs with guitars, harmonies and twin fiddles.
Paul Gibson – Leamington singer-songwriter in increasing demand with his well-crafted repertoire spanning the border between folk and Americana.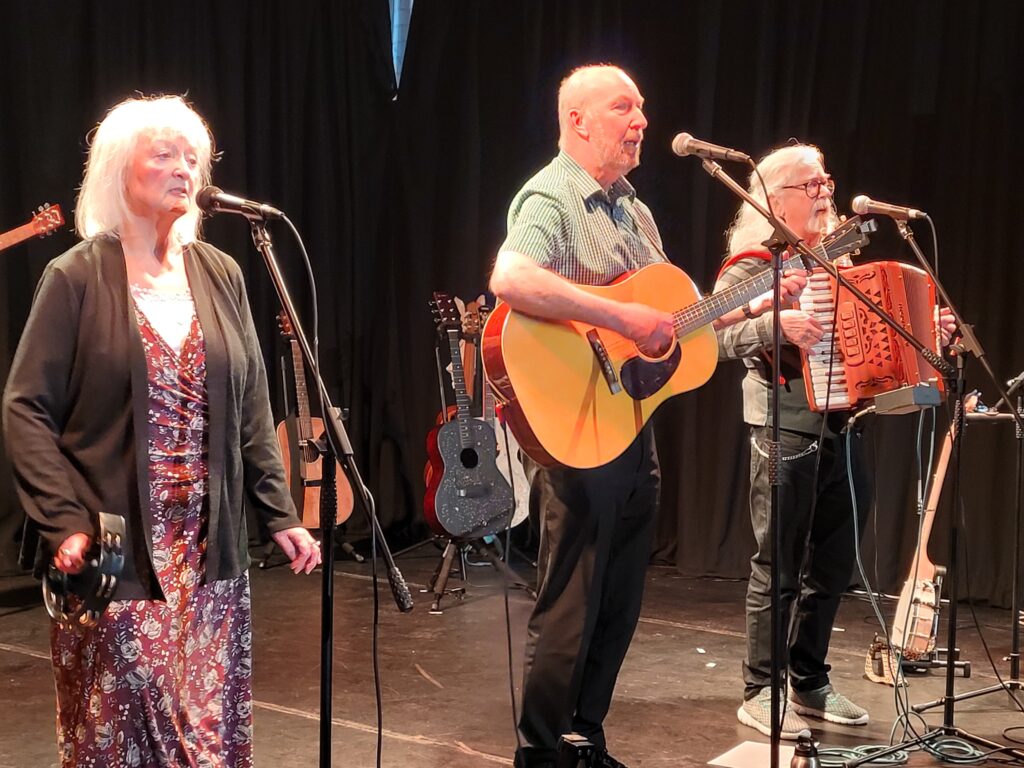 Poacher's Pocket – another local trio becoming well established for their accomplished arrangements of contemporary songs and a wide range of instruments.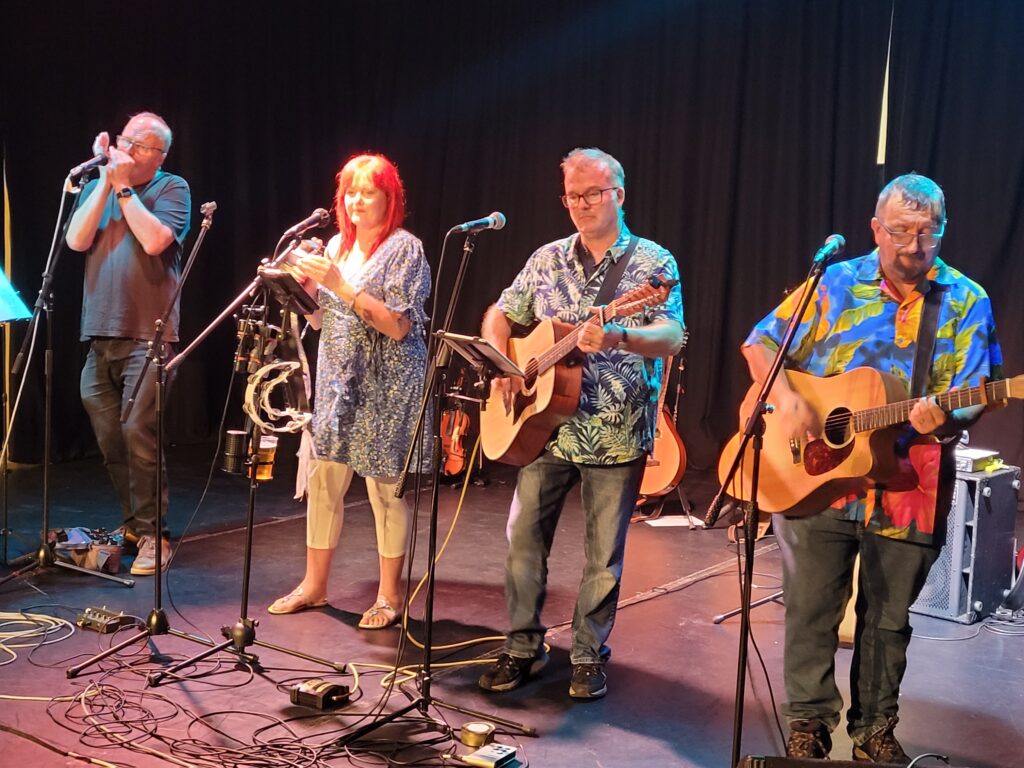 The Stationary Wilburys – Coventry singer Flossie McDougal fronts a talented line-up of guitars and harmonica doing justice to blues and US-inspired folk material.
KC Jones – Nuneaton's most famous folk couple, now in big demand and performing beautifully arranged self-penned songs from their latest highly-rated album.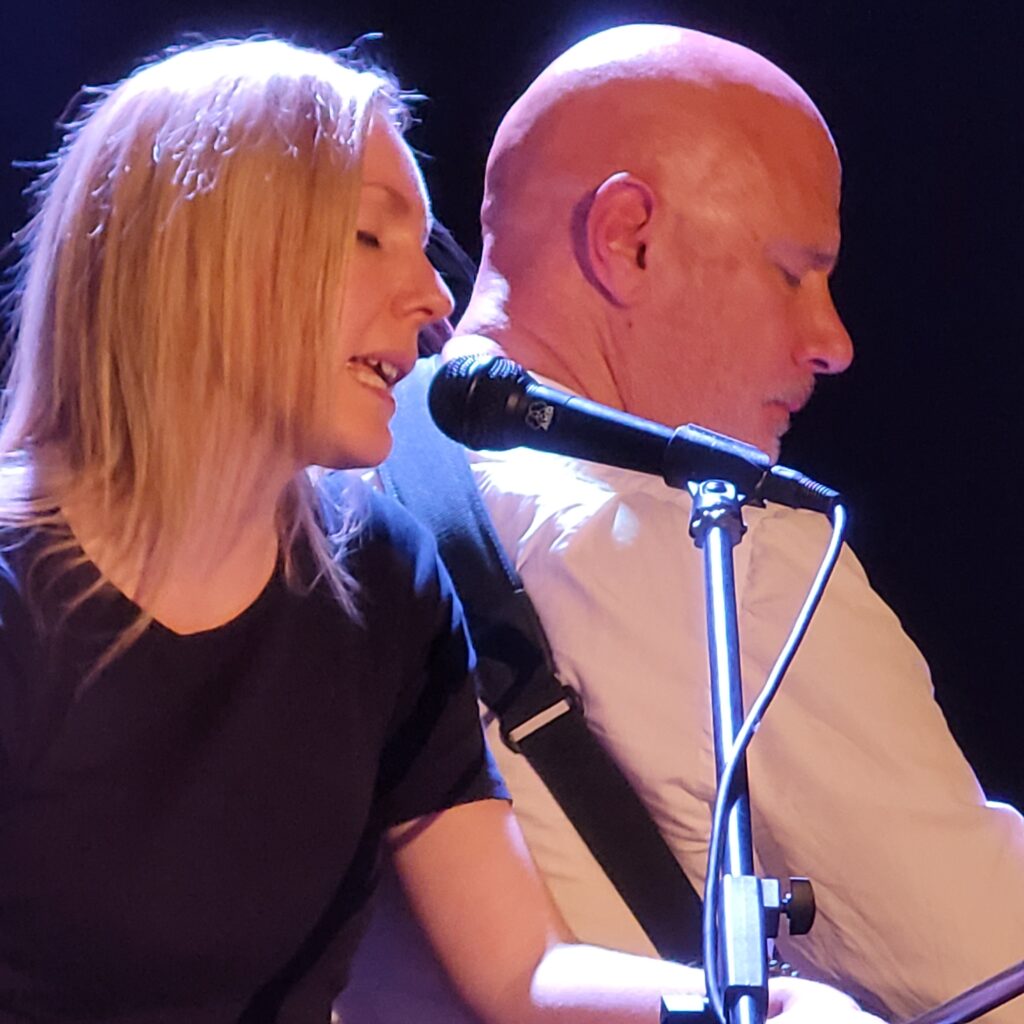 Keith Donnelly & Lauren South – Warwickshire's favourite new duo to emerge last year combining the comedy, songwriting and guitar skills of Keith Donnelly with the superb fiddle, guitar, shruti-box playing and ethereal vocals of Lauren South.
Sunday's show also kicks off at 12 noon and is compered by singer, inspired songwriter and Leamington Folk Club host, Andi Wolf (pictured left) with additional sets by:
Firedaze – welcome return of Leamington indie-folk duo Steff and String, making their first public appearance since Steff recovered from last year's arm injury. Great blend of voices, guitar, bass and stomp box.
Thrup'nny Bits – Three fine unaccompanied voices ringing out harmonies across the City Centre, performing the 'pop' songs of ancient times plus the occasional modern gem. They made it to the finals of the alt/pop category of this year's Godiva Festival and although they didn't get the main stage appearance, their CVFolk Stage performance is going to be a treat.
Daisybell – One of the local circuit's most popular folk acts, the all-female trio whose show is packed with talent, humour, gorgeous harmonies and nifty instrument playing.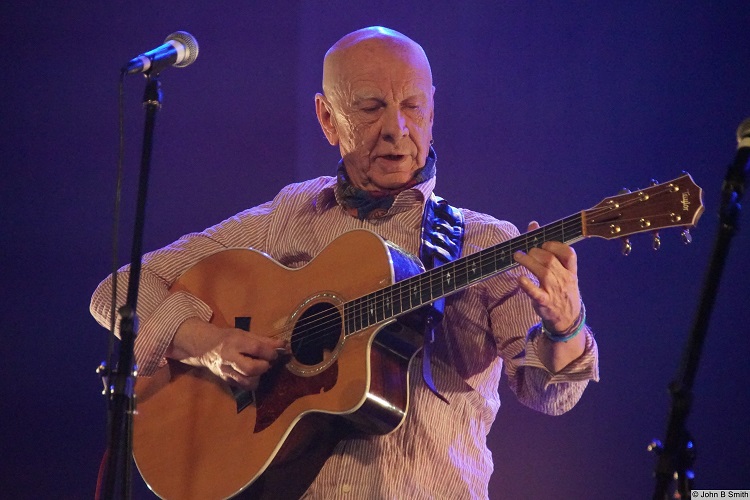 Kevin Dempsey – Coventry's living musical legend who's appeared with everyone from Percy Sledge and Alice Coltrane to Mary Black and the late Dave Swarbrick – in his own right a stunning guitarist, singer and songwriter

The Redhills – classic and tight electric folk rock from this powerful North Warks line-up to provide a lively finale to a fab weekend of folk. Get ready to bop.
Most of the acts were due to play MotoFest last September but the whole event was cancelled at short notice following the death of Queen Elizabeth. All being well – and the remaining royals staying healthy! – Coventry City centre will be resonating not only with the roar of engines, but also the flourish of fiddles, the swing of guitars and the harmony of voices.
It's a splendid line-up and it's all free. Just come along and enjoy the ride.
* Expanded from article first published in Hot Music Live
leave space
leave space
Craig visits the Dark Side as the Ledge hits Snitterfield!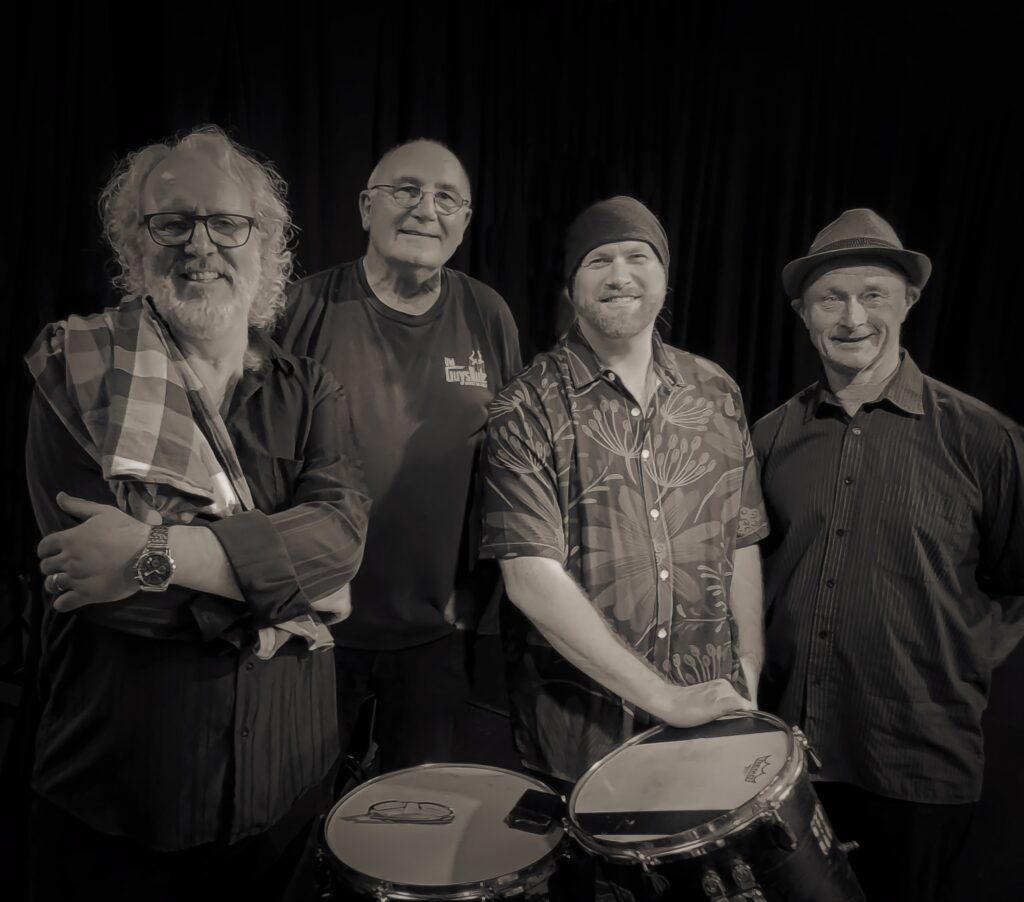 The Saturday night (3rd June) also witnesses a musical fusion like no other when Stratford folk-rockers Meet On The Ledge perform their Pink Floyd set in the nearby village of Snitterfield.
And who better to provide their bass lines than fingerpick guitar wizard and Wurzel Bush Folk Club host, Craig Sunderland (pictured left)?
The band is touring their set to mark the 50th anniversary of Floyd's legendary album The Dark Side of the Moon. They'll perform songs from this highly influential album with selections from Pink Floyd's extensive back catalogue including Arnold Layne, Comfortably Numb, Another Brick in the Wall, Wish You Were Here, and many more.
Set the controls for the heart of Snitterfield Village Hall. Doors open at 7pm, the music starts at 8pm, and tickets for all seats are £12.00 – book them here (Still a handful left when we last checked.) The site also provides updates on further tour performances.
para space
para space
______________________________________________________________________________
You can find more details here of who is playing where in the CVFolk region – we'll do all we can to keep this site up-to-date with dates, guests, support, admission and contact details, although we suggest you check with clubs and venues if you are planning to visit on spec.
Invitation to club organisers – keep the stories coming or why not have a go at writing them yourself?
Yes, you'd expect CVFolk to use this news page shamelessly to promote its own events – and we do.
But the project is about all folk-related activity in the CV postcode area. As more and more folk fans turn to this site for their regular fix of local folk revelations (the associated Facebook group has 860 followers and rising), why not put your own words on our news page and send in your news, reviews, exposés and scoops for publication, with your own by-lines!
No word limit, although the stories may be edited or tweaked to meet journalistic standards without losing the point of the story – or to weed out anything that might get someone sued! The only deadline is one week before the reported event takes place.
Photos are also welcome, although we can download some from the net to add visual appeal. And if you have any posters or flyers, send them in as well, preferably in jpg or png format and we can add them to the Notice Board and What's On pages.
Send your details by email to culture@cvfolk.com, or via Messenger to Pete Willow's Facebook page. Or phone/text Pete on 07887 552896.
For further details on these and all forthcoming folk events in the CV postcode area,, click here or here.
______________________________________________________________________________
CVFolk News Archives
(Most recent news first)
Click here for 2022-23 Archive
Click here for 2021 Archive
Click here for 2020 Archive
Click here for 2018-19 Archive