'CVFolk Presents…' – a monthly celebration of folk music and dance in the heart of Coventry
Second Sunday of each month
The Albany Theatre, Albany Road, Coventry, CV5 6JQ
Most events – free admission with jug banknote collection
Click here for the Albany Theatre website
Forthcoming events…
Sunday Jan 13th:    4pm-7pm
The CVFolk Super-Session, presenting many of the leading session musicians in the area.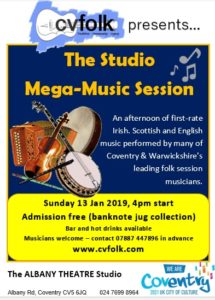 Sunday Feb 10th:    to be announced
Sunday Mar 10th:    4pm-7pm
Incredible display of guitar and fiddle-playing by two superb musicians Kevin Dempsey & Joe Broughton
Sunday Apr 14th:    to be announced
Sunday May 12th:    4pm-7pm
Folk, classical, jazz, balladry and chanson inspired by the Bard – Wes Finch & the Rude Mechanicals.
A little background…

Dave Walker & Ross Grant in superb action in the Albany Theatre Studio
First opened in 1935, the Albany Theatre in Coventry started out as a lecture theatre for Coventry Technical College. You'll find it on The Butts, just north of the Earlsdon district of Coventry and less than a mile from the city centre.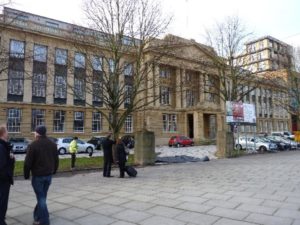 It found a new lease of life recently after the College closed and the Albany Theatre Trust was established in 2013 to resurrect and reopen the Theatre as a multi-purpose arts centre. The main Art-Deco theatre has already played host to concerts by top-line acts such as Fairport Convention, Lindisfarne and Ralph McTell.
A conversation between Albany Theatre Director, David Meredith and CVFolk's Pete Willow quickly established a shared view by both organisations that music is an expression of community identity and the informality of folk can reach out to – and involve – a wide range of people. David agreed for the Theatre to host CVFolk's initial public consultation event in June 2018, which was attended by over 60 people including many local and national musicians, club and event organisers and CVFolk's Patron Pauline Black. One outcome of this was an offer by the Theatre to host and make resources available for a monthly CVFolk event.
'CVFolk Presents…' takes place on the second Sunday of each month, usually in the afternoon (from 4pm to around 7pm) although the occasional evening concert may be presented. It aims to provide performance space and a friendly environment where Coventry people can enjoy and become familiar with all forms of folk music and dance, with particular emphasis on local performers and organisations.
It was launched on Sunday 14th October 2018 with 'The Coventry All-Star Folk Show' featuring some of the leading acts directly involved in the CVFolk campaign. (Click here for report).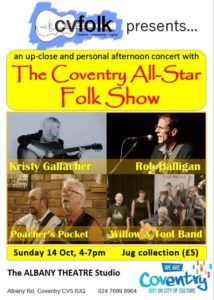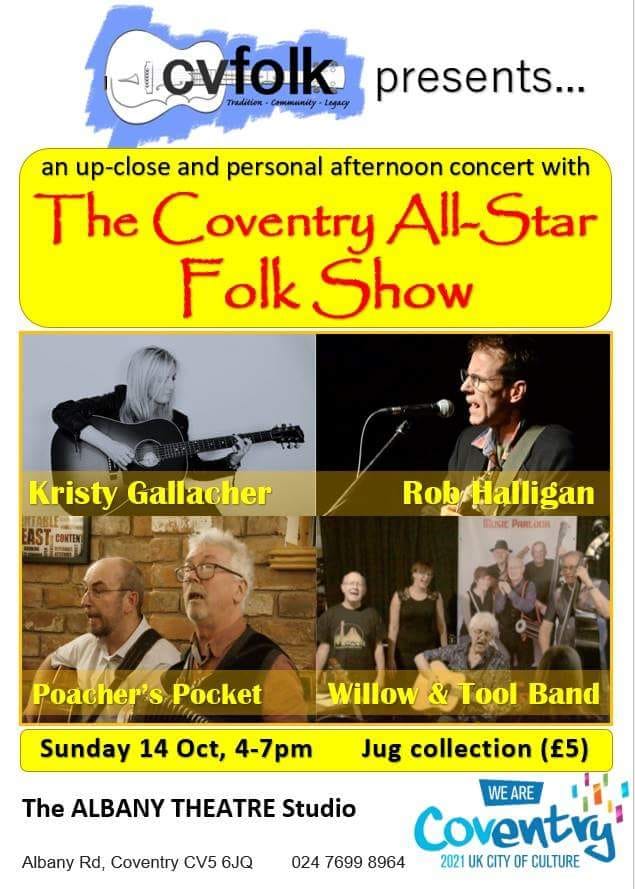 November saw the Studio transformed to concert format with tiered seating where an entranced audience enjoyed the music of two highly talented young musicians, Rosie Hood and Lucy Huzzard.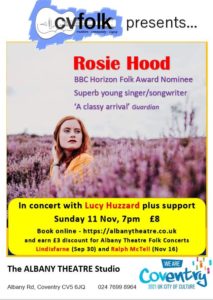 CVFolk 2nd Sundays aims to present more than a folk club or concert venue, but a regular showcase for the full range of folk-related activities that take place in Coventry and Warwickshire.
Located in the heart of the city, our message is clear: Folk is very much part of the Culture of Coventry and at the heart of the community.
Come and see for yourselves.