'CVFolk Presents…' – a monthly celebration of folk music and dance in the heart of Coventry
Second Sunday of each month
The Albany Theatre, Albany Road, Coventry, CV5 6JQ
Most events – free admission with jug banknote collection
Click here for the Albany Theatre website
Forthcoming events…
Sunday Sept 12th:    7pm-9.30pm
Star-studded evening featuring  Coventry's celebrated singer-songwriter Wes Finch and the first gig in 30 years of powerful duo on guitar/bouzouki and fiddle, Bisiker & Romanov. The evening kicks off with some wonderful unaccompanied singing from celebrated harmony trio Thrup'nny Bits (tbc). Free admission – caddy collection
A little background…

Dave Walker & Ross Grant in superb action in the Albany Theatre Studio
First opened in 1935, the Albany Theatre in Coventry started out as a lecture theatre for Coventry Technical College. You'll find it on The Butts, just north of the Earlsdon district of Coventry and less than a mile from the city centre.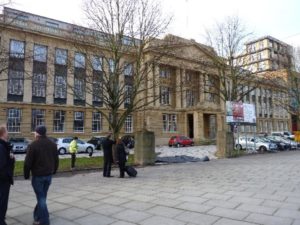 It found a new lease of life recently after the College closed and the Albany Theatre Trust was established in 2013 to resurrect and reopen the Theatre as a multi-purpose arts centre. The main Art-Deco theatre has already played host to concerts by top-line acts such as Fairport Convention, Lindisfarne and Ralph McTell.
A conversation between Albany Theatre Director, David Meredith and CVFolk's Pete Willow quickly established a shared view by both organisations that music is an expression of community identity and the informality of folk can reach out to – and involve – a wide range of people. David agreed for the Theatre to host CVFolk's initial public consultation event in June 2018, which was attended by over 60 people including many local and national musicians, club and event organisers and CVFolk's Patron Pauline Black. One outcome of this was an offer by the Theatre to host and make resources available for a monthly CVFolk event.
'CVFolk Presents…' takes place on the second Sunday of each month, usually in the afternoon (from 4pm to around 6.30pm) although the occasional evening concert may be presented. It aims to provide performance space and a friendly environment where Coventry people can enjoy and become familiar with all forms of folk music and dance, with particular emphasis on local performers and organisations.
Archive of 'CVFolk Presents…' events
Sunday 14th October 2018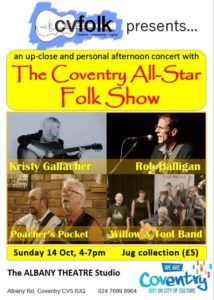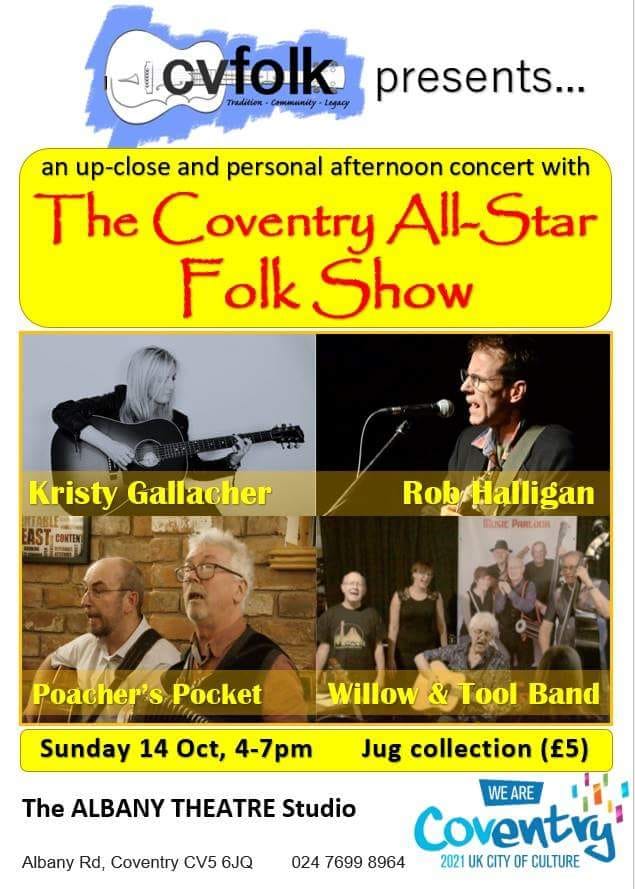 CVFolk Presents… was launched with 'The Coventry All-Star Folk Show' featuring some of the leading acts directly involved in the CVFolk campaign – Willow & Tool Band, Poacher's Pocket, Kristy Gallacher and Rob Halligan. (Click here for report).
Sunday November 11th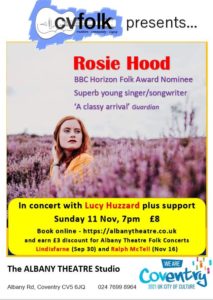 …saw the Studio transformed to concert format with tiered seating where an entranced audience enjoyed the music of two highly talented young musicians, Rosie Hood and Lucy Huzzard.
Sunday December 9th
This featured the strong songwriting talent in the Coventry and Warwickshire area with members of the Coventry Singer-Songwriters Group organising and presenting a first-class concert of original compositions.
Sunday 13th January 2019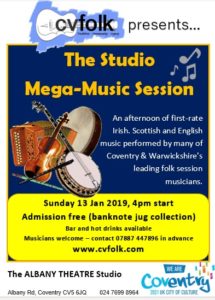 2019 was off to a flying start with January's first Mega-Session event, celebrating the first rate talent that can be enjoyed in the informal back-room music sessions that have taken place in pubs since the 1950s. 20 musicians took part including several members of Coventry Comhaltas and regular participants from the CovTrad Session at the Humber Hotel, the Malt Shovel in Bubbenhall and Sly Old Dogs and Friends. You can enjoy some clips here. After some excellent feedback, we'll be hosting another music session later this year.
Sunday 10th February 2019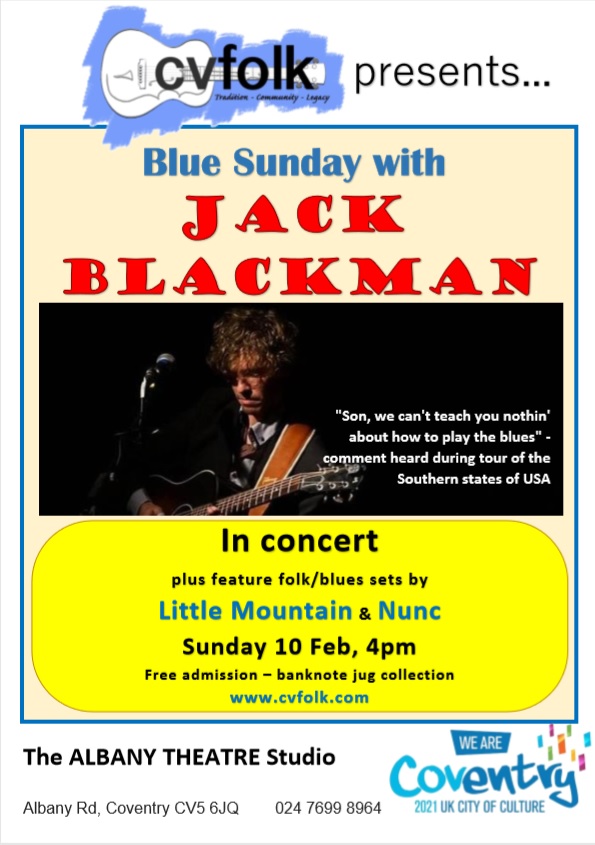 February's focus was on folk blues and our guest was the amazing South Warwickshire singer, songwriter and blues/ragtime guitarist, Jack Blackman. Jack has already taken the world by storm, especially venues in the deep south of the USA and was still only 24 when he played our event. He was supported by Nuneaton Folk Club's line-up, Nunc, showcasing their impressive blues repertoire (they have plenty of other repertoires too!), plus the first performance in six years by Coventry trio Little Mountain, featuring Bob Wilkinson on guitar and vocals, Jon Harrington on harmonica and Dave Cook on lead guitar. They played a great set which inspired some of the audience to indulge in a bit of blues dancing. In all – a smashing afternoon!
Here are three galleries of photos taken that afternoon, courtesy of John Wright Studio (with thanks!)
(Right click each photo to view in separate tab).
Nunc play the blues – Geoff Veasey and Flossy McDougal (vocals), Jon Harrington (harmonica), John Harris (bass), Paul Moore and John Kearney (guitars).
Little Mountain play wonderful music to listen and dance to!
Jack Blackman – fantastic stage presence and captivating sound.
Sunday 10th March 2019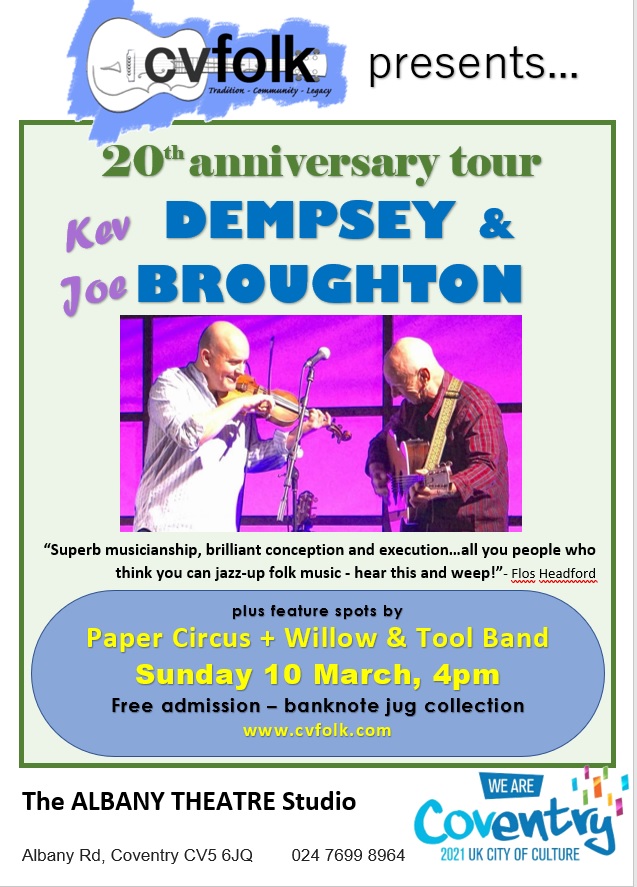 This much anticipated event presented an incredible display of guitar, fiddle and mandolin-playing by two superb musicians Kevin Dempsey & Joe Broughton celebrating 20 years since their first gig together. This is part of a national tour which included appearances in their respective home towns of Coventry and Birmingham. The music was stunning and the concert played to our biggest audience to date. The afternoon also featured well-received sets by local rising-star duo The Paper Circus and a return appearance by Willow & Tool Band.
Typical social media comments after the event:
Thank you for a brilliant afternoon's music. Loved all acts, and as For Kevin and Joe, sublime!
Delightfully awesome music by talented artists.
Well when it comes to music – particularly acoustic music – I know when something sounds good. It's a gift I've had right from being a young teenager.
And when I post on here regarding events and acts I have had the pleasure or dis-pleasure of listening to – I use words such as 'awesome' 'brilliant' 'talented' etc etc.
But if I used those words regarding the Albany Concert this afternoon – it would be insulting the guest artists, because those descriptions don't even begin to describe how good they were – and also the support acts.
Kevin Dempsey and Joe Broughton were sensational – performing songs and instrumentals that to 99 out of every 100 performers would be impossible ! Their set was un-believable – and how I long to see them together again !!
Add to that the talents of Paper Circus, (Jen and Suraj) along with Willow & Tool Band and it was an afternoon of music to savour and treasure – – and shout out on FB as to just how good it was.
Don't be sorry if you missed it – be devastated !!!!!!

Read more about Kev and Joe here.
Here is a selection of photos taken that afternoon, courtesy of Loz Moore (with thanks!)
(Right click each photo to view in separate tab).
Sunday Apr 14th, 2019: 4pm-7pm
New name – old line-up. The Boys of Ball Hill features former members of popular Warwickshire band The Oddsods: Simon Lapworth, Bob Brooker, Pete Willow and Nigel Ward. Also presenting superb local guitarist and singer Craig Sunderland and by popular demand after their excellent performance at our first Sunday afternoon event, Poacher's Pocket.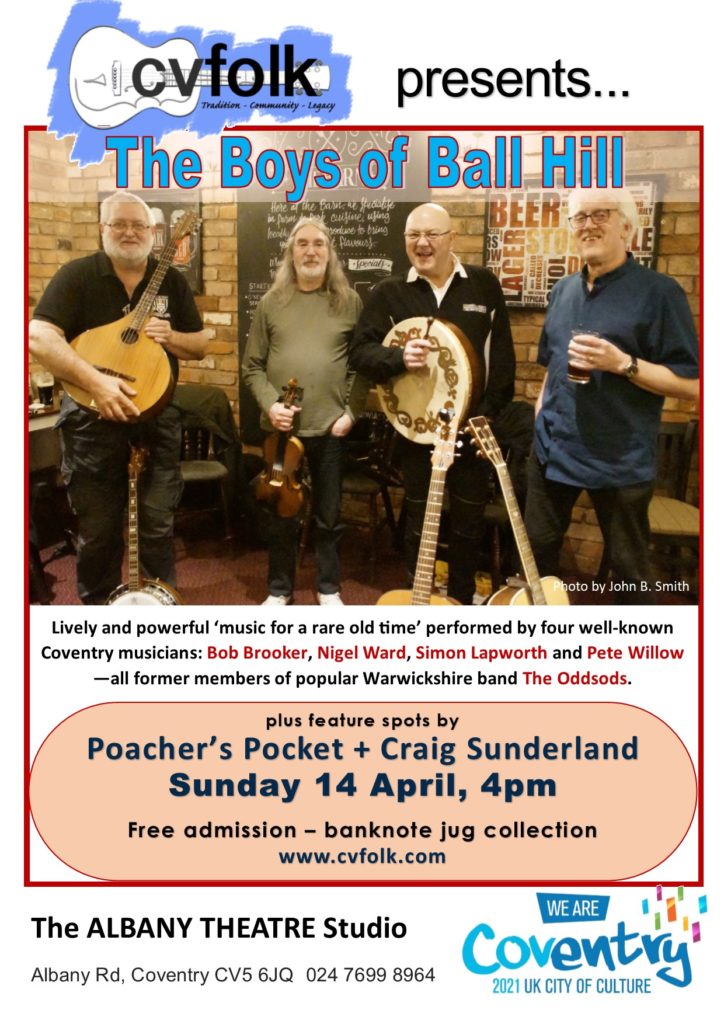 Sunday May 12th, 2019: 4pm-7pm
Folk, classical, jazz, balladry and chanson inspired by the Bard – Wes Finch & the Rude Mechanicals.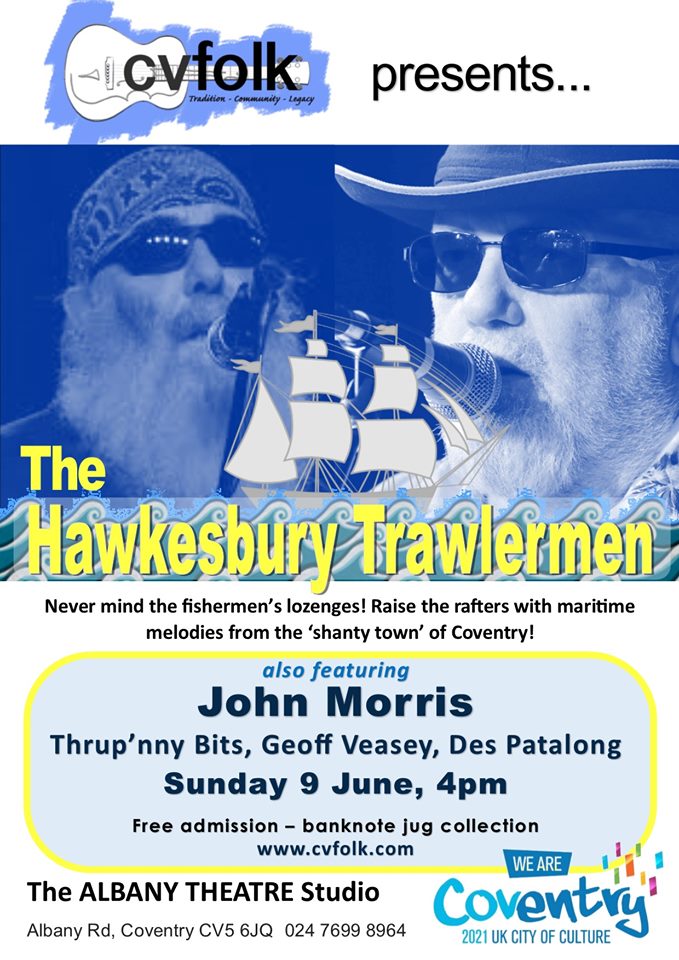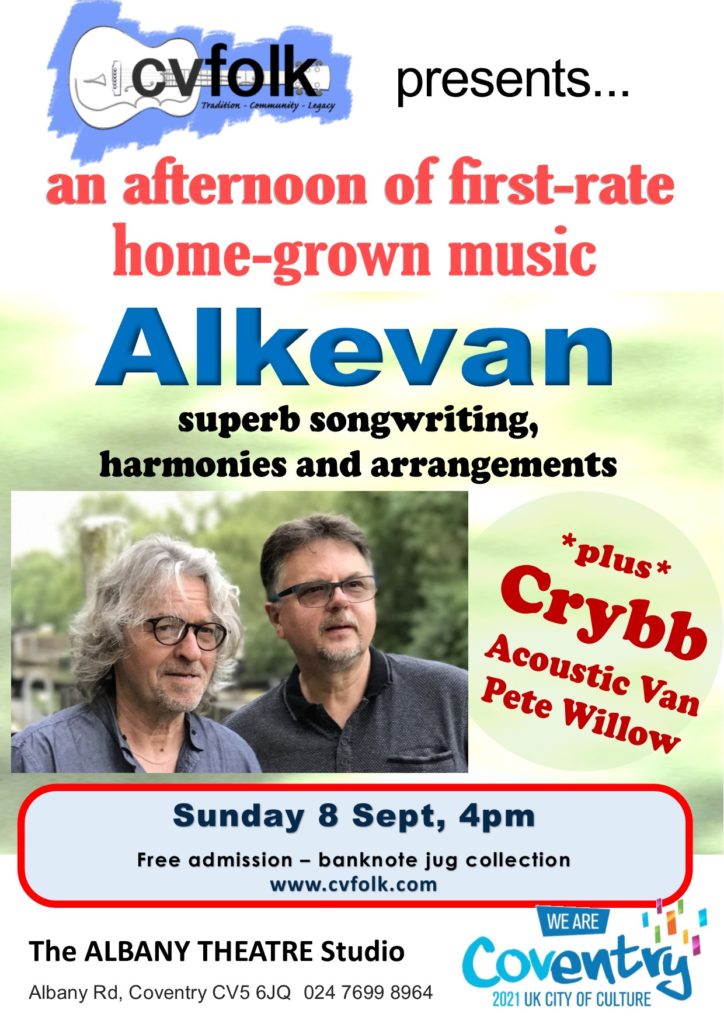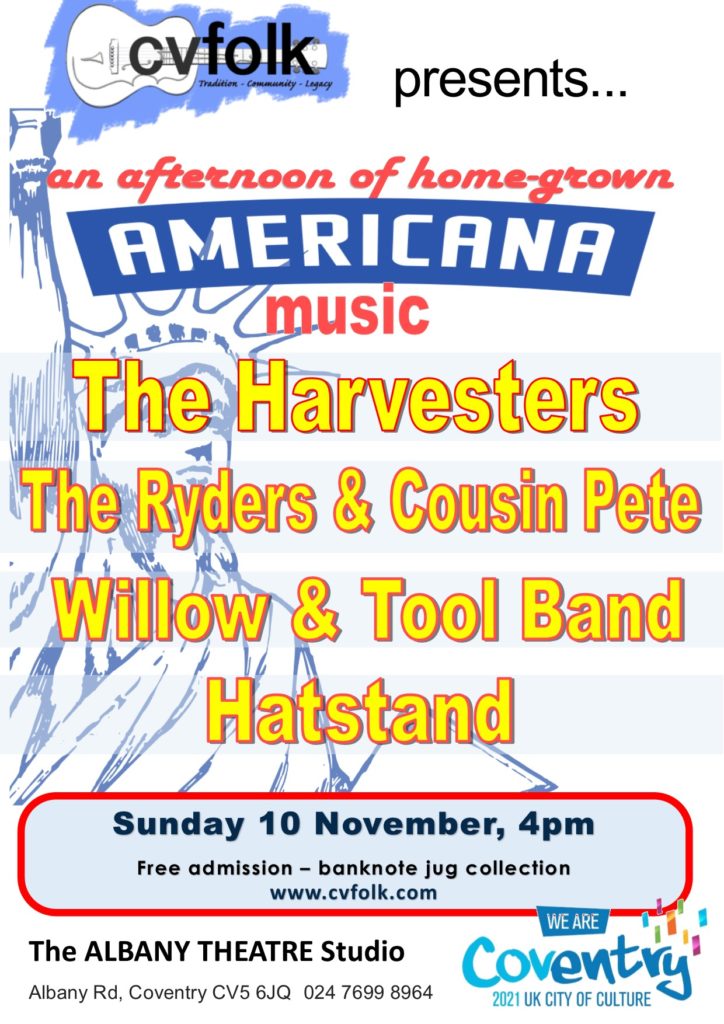 Sunday Feb 9th 2020 was reserved for Starley Road and Michael Luntley's Tricaorach but cancelled because of bad weather. Michael Lutley's band now rescheduled to April 10th 2022
Sunday Mar 8th, 2019:    4pm-7pm
Famed Coventry songwriter making a return visit from Germany…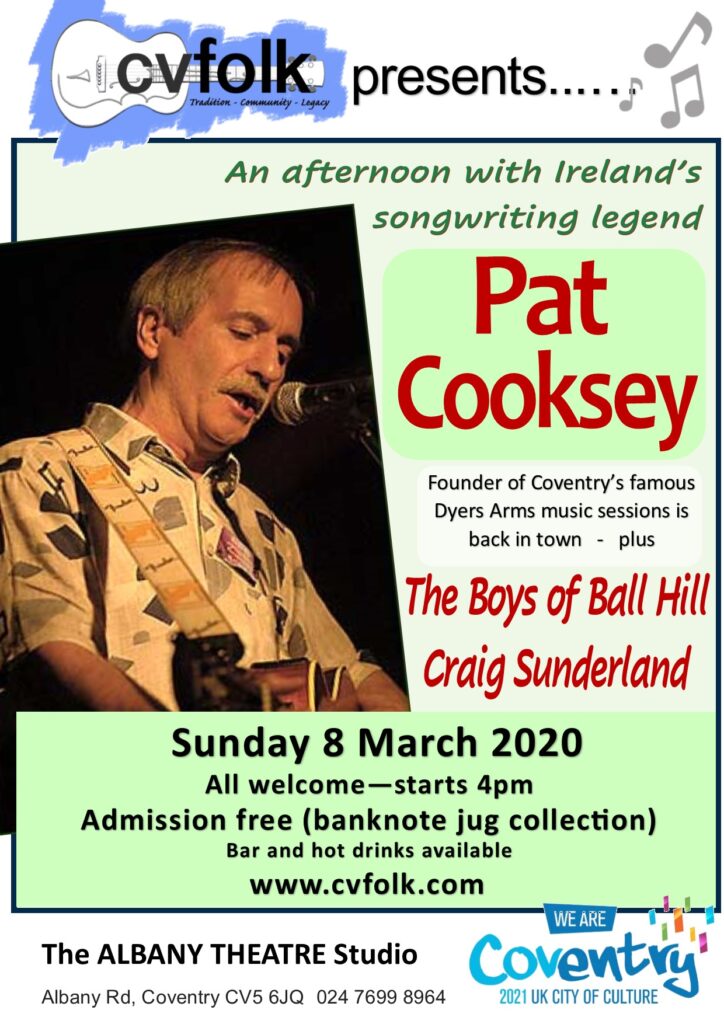 Venue then closed for |Covid-19 lockdown until
Sunday June 13th 2021, 7-9.30pm (Coventry's first post-lockdown folk concert) …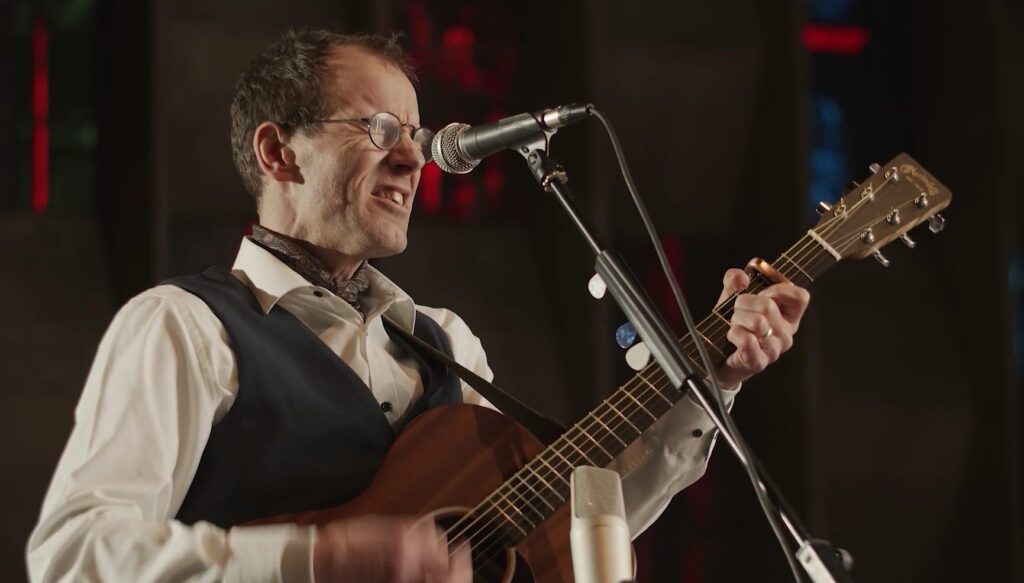 Rob Halligan's Homeward Hie
feat. Ewan Cameron, Chris Hunt, Aiden O'Hare
plus
As The Heron
Craig Sunderland
CVFolk 2nd Sundays aims to present more than a folk club or concert venue, but a regular showcase for the full range of folk-related activities that take place in Coventry and Warwickshire.
Located in the heart of the city, our message is clear: Folk is very much part of the Culture of Coventry and at the heart of the community.
Come and see for yourselves.