_____________________________________________________________
We're getting around
Three big music events are lined up for CVFolk this Summer, in Coventry, Warwick and Leamington.
You'll find the CVFolk Stage right in the centre of Coventry when we present a weekend of free open-air folk from some of the best acts in the region as part of MotoFest Coventry.
Head for the city's Upper Precinct on Saturday and Sunday, 3-4 June to see and hear fabulous music from a packed line-up, including Donnelly & South, Daisybell, Kevin Dempsey, KC Jones, and The Redhills (pictured).
The extended weekend of July 27-30 will include a CVFolk event at Warwick Folk Festival – watch this website and our social media for further news on that.
And Thursday, 10 August sees us taking over the Leamington Folk Club at the town's Temperance Café with a packed programme of highly-rated home-grown guests including Poacher's Pocket, Thrup'nny Bits, Yonderland and The Stationary Wilburys. Further details and ticket information is here.
All this is on top of our regular monthly fare of first-class music at the Albany Theatre in Coventry. Joining us in the Studio venue on Sunday, 14 May are Alkevan, After The Flood and Urban Fox – here are the details!
_____________________________________________________________
Exciting new phase for our project!
Five years after it was first formed, CVFolk is to become an integral part of Coventry's Albany Theatre and play a major part in the venue's aim to reach out to the community through performing arts.
Established initially in response to Coventry's successful City of Culture bid, CVFolk staged its first public event at the Theatre in June 2018. This was a consultation with local folk event organisers, musicians and educators, followed by a music session – the first step of its mission to promote, support and celebrate folk music and dance across Coventry and Warwickshire.
The Albany Theatre Trust has now agreed to include CVFolk folk events as part of the Theatre's own programme and incorporate the CVFolk 'brand' as part of its own identity.
This means that CVFolk will continue to stage its monthly events, showcasing and providing public performance space to the wide range of talented folk acts based in the CV postcode area, and will continue to run this website as a source of news and information for the local folk scene.
But in addition, CVFolk will be making use of the new studio spaces to be opened later this year by staging music and song workshop events and masterclasses. There will also be a more flexible programme of folk events, from afternoon family concerts in one of the Studios to big name shows in the Main House.
Says CVFolk Chair, Pete Willow, 'This is excellent news for the CVFolk project and for folk music across the region. Our relationship with the Albany Theatre has proved very fruitful, enabling us to stage some wonderful home-grown music, including the spectacular fundraiser event for Ukraine last March.
'Now as part of the Albany Theatre, we're confident of making a further impact on Coventry and Warwickshire by encouraging new talent and greater interest in all aspects of folk music – from traditional music-makers to contemporary singer-songwriters,from unaccompanied singing to folk-rock.'
CVFolk will continue its activities with Warwick Folk Festival and Coventry MotoFest and is launching a new partnership event with Leamington's acclaimed Temperance Bar with a get-together and performance by folk club organisers and residents at the Temperance on Sunday February 26th. Follow this link for details.
____________________________________________________________________
CVFolk fantastic at Warwick 2022
Four first-class acts performed at Warwick Folk Festival's CVFolk concert highlighting the wealth of home-grown folk and acoustic talent to be found in Coventry and Warwickshire.
Rob Halligan, Mick Bisiker, Under The Influence and Kristy Gallacher provided some brilliant music on the Jester Stage in Warwick's Castle Park on Friday 22nd July – just one of the many fantastic events which led to the widely acclaimed success of the 4-day weekend.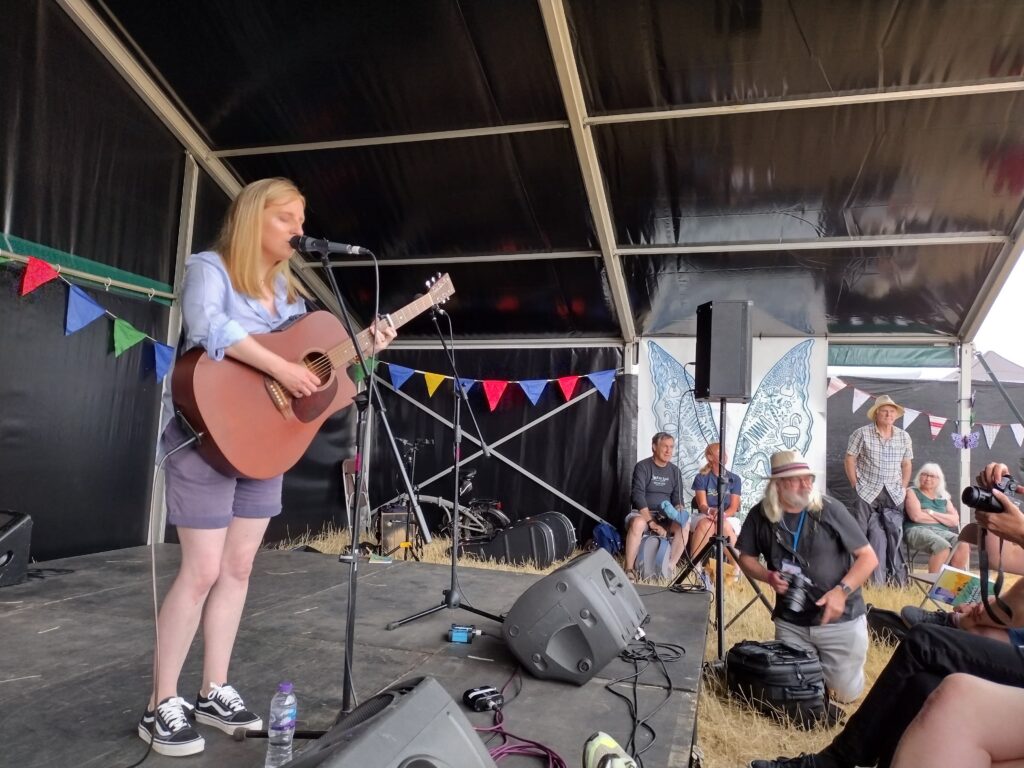 CVFolk Concert – photos by Mick Bisiker, Helen Kenworthy and Rob Halligan
____________________________________________________________________
CVFolk's Ukraine appeal raised £2100 following an all-star day of music at the Albany Theatre, Coventry
If you enjoy the music, remember all performances were given for free to support CVFolk's Ukraine appeal. So please click here to donate directly to the #HELPUKRAINE Emergency Appeal.
Funds raised from CVFolk4Ukraine and its aftermath are donated to this appeal organised by the Association of Ukrainians in Great Britain. With low overheads and direct first-hand knowledge of where help is needed, the AUGB is supported by a wide range of community groups and accredited charities in Ukraine to provide food, shelter, medicines and support to the vulnerable.
_____________________________________________________________