4th June 2019
Going for a song!
Folk's finest musical instrument, the human voice to raise the Albany Theatre rafters.
CVFolk celebrates the fine tradition of unaccompanied singing with an afternoon of shanties, ballads and chorus songs.
Sunday afternoon's CVFolk Presents… turns the spotlight on rousing choruses with a maritime flavour, with Coventry's answer to Fisherman's Friends – and almost certainly the UK's most landlocked shanty crew – The Hawkesbury Trawlermen!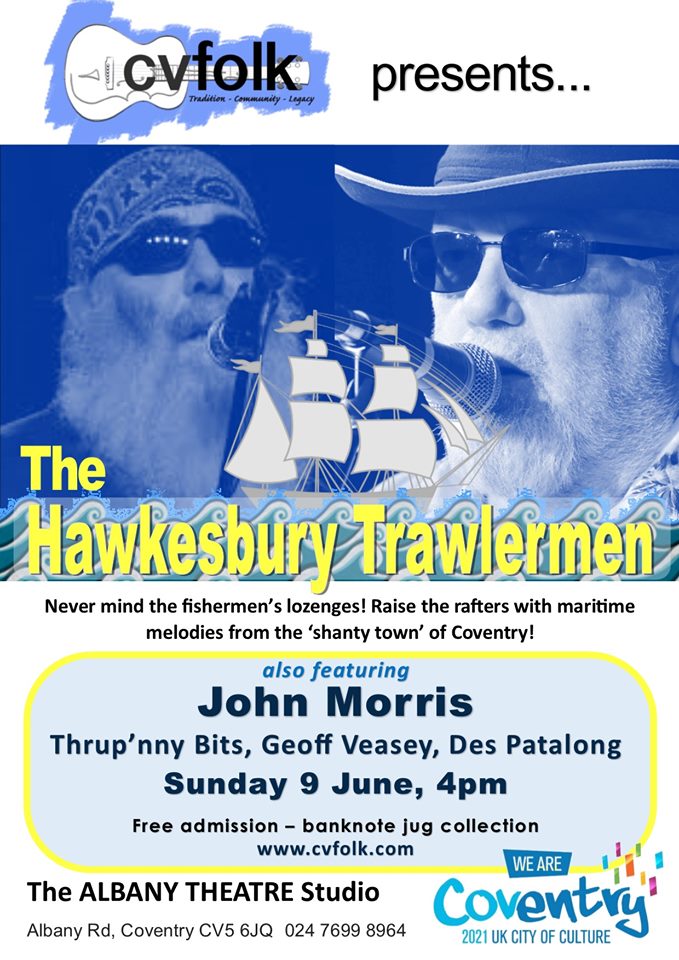 Hawkesbury is a junction on the Coventry and Oxford Canals. Few trawlers, whaling boats or three-masted schooners are ever seen there. You might see the occasional kayak and narrowboats still moor alongside the pub at Sutton Stop. There are no shoals of herring or mackerel in the immediate vicinity but in summer, the gudgeon and sticklebacks are mightily impressive.
    
The line-up was convened as a subsidiary of NADEGBDS. Nuneaton and District Elderly Gentlemen's Binge Drinking Society (Folk Club Branch).
Highly organised, with their own badge, tour shirts and other corporate leisurewear, the Trawlermen meet twice monthly to dine, network, pick faults in each other's solo performances or just work their way stolidly through the pump clips in The Felix Holt and Lord Hop hostelries. Despite living a long way from the sea, their repertoire is (predominantly) authentic versions of shanties, hollers and calls, sung unaccompanied, with crew members taking turns in lead and response. In addition, there may be a few other rousing maritime songs sprinkled in.

Membership is loose (sometimes very loose!), but can generally be liable to include Geoff Veasey, Malc Gurnham and Phil Benson who host Nuneaton, Bedworth and Atherstone Folk Clubs respectively. Other crew members include John Dacombe, Dave Webb, John Meechan, Bob Brooker and Wes Hall, all of whom perform locally – plus any additional crew members who can be clubbed on the head and dragged up the gangplank to add to the general noise.

Expect loud singing, many with enticing and irresistible choruses, missed cues, some shoving and jostling in the ranks and a great deal of hot air. They're far too savvy to reveal their set list in advance but they promise a great deal of pushing hauling and heaving. After that they might even sing some shanties.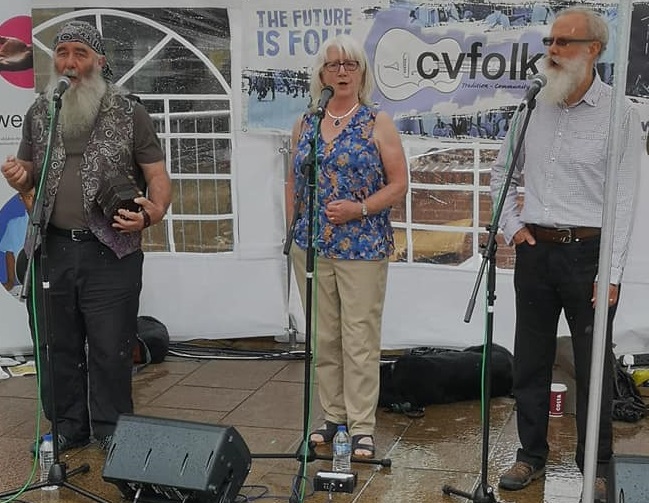 Starting at 4pm, the afternoon also features songs by talented harmony trio Thrup'nny Bits and the celebrated tenor voice of one of the finest singers in the area, John Morris. Admission as always is free although there will be the usual jug collection for spare banknotes!
Don't forget…
CVFolk artist Kristy Gallacher makes another Coventry appearance the following weekend. She plays support in the main Albany Theatre on Saturday 8th June when Wet Wet Wet founding member Graeme Clarke and violinist Fiona Cuthill are in concert. Book your tickets here.
Click here for more Coventry & Warks folk news stories