20th March 2020
Logging into virus-free folk
Has Covid-19 killed off folk as we know it?
This week saw Prime Minister Boris Johnson advising the British public that social venues, including pubs, should be avoided in the light of the current Coronavirus pandemic.
Large social gatherings, from the Grand National to the Boat Race have been cancelled along with football, rugby and hockey matches across the land. As for smaller social gatherings – like folk clubs – planned events have been dropping like flies.
Even though some of the usual homes for folk clubs, pubs, clubs and restaurants are still open (at this time of writing), the public in general – and folk fans in particular – are giving them a wide berth. Boris's comments, combined with fears of inadvertent contamination and the likelihood of pre-existing ailments among the older demographic that tend to visit folk clubs, have resulted in a devastating and unprecedented collapse of this already beleaguered part of our culture.  At least for the next 3-4 months.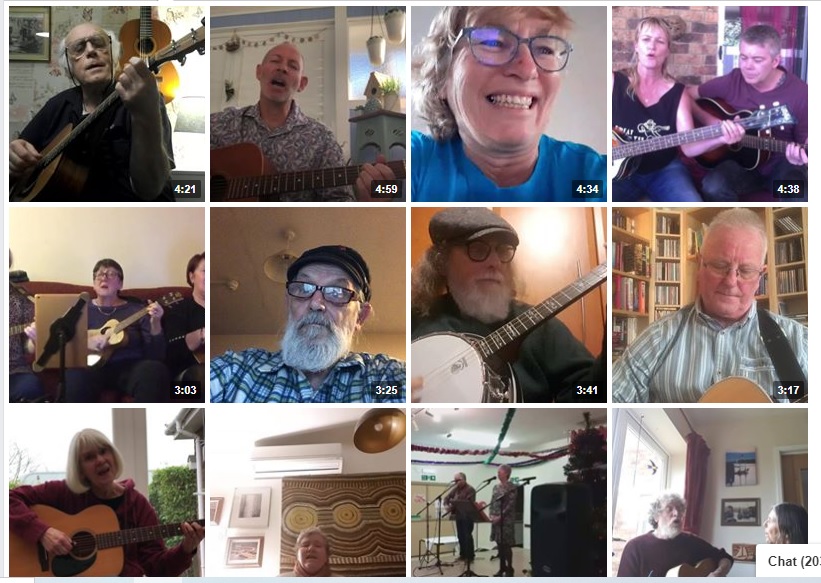 Virtually all the main folk clubs in the CV postcode area have let it be known that they are closing the doors against the virus. Some have announced cancellations, others that their events are merely postponed or suspended. Many club organisers, hosts and regulars are finding themselves incarcerated in enforced self-isolation – not just those older than 70. As for the guest artists, folk clubs may not offer much of a living but they do provide a stream of income which has now suddenly dried up.
It's all looking very bleak at the moment. But there is a glimmer of hope for the folk circuit thanks to social media. It is now possible to experience the repertoire of folk clubs vicariously, thanks to clubs themselves or individual artists posting images of performances in their kitchens or lounges, anywhere deemed safe by the government to be safe from the culture-sapping virus.
In some cases, you are invited to donate money in a virtual jug collection, or purchase CDs online. It's a valiant effort to keep the folk flag flying even if it only scratches the surface of the genuine folk club experience where you can interact, applaud, heckle, or join in with choruses. In the absence of the 'real thing', online folk is doing its best to keep the scene together and offer some compensation in these difficult times. Check out the Covideo Folk Club for a taste of how such sites could work: https://www.facebook.com/groups/142692067094518/
CVFolk is willing to help spread the word and inform folk fans of any performance pages being set up by venues and/or artists in the CV postcode area. Just let us know.
If you are setting up a virtual folk club, or any online platform for folk performance, drop an email to culture@cvfolk.com and we will announce it on this website, on our Facebook page and on Twitter.
Click here for more Coventry & Warks folk news stories