27th March 2021 (updated 1st April)
Easter treat from Halligan and friends
Rob's all-star Cathedral show augurs well for Coventry's first post-lockdown folk concert
Coventry singer-songwriter Rob Halligan has staged an Easter special concert video-recorded in Coventry Cathedral for release on April 1st.
With guitarist Chris Hunt and whistle-player Ewan Cameron, the 45-minute concert was filmed in front of the Cathedral's world-famous Baptistry Window.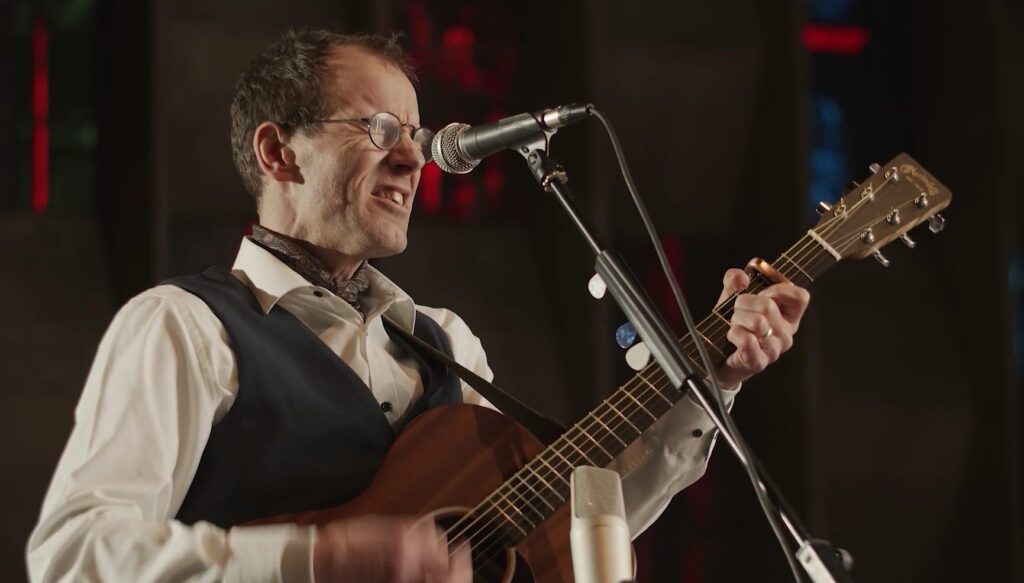 Available on YouTube from 7.30pm, the show features songs from Rob's most recent widely-acclaimed album, Always Heading Home. See it here: https://tinyurl.com/4dmbabyy  
It also gives a foretaste of CVFolk's new season of Second Sunday concerts, to be relaunched in June, with Rob's new band, Homeward Hie topping the bill.
Taking place in the Albany Theatre Studio, Coventry on Sunday June 13th, the socially-distanced event is believed to be the first live folk show to take place in the city since lockdown.
Rob organised the Cathedral gig as 'something different for Easter'.
He explains 'last September, the band teamed up to perform a streamed gig from my living room. We wanted to do it again but this wasn't going to be possible in current conditions.
'I had a word with the Dean at Coventry Cathedral. They're very keen to have live music'.
Rob describes the performance as an awesome experience. 'We had the whole building to ourselves and it was quite surreal. The ambience was great – not only did we get the huge reverb from the building itself but you can still hear the city sounds from outside in the background. It works really well on the recording'.
The recording was produced by James Norden of Upbeat Image. He has worked with Rob before and filmed his visit to Lebanon for the Coventry charity Global Care in May 2016.
An album of the concert, Always Heading Home – Coventry Cathedral 2021, comes out on Friday 2nd April, available via Rob's website  https://robhalligan.co.uk.
As Homeward Hie, Rob, Chris and Ewan will be joined by fiddle and uilleann pipes player Aiden O'Hare to headline to the CVFolk concert.
It's a fitting venue for the band's first public live show. As Rob points out 'I got to know Ewan at the CVFolk launch event in the Albany Theatre back in July 2018. And I first met Aiden the following year at one of CVFolk's Sunday afternoon music sessions where he was playing fiddle and uilleann pipes.
'Chris and I have worked on and off for over 25 years and he's recorded on my albums, One Day and Psalm.'
Starting 7pm, the CVFolk event kick-starts a new series of monthly Second Sunday events in the Studio. Playing support that evening is the highly talented duo As The Heron, featuring Gary Painting on guitar and Lauren South on fiddle, plus Coventry's acclaimed singer-guitarist Craig Sunderland.
As social distancing rules will still apply on June 13th, admission will be by advance ticket only with the room laid out to accommodate household 'bubbles'. Says Chair of CVFolk, Pete Willow, 'the venue has been fantastic in supporting the event with an excellent plan in place to ensure an enjoyable and convivial evening of top-class live music – and the bar will be open!'
Tickets are £11 each and now available from the theatre. on https://www.albanytheatre.co.uk/shows/homeward/.
Looking ahead to July 11th and assuming current restrictions are lifted as planned, CVFolk will host an informal 'Warwick Fringe' session as a prelude to Warwick Folk Festival which opens July 15th.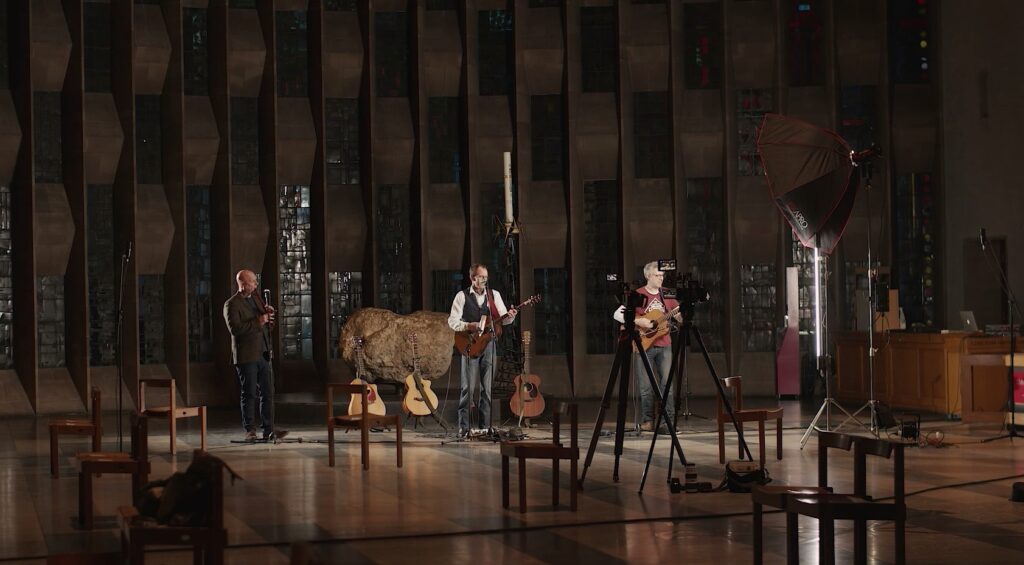 Click here for more Coventry & Warks folk news stories