Your guide to folk events in Coventry and Warwickshire.
We've linked to a new calendar format which should make more local folk events accessible and easy to update. Just click on the maroon lettering below – or scroll down for individual listing of forthcoming events.
If you are planning any folk event in the CV postcode area – big concert, back-room singaround, online performance, dance display, or whatever, click here to email us, providing the following details:
Date, start-time and end-time
Name of venue
Type of event
Artists/performers appearing
Location including postcode
Description – including how to book tickets, web links, etc
Please note that information on this page is based on advertising and public announcements by the venues and/or events organisers.
While every effort is made to ensure that details provided here are correct, CVFolk cannot guarantee its accuracy which is why we include contact information for each event so that you can check and confirm if necessary,
CVFolk is working in partnership with Folk21 Midlands region and any event listed here will also appear in their own events listing.
Jul
4
Mon
Andy Cutting

@ Temperance Cafe
Jul 4 @ 7:00 pm – 10:30 pm
Andy Cutting is a rarity. A musician's musician (BBC Radio 2 Folk Award Winner Best Musician 2009): a soulful and technically outstanding melodeon practitioner with an ear for a fine tune. Many of his tunes have been purloined along the way: some considered contemporary classics on the folk scene. But then, Andy is also a warm and emotive performer, modestly engaging his audiences with his self-deprecating wit and then flooring them with downright staggering musicianship. There are few melodeon players who put so much feeling into their playing, whether it is a set of dance tunes, or accompaniment to a slow English ballad.
Andy has been consistent musical force since he came swiftly to prominence with the innovative Blowzabella. As well as a thorough grounding in the English tradition, Andy's influences extend way beyond these isles, particularly to the music of Central France and to the storming Quebecois tradition. These influences will be well-known to all those familiar with Andy's duo with English fiddle player, guitarist and singer, Chris Wood. Wood & Cutting became one of the most influential, and enduring, duos on the scene; paving the way for the explosion of many of today's thrusting young newcomers.
Andy's commitment to, and sense of pride in traditional music, as well as his sensitivity and understanding of the form, has made him one of the folk scene's most wanted, playing with Kate Rusby, John McCusker and Under One Sky to name but a few. There is also a growing demand for him to play outside this genre (having recorded with Sting, John Illsley (Dire Straits) but most recently being asked to join The Who for an acoustic concert in aid of the Teenage Cancer Trust.
As well as his ongoing work with Blowzabella, Andy currently tours with his trio Leveret (Andy Cutting, Sam Sweeney, Rob Harbron) and with Anglo-French acoustic dance band, Topette. He is also working on a new duo with Belgian diatonic accordion player Anne Niepold.
Sep
26
Mon
Martin Simpson

@ Temperance Cafe
Sep 26 @ 7:00 pm – 10:00 pm
The remarkable intimate solo performances Martin gives go from strength to strength – every gig is a masterclass. He travels the length and breadth of the UK and beyond, giving rapt audiences passion, sorrow, love, beauty, tragedy and majesty through his playing.
"What's it like being the best guitar player in the world…?" Martin's modesty and grace prevented him from answering this BBC Radio 4 interviewer's question recently, but the facts speak for themselves.
40 years after he recorded his first album, Golden Vanity, in 1976, Martin is known as a guitarist of formidable talent. Equally at home playing English traditional folk, American folk and blues and his own compositions, he is consistently named as one of the very finest fingerstyle guitar players in the world.
He is listed in Gibson Guitars' Top 30 Acoustic Guitarists of all time, and Acoustic Guitar readers voted him number 12 guitarist in the world in 2005.
Universally acclaimed as one of the finest ever acoustic and slide guitar players, and a fine banjo-picker to boot, his solo shows bear witness to an artist at the very top of his game. Whether interpreting material from tradition or singing his own potent self-penned songs, Simpson is a remarkable storyteller: captivating and profoundly moving. His own songwriting produced the poignant 'Never Any Good', from Prodigal Son, 2007's Folk Album of the Year.
Martin continues to collaborate with a dazzling array of people from across the musical spectrum: Jackson Browne, Martin Taylor, June Tabor, Richard Hawley, Bonnie Raitt, Danny Thompson, David Hidalgo, Danú, Richard Thompson and Dom Flemons are among the great musicians he has worked with.
In recent years, he has been a lynchpin in the award-winning Full English, The Elizabethan Sessions and, in 2015, recorded Murmurs, an exciting new album with Andy Cutting and Nancy Kerr. Martin's latest solo album entitled Trails and Tribulations was released in September 2017 on Topic Records. Album guests include Andy Cutting, Kathryn Tickell, Nancy Kerr and John Smith. In September 2019 Topic Records will release Martin's new album 'Rooted', a mixture of Simpson originals and traditional songs and tunes with guest appearances from friends old and new. As ever Martin is pushing in new directions, expect exquisite ensemble playing and solo magic.
He has had the most nominations of any performer in the 18 years of the BBC Radio 2 Folk Awards, an astonishing 32 times, 13 of those as Musician of the Year, winning that particular accolade twice.
A virtuoso player without question, but above all Martin Simpson conveys his diverse treasure trove of material from the heart, performing with rare subtlety, intensity and honesty. A true master of his art.
Oct
4
Tue
Hawes and Catlow

@ Temperance Cafe
Oct 4 @ 7:00 pm – 11:00 pm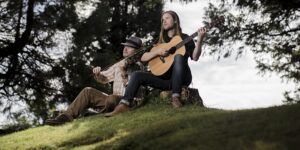 Kit Hawes and Aaron Catlow are a Bristol based duo playing acoustic, folk and roots music.
Weaving a musical dialogue between fiddle, guitar and voice, Kit and Aaron explore the rich musical heritage of the British Isles, and create original music inspired by the traditions they grew up in. In demand as musicians, writers and arrangers, Kit and Aaron have worked with many established artists including Grammy Award-nominated Yola, Seth Lakeman, Afro Celt Sound System and Roni Size.
Since the release of their highly acclaimed debut album 'The Fox' in 2016, the pair have built a reputation as one of the standout acts on the UK music circuit. Praise comes from music lovers and press alike, including Mark Radcliffe on BBC Radio 2 – "reminiscent of Martin Carthy and the late Dave Swarbrick, I can give them no higher accolade", Acoustic Magazine – "head and shoulders above the rest" and Living Tradition – "mightily impressive".
Their follow up album, which draws its name from the title track 'Pill Pilots', was released in March 2020. The Pill Pilots were a group of highly-skilled mariners, who for over a thousand years guided tall ships through the treacherous waters of the Bristol channel and the river Avon. The album was recorded live in a single room and celebrates the time-honoured relationship between the fiddle and guitar. The pair pay tribute to the past, whilst setting themselves apart with an unparalleled mastery of their instruments and dynamic range to create a musical conversation that wends its way through the album's nine tracks.