Click here to meet the Advisory Team
Click here to contact us
Our aim is to promote, support and celebrate folk music and related activities in Coventry and Warwickshire.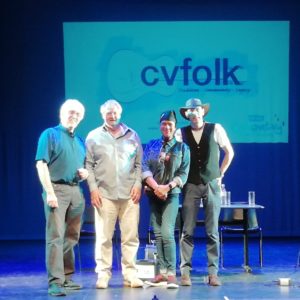 CVFolk's first event – a public consultation at the Albany Theatre, 26 June 2018. L-R Pete Willow (Co-ordinator, CVFolk), David Meredith (Director, Albany Theatre), Pauline Black (Patron, CVFolk), Rob Halligan (Musician and Advisory Team, member).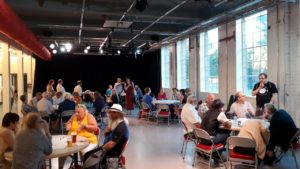 Productive consultation …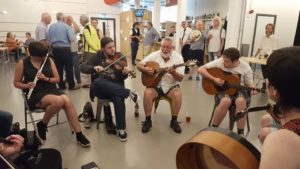 …followed by a superb session
Originally set up in response to Coventry's 'City of Culture' status, CVFolk now works in association with the Albany Theatre, Coventry where it stages most of its events – concerts, club nights, sessions and (eventually) workshops and masterclasses.
Although we are part of the Albany Theatre, we are still an autonomous organisation in the sense that we retain our own brand identity, operate our own website and social media and organise events with other external organisations, in particular Warwick Folk Festival, MotoFest Coventry, and the Temperance music venue in Leamington. We also draw on the expertise of our own team of advisors.
In broad terms,
CVFolk
sets out not only to promote but also to provide practical support for folk music in the CV postcode area i.e. Coventry and most of Warwickshire, UK.
We do this partly by providing a showcase for the many excellent artists based in this area through events and online. We celebrate local folk by letting the world (and of course local audiences) know what amazing talent can be found on our local folk scene and the wide range of fantastic venues there are in this area. We guide you to the places where you can enjoy folk entertainment – everything from the big theatre auditorium to the small and intimate back rooms and cellar bars where you can listen to – and take part in- some brilliant shows and sessions.
CVFolk also sets out to support those wonderful people (usually unpaid volunteers) who organise and stage folk events, clubs, sessions, singarounds, etc. and those who perform at these events as hosts or residents. We do this through regularly updated information and resources provided online plus occasional events  or consultations with people involved in the local folk scene.
We see folk music and dance as a vital part of local culture, sometimes overlooked by mainstream media, sometimes marginalised by the big entertainment industries.
It might seem trite and obvious to describe folk music as 'music of the people' but it is nevertheless true to say that folk is NOT just a genre. We see folk as a cultural practice with grass roots, people making and sharing music with friends and communities, music that reaches out, brings people together, sometimes raises its voice in protest, or tells stories of people's genuine lived experiences.
CVFolk is here to keep that practice alive, to ensure that folk will always have a future.
In addition to our online presence, we have a fast-growing mailing list for news of events and initiatives which is emailed out at least once a month. If you'd like to be added to our mailing list, please email culture@cvfolk.com
Click here to meet the Advisory Team
Click here to contact us