16th December 2021
NEWS UPDATE – MUMMERS CHRISTMAS TOUR HAS NOW BEEN CANCELLED IN RESPONSE TO CONCERNS OVER INCREASING COVID19 INFECTIONS.
14th December 2021
Festive tradition?
Mummers know best!
by Ian Pearson & Pete Willow
The Coventry Mummers are back touring traditional Christmas plays in Warwickshire this festive season.
Established 55 years ago, the guardians and performers of 'English ritual drama' are all set and ready to tour villages in the Revel area (between Rugby and Coventry) plus locations in and around Stoneleigh.
The tour starts this Friday (17th December) when the Harborough Magna Mummers Play is once again unleashed on the drinkers and diners of four Warwickshire pubs. The play was collected by two members of the Coventry Mummers in 1978 from one Arthur Steet.
7:45 pm The Raven, Brinklow, CV23 0LN.
8:15 pm. Golden Lion, Easenhall, CV23 0JA.
9:00 pm The Old Lion, Harborough Magna, CV23 0HQ.
9:45 pm Denbigh Arms, Monks Kirby, CV23 0QX.
The following Sunday morning and lunchtime sees the team in the village of Newbold-on-Avon, performing the Newbold Mummers Play. The text for this play was published in 1899 in the journal of the folk lore society. Revived by the Coventry Mummers in 1976, the play has been performed every year since then at both private and public houses – apart from last year when it was cancelled because of the lockdown regulations in place. The schedule for this year is:
10:30 am Pantolf Place, Newbold on Avon, CV21 1HR.
11:00 am Newbold Road, Newbold on Avon, CV21 1EF.
11:35 am St Botolph's Church, Newbold on Avon, CV21 1HH.
12:15 pm Manor House Close, Newbold on Avon, CV21 1HB.
1:00 pm The Barley Mow, Main Street, Newbold on Avon, CV21 1HW.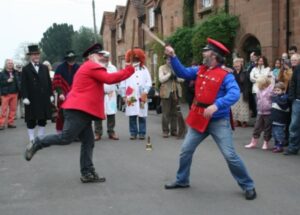 One tradition that survived the lockdown was last year's Stoneleigh Mummers Play. This was first published in 1926 by Mary Dormer Harris, a prominent local historian and former village resident. She collected the play from a man who played the part of the Doctor. Revived by the Coventry Mummers in 1975, the play has been performed every year year since then, although last year was a very small and socially distanced affair – as shown here. Hopefully, the performers return to the more traditional and orthodox format this year:
10:15 am and 10:30 am Ashow, CV8 2LE.
11:00 am Stoneleigh Close, CV8 3DE.
11:30 am 'The Bank', CV8 3DA.
12 noon Church Lane, CV8 3DN.
12:45 pm Walkers Orchard, CV8 3JG.
1:15 pm Stoneleigh Village Club, CV8 3DH.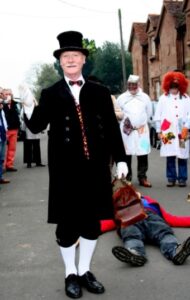 All are most welcome to come along and support the revival of these ancient plays and if you would like to host a performance next year and bring some traditional English Christmastide character to your immediate neighbourhood, please contact the Mummers by email at sing@dickdixon.co.uk or through their website
Click here for more Coventry & Warks folk news stories