(Most recent news first)
Click here for Cov & Warks Folk News current page
Click here for 2021 Archive
Click here for 2020 Archive
Click here for 2018-19 Archive
____________________________________________________________________________________________
10th November 2022
Time to dig out the 'House Full' signs – Meet On the Ledge are back!
Band celebrates 30 years of folk-rock with compilation double CD
With two of their three shows sold out and tickets for their Coventry show selling quickly, Warwickshire folk-rockers Meet On The Ledge are still a huge draw – not a bad achievement for a band celebrating 30 years.
Regular performers at the Bear Pit Theatre in Stratford-upon-Avon, they'll be playing to full houses this Friday and Saturday (11th and 12th November). The RSC Box Office is now taking requests for ticket returns for a waiting list of fans.
However, Sunday 13th November sees them back in concert for CVFolk's 'Second Sunday' event in the Albany Theatre Studio, Coventry and advance tickets are still available – at this time of writing!
Last year saw them at the venue as a trio, as their drummer, Bo Davies had been called away on family business. But this Sunday will be a first for CVFolk – a full drumkit for a folk event in the Studio, with leading light of Sambassadors of Groove, Bo providing a full-on beat for guitarists, singers and founder members Allen Maslen and Ron Holmes, and master of the monster keyboards, Steve Bird.
This week has also seen the release of a compilation double-CD album, The Very Best of Meet On the Ledge with 26 original and traditional songs selected from their six studio albums produced since 1992 and featuring celebrated former band members including Phil Dipple, Marion Fleetwood, Paul Johnson and the late fiddle player and percussionist, Mick Shaylor and Phil Vickers (see track list below). Copies will be for sale at all three of this weekend's gigs or can be ordered here.
The music at the Albany Theatre starts at 7.30pm although the Box Office will be open from 6.30pm, if tickets are still available on the night. Call 02476 998964 or follow this link to book tickets in advance.
Memories will flood back when Waterfall springs into action
Leamington's internationally renowned singer, guitarist and comedian Keith Donnelly relives his student days on Tuesday, November 15th when he shares the stage with fiddle and mandolin-player Martyn Oram.
Reincarnating the original line-up of Waterfall, the duo performs as Tuesday's guests at the Wurzel Bush Folk Club, which meets at the West Indian Club on Railway Terrace, Rugby.
Former residents of The University Folk Club at their alma mater, Warwick University, the talented multi-instrumentalists will be raiding their old repertoire of original songs and material by such artists as Jonathon Kelly, Tom Paxton and Al Stewart.
Admission is free (but donate your bank notes to the jug!) and floor spots are, as usual, first come first served. Resident artist is Craig Sunderland (yes, he gets around!) and you can message him via his Facebook page if you would like to reserve a spot.
______________________________________________________________________________
19th October 2022
All-star line-up for Nuneaton's October Folkfest
Ragged Bear – smarter than the average festival
Leading names from all corners of the British folk and folk-rock circuit head for Ragged Bear Festival the Sixth, on the last weekend of October.
Headline act this year is Bristol's Gaz Brookfield with a large following from his many main stage festival appearances and playing support for The Levellers' tour.
The packed schedule includes high-volume folk-rockers from Oxfordshire Leatherat, South Coast punk band Sinful Maggie and leading contemporary Irish alt folk line-ups Lagan, Whipjacks and Lucky Severn. Anglo-Irish alt folk band Ranagri, Leicester's The Other Country and Whisky Rebellion, and award-winning folk, rock and Americana act from the East coast of England Morganway are also big attractions.
Contemporary folk acts The Magpies, Painted Sky, and Warwickshire singer and multi-instrumentalist Lauren South are on the billing alongside acclaimed guitarist and singer Craig Sunderland and veteran unaccompanied singer Des Patalong.
New to the circuit, Flo Parker Bombosch and band are already gaining excellent revues in their West Country home. And Saturday's opening act is a festival debut by the young and newly formed Coventry band Permanent Daylight.
The annual event is hosted by widely travelled and highly acclaimed Greenman Rising. No strangers to the festival scene, they have appeared at Beautiful Days, Bearded Theory, Beardy folk, Boomtown, Eden, Solfest, Godiva, Folk in a Field, and Great British Folk Festival to name a few. Next year they are appearing at Trowbridge and playing support to Gigspanner big band at Love Folk Festival in Lancashire.
Ragged Bear takes place on the afternoon and evening of Saturday, 29th October in the Queens Hall, Nuneaton and tickets are selling quickly. You can book online by clicking here. And as a special treat for CVFolk fans, you can get a reduction from £35 to £25 by adding the promotional code RaggedVIP. Or pay just £10 for a daylong online stream of all the main stage events.
As always, the organisers are offering a Friday evening free admission taster with performances by Whisky Rebellion, Craig Sunderland and talented 3-piece collective from Wiltshire The Lost Trades.
For more details on the Friday and Saturday events, click here and here.
Change of date for Nuneaton Folk Club… but Thorpe and Morrison well worth the extra wait
It happens. Double bookings at venues can mean regular folk clubs need to change the habit of a lifetime and stage a one-off show on a different night.
Nuneaton Folk Club – which also meets in the Queen's Hall – is to give up its regular first-Wednesday slot for this November only. The main guests, superb fiddle and guitar duo Thorpe and Morrison will be appearing in the upstairs venue on Thursday 10th November.
Birmingham Conservatoire graduates, Harry Thorpe and Sean Morrison have built up a large army of fans through their masterful execution of both traditional and original material. The sad news is that scheduled support act, Poacher's Pocket are not available for the revised date but the club plans to rebook them as soon as possible.
Back to normal the following month when the club presents popular songwriter and highly-rated guitarist Phil Hare on Wednesday 7th December.
Click here for more details of the November show, and here for a chance to see Thorpe and Morrison in action.
______________________________________________________________________________
4th October 2022
Coventry songsmith Kristy back in home territory as CVFolk's October guest
An evening of inspired self-penned material by local line-up.
CVFolk celebrates more singer-songwriting talent this Sunday when Coventry's much lauded composer, performer and guitarist Kristy Gallacher takes the stage.
Kristy is this month's much-anticipated guest for CVFolk's '2nd Sunday' event at the Albany Theatre Studio, starting 7.30pm, Sunday October 9th. The Coventry University Music Composition graduate has built up a strong following through her carefully crafted songs, exciting fresh guitar work and a selection of tastefully arranged covers.
She's an excellent ambassador for Coventry folk and acoustic music, having won the LG Arena's singer/songwriter competition and played to superstar audiences which have included Eric Clapton, Steve Winwood and Elton John. Described by one reviewer as 'playing like Bert Jansch and singing like a cooler version of KT Tunstall,' Kristy has three albums and numerous EPs to her name and also spreads her passion for music as a teacher.
Local singer-songwriters John Oswin and Paul Gibson will be playing support while the evening's guest host, Stephen Boyer has also put together a repertoire of self-penned material. Admission is free although you'll be encouraged to donate banknotes to the 'caddy collection'. Advance tickets are also available from the Albany Theatre Box Office for the November 13th concert with Meet On The Ledge plus Craig Sunderland.
Making an honest (and not so honest?) living with Poacher's Pocket and friends
Local trio, Poacher's Pocket presents an evening of old songs and new on the theme of 'The World of Work' for this week's Warwick Words History Festival.
The line-up of Campbell Perry, Colin Squire, and Carole Gillespie perform in the Warwick Arms Hotel this Thursday (October 6th) to sing traditional and contemporary songs plus some self-penned material about the history of their own families. They will be joined by Coventry musicians and singers Bob Brooker, Craig Sunderland, and harmony trio Thrup'nny Bits.
The week-long Festival is already underway with a busy programme of guest talks and performances in venues across the town – click here for more information.
______________________________________________________________________________
22nd August 2022
(Update 8th September 2022 – MotoFest postponed. This was announced following the news of the death of HRH Queen Elizabeth II. No news yet of revised date.)
Rack & Ruin to headline packed weekend of folk
Coventry celebrates cars and folk music when CVFolk comes to MotoFest – AND starts new season of '2nd Sunday' events.
From folk-rock to unaccompanied harmony singing, CVFolk packs three major events into the second weekend of September – two daytime shows for Motofest and a new season launch of events in the Albany Theatre Studio.
Coventry's acclaimed folk-rock and ceilidh band, Rack & Ruin Acoustic will headline the '2nd Sunday' show at the Albany Theatre on the evening of September 11th. Fronted by singer-songwriter-guitarist, Mick Bisiker, they will also be the final act for CVFolk's Sunday afternoon open-air concert in Coventry's Upper Precinct as part of the entertainment for the MotoFest weekend.

Their set will wind up a weekend of first-rate folk talent with top-line artists from the Coventry and Warwickshire folk scene, including Kevin Dempsey, Firedaze, The Redhills, and Craig Sunderland with irrepressible folk singer and comedian Keith Donnelly opening the show on Saturday, September 10th at midday. Click here and here for the full line-up and provisional performance times for CVFolk at each day at MotoFest.
The Sunday evening Albany Theatre show kicks off a busy new season of home-grown acts in the Studio and sees Rack & Ruin supported by KC Jones and The Stationary Wilburys. The music starts at 7.30pm at the venue on Coventry's Albany Road (CV5 6JQ) and admission is free – but please give generously to the 'caddy' banknote collection!
Pushing the Right Button for George Eliot Festival
Polly Button returns to the scene of her debut performance.
The highly acclaimed folk opera, The Undoing of Polly Button is to be staged again in Nuneaton's Abbey Theatre for two nights as part of this year's George Eliot Fellowship's Festival.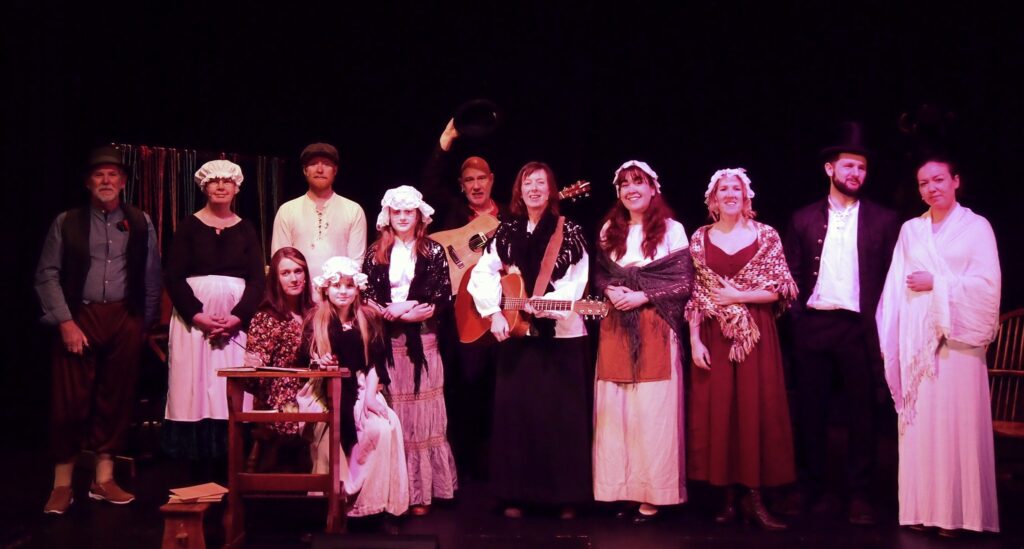 Created by local singer and songwriter Katherine Fear and featuring some top names from the local folk scene, the production narrates the tragic true story of a shocking murder that took place in Nuneaton almost 200 years ago. The story is narrated by the character of George Eliot (played by singer Anya Faye) who was twelve years old when the murder took place.
The show runs from 7.30pm on Wednesday and Thursday, 31 August and 1st September and tickets are available from this link.
Warwickshire stars in Warwickshire clubs
Folk clubs in the CVFolk area don't have to look too far to identify big attractions to launch their new season of guest nights.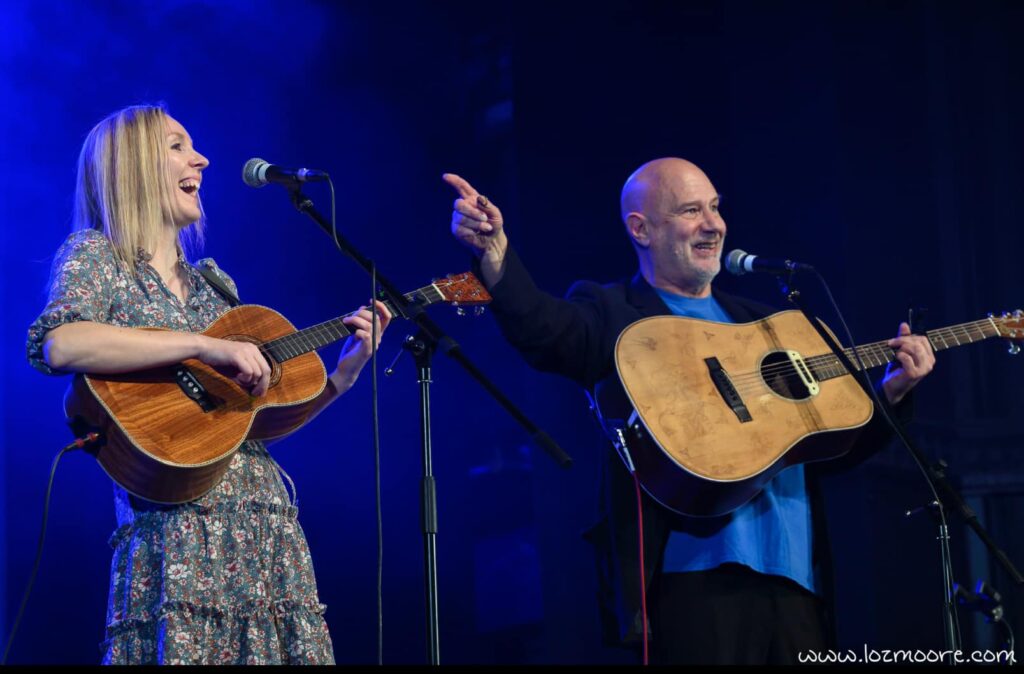 Latest act to emerge as the county's super talented duo, Donnelly and South are lined up for a crowd-pleasing night at Lighthorne Folk's September get-together in the marquee by the village's Antelope pub. With support from teenage folk sensation Abi Rowberry, plus a set of James Taylor songs from the excellent Stephen Boyer, the music begins at 7pm on Monday 5th September. More details here.
Two days later, Nuneaton Folk Club lays on another great evening of entertainment in the Queen's Hall, with the ever-popular trio The Paper Circus as main guest. The evening also features some hearty singing from local landlocked shanty crew The Hawkesbury Trawlermen and a blend of sings, humour and magical trickery from John Mosedale.
The music starts at 8pm – more details here. Admission for both events is free but generous donations to the collection bucket will help ensure the clubs' continued survival.
_________________________________________________________________________________________________________
20th April 2022
Be tempted by Dempsey's delights
Coventry's global star brings wow-factor folk back to home territory
Guitar maestro, Kevin Dempsey headlines CVFolk's next 'Second Sunday' event in June with his much anticipated solo performance.
Following the acclaimed debut appearance of the Kevin Dempsey Trio – with Joe Broughton and Urban Folk Quartet's Tom Chapman – at the CVFolk4Ukraine event in March, the man is back with just voice and acoustic guitar on Sunday, May 8th for CVFolk's monthly show in the Albany Theatre Studio.
A founder member of influential acoustic rock innovators in the 60s, Dando Shaft, Kevin has worked with many of the leading names in soul, folk and jazz from Percy Sledge to Alice Coltrane, and from Mary Black to Jacqui McShee. Also a founder member of 80s folk supergroup Whippersnapper – alongside Chris Leslie and the late Dave Swarbrick and Martin Jenkins – Kevin also toured widely as a duo with the legendary 'Swarb'.
Hatstand's duo line-up of Keith Nickless and Kate Vassalos (pictured below right – photos by John B.Smith) will also make an appearance with a repertoire that draws largely on the more obscure regions of 'dark Americana'.
And as an added bonus, folk and roots singer-songwriter Paul Handyside (pictured above left) is on the billing. His fourth album, Loveless Town was released last year and features songs with an ever-closer resonance with country and Americana, although one track, Hartley Pit Catastrophe – a true story from his native North East – reflects more English folk sensibilities. Also featured on the album – and its producer – Rob Tickell will join Paul on stage with added guitar.
The music starts at the slightly later time of 7.30pm in the Albany Theatre Studio on Coventry's Albany Road (CV5 6JQ) and admission is free – but please give generously to the 'caddy' banknote collection!
Looking ahead to June 12, CVFolk's next advance ticket show features the exceptional blues guitarist and songwriter, Jack Blackman.
He'll be making up for his disappointment that Covid prevented him from taking part in CVFolk4Ukraine, Support acts lined up so far include authentic trad. American arrangements from father-and-son duo Clive & Mat Ryder plus a welcome return performance of some stomping guitar and harmonica songs by Steven John Birks.
The music will start at 7pm and tickets are £11, bookable soon on the Albany Theatre website. Or call 02476 998964.
Ukraine cash where it's needed
CVFolk has now transferred £2030 to the Emergency Appeal set up by the Association of Ukrainians in Great Britain.
This is a culmination of ticket money from the CVFolk4Ukraine concert that took place in the Albany Theatre on March 27 and voluntary donations through cash collection and via PayPal. The money is being spent on food, hygiene and medical packs dispatched to where they are directly needed with the help of charity and church organisations on the ground in Ukraine.
The PayPal account remains open for more donations and you are encouraged to send more money (even 'small change') if you wish to download high resolution photographs of the event, or simply watch the main stage performances on YouTube.
Be of good shear – the Sheep Dip is back!
The Sheep Dip Sessions house concerts are coming back – at a new address in Harbury!
Session host, Michael Luntley will be announcing the precise new location shortly but he has already confirmed his first guests appearing this Autumn.
Memphis based acoustic bluesman Doug Macleod opens the new season on Friday 2 September and Scottish duo Eilidh Steal & Mark Neal appear on Friday 7 October.
Keep in touch via the Sheep Dip Sessions. Click on the link and pat the sheep!
_________________________________________________________________________________________________________
23rd March 2022
Stand up and sing for Ukraine!
CVFolk's rallying call as folk artists and fans join the resistance against aggression
25 acts, made up of 64 performers, will present nearly 10 hours of non-stop folk music at a fundraising event this Sunday (27th March) for the people of Ukraine.
The all-star billing performing in Coventry's Albany Theatre includes Meet On The Ledge, The Lost Notes, Jack Blackman, Wes Finch's band The Silver Wye, Keith Donnelly & Lauren South and the first public appearance of The Kevin Dempsey Trio featuring Joe Broughton and Urban Folk Quartet percussionist Tom Chapman.
The evening concert also features a special acoustic appearance by CVFolk's Patron Pauline Black OBE with former Selecter guitarist Nick Welsh. This may bring back memories for veteran Coventry folk fans of how Pauline began her musical career playing the folk clubs of the city, although the repertoire has changed a lot since then.
Organised in partnership with The Albany Theatre and NN1Audio, CVFolk 4 Ukraine kicks off at 1pm with an afternoon concert in the Theatre's Main House, featuring 16 popular acts on the Coventry and Warwickshire folk circuit including Daisybell, The Paper Circus and – making her first public appearance onstage since becoming a Mum – singer-songwriter Kristy Gallacher.
The action moves to the bar and studio at 5.15pm when a music session and Singaround is hosted by Leamington singer Stephen Boyer.
The next main stage concert begins at 7pm with a set by Rob Halligan's Homeward Hie. With Keith Donnelly as MC, the concert ends around 10.30pm with a grand finale song and tune set, featuring many of the artists who have appeared previously that day.
The event will be receiving a visit by Coventry's Lord Mayor, Cllr John McNicholas who has agreed to give a short presentation at the end of the evening (we don't think he's bringing a banjo!).
Admission for the afternoon and evening concerts is a mere £5 per concert, or £9 for the full day, with all the money being used for aid for Ukraine. In addition, there will be collections throughout the day while a live stream of the concert will be available on CVFolk's Facebook and YouTube pages with the opportunity for people to donate from across the world via PayPal.
Says CVFolk's Chair, Pete Willow, 'If an aggressive dictator chooses to invade and lay waste to a neighbouring country, what can a bunch of musicians and folk fans do about it? The answer is – do what we do best and play music! Music will always inspire, enhance solidarity, and rally support much more effectively than bombs and bullets.
'And if, through our efforts, we can raise funds to support and aid the victims of aggression, then as music-makers we become part of the resistance.'
Click here for the day's schedule of acts and timings.
_______________________________________________________________________________________________________

3rd March 2022
Time to get stuck in
New folk all-star line-up, Cellar Tapes to be launched in Coventry's Albany Theatre
Three leading Midlands musicians, Andrew Sharpe, Wes Finch and Carol Whitworth turn a creative project into a live show this month.
Originally conceived as a songwriting project, developed over lockdown, they have formed The Cellar Tapes as an outlet for 'a set of English whimsy', making its first public appearance on Sunday, March 13th for CVFolk's next '2nd Sunday' event in the Albany Theatre Studio.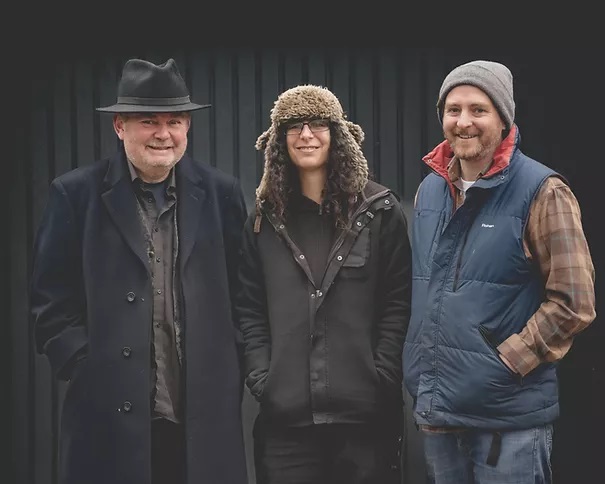 Guitarist and bass-player, Carol Whitworth, member of world dance band Jabba Cartel performs her songs based on characters she observed growing up in rural Oxfordshire. Piano-player for Steamchicken, Andrew Sharpe has found the project an excellent opportunity to produce some 'twisted morality fables', while acclaimed and prolific singer songwriter and guitarist Wes Finch adds his wry observational folk-blues input.
For this premiere show, they will be joined on stage by woodwind musician Beccy Bernamont plus Ben Haines, percussionist with Wes's band The Silver Wye.
Support will be provided by popular and recently-formed Warwickshire duo, Steve 2 (Stephen Boyer and Steve Redshaw) and – following her superb performance with Coventry Singer Songwriters last month – a widely participated return appearance by singer and guitarist, Corinne Lucy.
The music starts 7pm in the Albany Theatre Studio on Coventry's Albany Road (CV5 6JQ) and admission is free – but please give generously to the 'caddy' banknote collection!.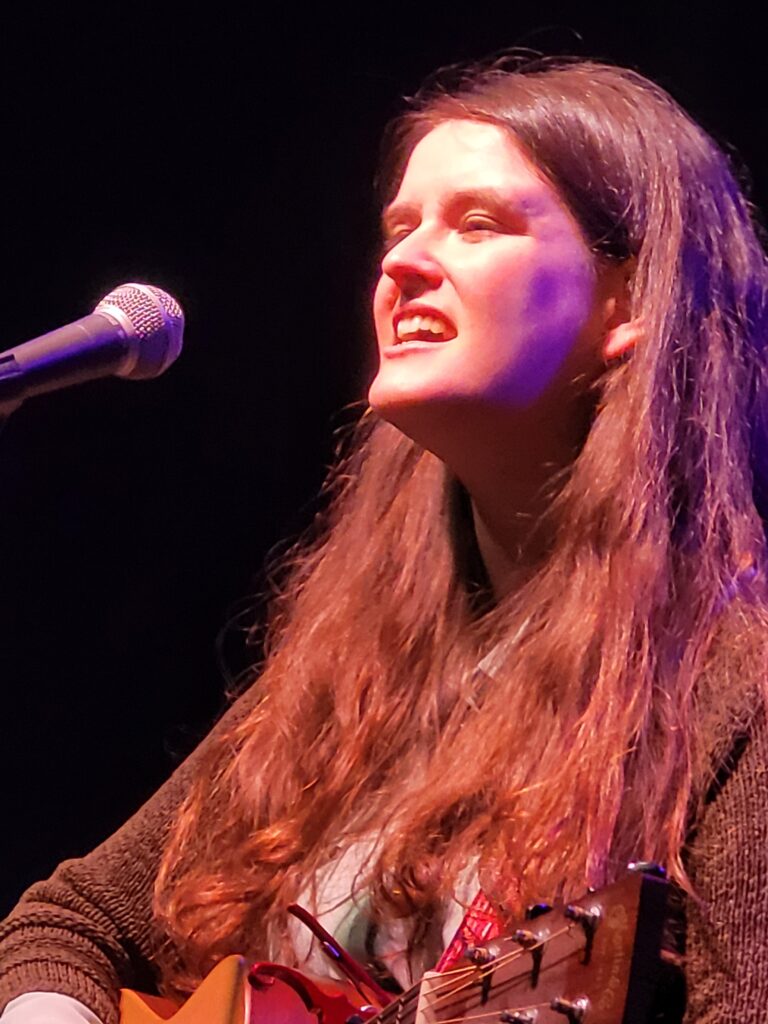 Not only a musician but also playwright, ex-lawyer, Andrew Craig Sharpe has certainly waived any right to be unproductive this year. The Cellar Tapes project comes hot on the heels of the launch of his new play The Spiral Path which was premiered last month at the Maltings Arts Theatre, St Albans and will be showing again later this month at The White Bear Theatre, Kennington, London SE11 4DJ.
Five years in the making, the production weaves together tragic but hilariously dysfunctional narratives of five characters, to provide a deeply personal examination of life, love and loss. Directed by Kat Rogers, the suite of playlets can be seen on March 22nd-26th – click here for details and tickets.
And looking ahead to April…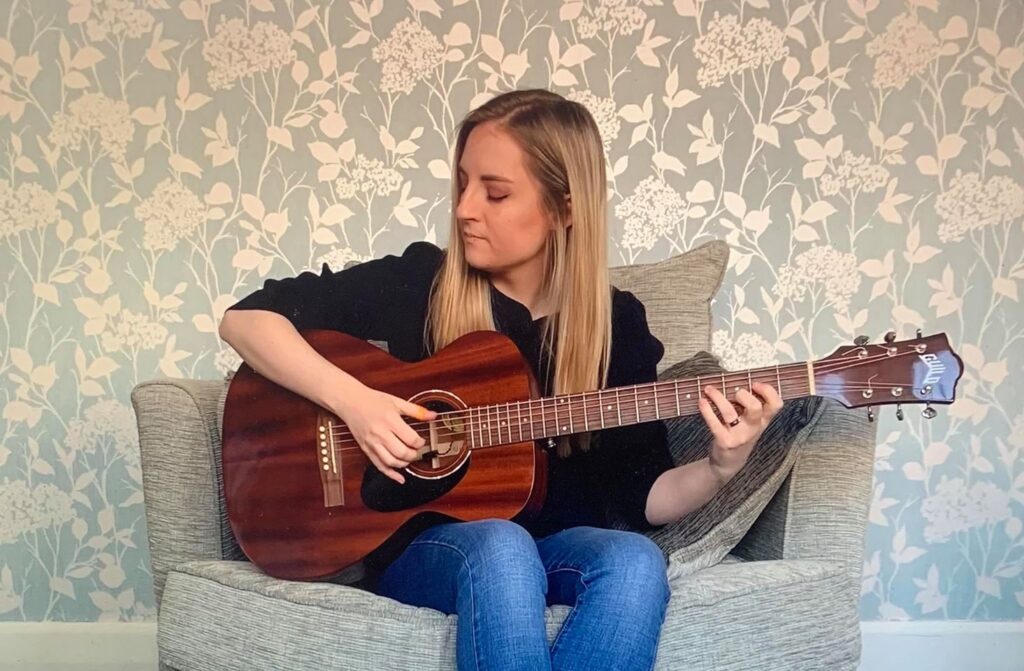 Looking ahead to April and Coventry's gifted singer-songwriter Kristy Gallacher returns from maternity leave to join the '2nd Sunday' billing with Willow and Tool Band, and Michael Luntley's trio, Tricaorach. Armed with guitars, fiddle and double bass, the trio will be performing their widely-praised production of From This Ground – an inspired collection of stories, poems and songs that draw on the experiences of 19th century farmworkers.
The free-admission/caddy-collection evening runs from 7pm in the Albany Theatre Studio on Sunday April 10th.
____________________________________________________________________________________________________
5th February 2022
More than the sum of two talents
Warwickshire's latest super duo, Keith and Lauren step in for last-minute change of billing
World-renowned singer, songwriter and comedian KEITH DONNELLY and rising-star singer and multi-instrumentalist LAUREN SOUTH are this month's star attraction for CVFolk's 2nd Sunday concert
Says Keith – 'This is probably the most important new duo since Steve Beer teamed up with that Phil Knightley!'
Says Lauren – 'Oh for heaven's sake!'
The recently formed duo gave an acclaimed premiere show at Warwick Folk Club last November. That was impromptu with Keith rising to the challenge of performing a hastily rehearsed set with Lauren to cover a last-minute change of guest. Their combination of voices, guitar styles and personalities plus Lauren's skill on fiddle and Shruti box won them a fabulous reception.
And history is repeating itself in the Albany Theatre Studio, Coventry on Sunday 13th February as the tuneful twosome have agreed to cover the February guest spot. This followed the eleventh-hour cancellation of the advertised act, Bisiker and Romanov due to an unforeseen double-booking for fiddle-player Ralph Allin.
Singer, guitarist and bouzouki-player Mick Bisiker will be performing a solo set that evening which also features Coventry singer-songwriter Andi Wolf, whose music has been described as 'deeply introspective, disarmingly honest, lyrically artful and musically potent – a musical first aid kit'.
The music starts 7pm and should finish around 9.30pm. Admission is £11 – tickets can be booked at the Albany Theatre Box office. Call 024 7699 8964 or book online. – click here.
And looking ahead to March…
The full line-up has now been confirmed for CV Folk's 2nd Sunday event on Sunday 13th March. Headline act Cellar Tapes comprises Carol Whitworth (guitar, bass, vocals), of world dance band Jabba Cartel, Andrew Sharpe (piano, vocals) of Steamchicken, and singer songwriter Wes Finch (electric guitar, vocals). For this gig, their arrangements are augmented by percussion from Ben Haines and woodwind from Beccy Bernamont.
Support will be provided by popular Leamington duo, Steve 2 (Stephen Boyer and Steve Redshaw), and – following her superb performance with Coventry Singer Songwriters last month – a welcome return appearance by Corinne Lucy.
And news from the Wurzel Bush telegraph…
Another change of guest has been announced by Rugby's Wurzel Bush Folk Club. Former Dubliners singer, Sean Cannon was due to appear on Tuesday 15th February but has had to postpone again because of other commitments. Instead, the talented young Birmingham duo Thorpe and Morrison are appearing that night.
Originally with Joe Broughton's Conservatoire Folk Ensemble, David Thorpe and Ivan Morrison play lively and energetic arrangements of English and Scottish traditional music on guitar and fiddle. Take a listen!
____________________________________________________________________________________________________
18th January 2022
Things to do in '22
A few changes on the CV club circuit
but lots of good stuff happening
by Pete Willow
A new club, a new venue, a new date and, sadly, a temporary closure are among the changes to the local folk circuit in the first month of this new year.
Leamington Folk Club is the new name on the listings although the monthly event kicks off in a familiar folk venue, the Temperance Café n Bath Street, Leamington.
Meeting on the second Thursday of each month, it opens February 10th with some impressive home-grown names performing 15-minute spots, including The Silver Wye (Wes Finch and John Parker), Lauren South, Tyburn and Chessi O'Dowd. Hosted by Nik Draycott, the music starts 7pm and tickets are £3 – details here.
Atherstone Folk Club has announced its move to a new home for its monthly get-togethers. Meeting on the third Wednesday of most months, the club is now located at the Atherstone Red Lion Hotel, 99 Long Street, Atherstone. The first meeting there takes place this Wednesday (January 19) with a New Year Singaround, starting 8pm. Future guests include The Paper Circus (Feb 16), Bernard Hoskin (March 16) and Becky Mills (April 20), with resident act Finger In The Jar on all these dates. Details of this week's event.
Some changes too for the venue of Warwick Folk Club which still meets at the Racehorse on Warwick's Stratford Road, although the venue is about to change its name to No34 Garden and Grill, part of the Caviar and Chips group, who also own the Virgins and Castle, Kenilworth.
As a result of the necessary rebranding work to the venue (!), Meet On The Ledge's guest appearance is now moved from Feb 28 to Monday March 14, although other scheduled shows are unchanged: Martyn Oram (January 31), Performers Night with Dave Fry (February 14) and possibly – if the refurbishment has finished – an informal Singaround (March 7th). Local multi-instrumentalist annA rydeR is their guest on March 28.
A change of date has been announced for Sean Cannon's appearance in Rugby's Wurzel Bush Folk Club, from January 18 to Tuesday February 15. Details here. The club also presents 4-piece folk-rockers, Rack and Ruin as guests on February 2.
And Rack and Ruin's band leader, Mick Bisiker appears for an extended concert with fiddle genius Al Romanov (aka Ralph Allin) for CVFolk's 2nd Sunday show on Sunday February 13 at the Albany Theatre Studio, Coventry. Starting 7pm, the concert also features local singer-songwriter Andi Wolf and a short set by Pete Willow. Details here.
January also sees a few temporary closures. While uncertainties remain with public health rules, Tump Folk in Coventry and Folk at the Lounge sessions in Monks Kirby are taking a rain check for this month but will hopefully be back in action soon. Willow and Tool's Music Parlour is taking a longer break as its intimate room in the Harvester, Long Itchington is not conducive to social distancing. With host band member commitments thrown in, the earliest reopening date is looking like October 2022!